President Barack Obama's famously controversial claim, "If you like your health care plan, you can keep it," now has the commander in chief's former speechwriters laughing.
Though, to the millions who lost their insurance or faced increased costs, the comment may be no laughing matter.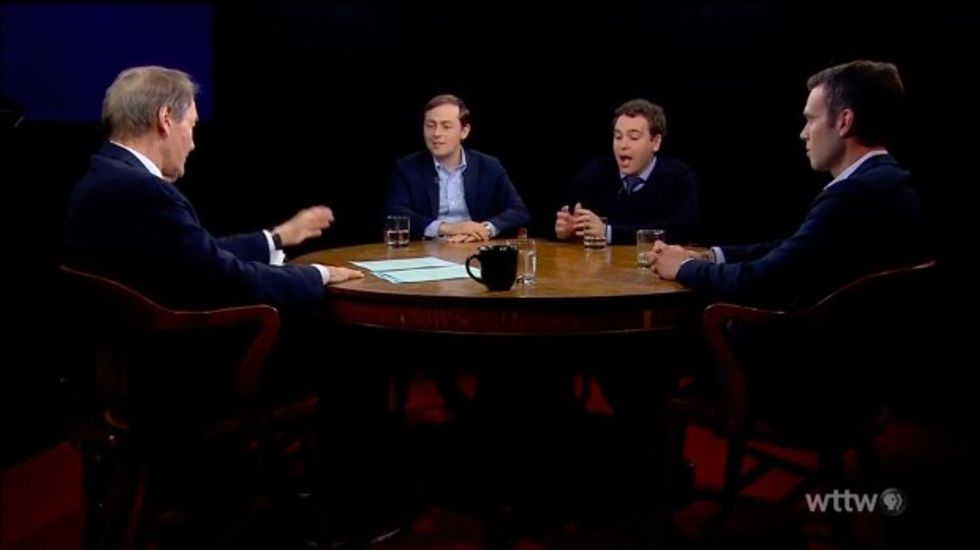 Image source: YouTube/PBS
Former Obama speechwriters David Litt, Jon Favreau and Jon Lovett appeared Monday in an episode of PBS's "Charlie Rose" show to discuss the president's "great" oratory skills when it came to delivering funny jabs and discussing serious topics.
When Lovett remarked how proud he was of Obama's "serious speeches" on the economy and health care, Favreau interjected, mocking Lovett for writing the comment, which has since been named 2013's "Lie of the Year" by PolitiFact.
"I really like, I was very — the joke speeches is the most fun part of this," Lovett said. "But the things I'm the most proud of were the most serious speeches, I think. Health care, economic speeches."
"Lovett wrote the line about 'If you like your insurance, you can keep it,'" Favreau added.
Lovett shot back, "How dare you!"
At that, Rose and the president's team of former speechwriters began laughing.
According to the Associated Press, some 4.7 million people were told in fall 2013 their health care plans would be cancelled because the policies did not comply with the recently enacted Obamacare guidelines.
Though there is evidence Obama knew in 2010 that around 50 to 75 percent of the 14 million Americans who purchased their health care individually would have their insurance plans cancelled, he did go on television to apologize for the problem.
—
Follow the author of this story on Twitter: