A knife-wielding German man stands accused of critically injuring multiple people and killing one at a train station in Munich early Tuesday morning, according to Bavarian radio.
The Associated Press reported that German police believe the alleged assailant, who is in custody, "expressed political motivations" during the stabbings.
Witnesses told police the 27-year-old attacker shouted "Allahu Akbar" throughout the stabbing, according to Reuters.
"The perpetrator made remarks during the attack which point to there being a political motive," Bavarian police said in a statement, adding that there were no further suspects.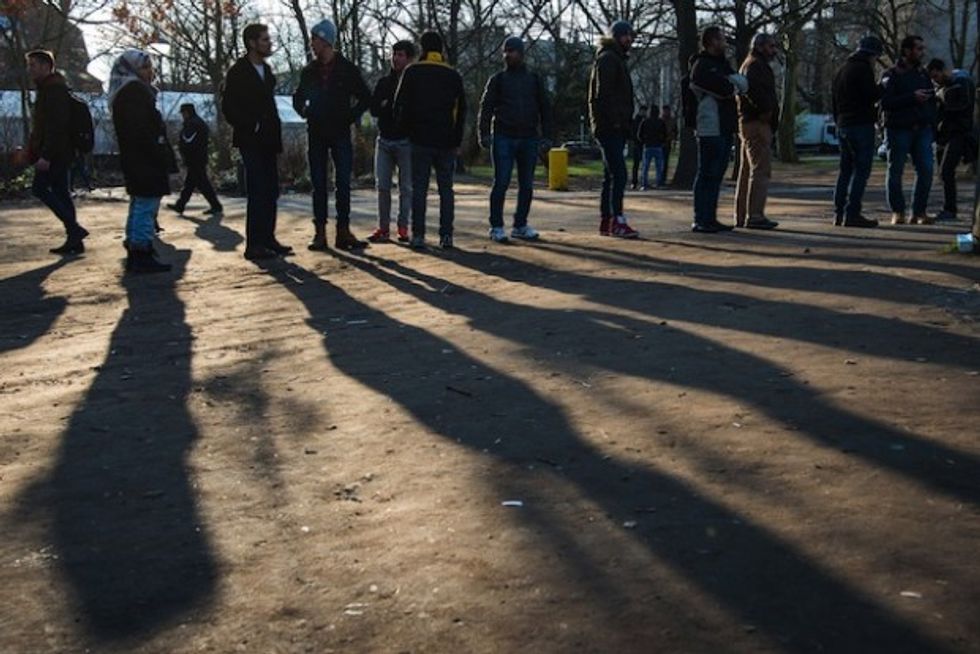 Asylum-seekers line up outside the State Office of Health and Social Affairs registration center in Berlin Dec. 29. ( John MacDougall/AFP/Getty Images)
Police told the AP a witness heard someone shouting "infidel, now you must die."
The victim killed in the attack was 50 years old. He died of knife wounds in hospital shortly after the stabbing, according to Reuters. The other confirmed victims, aged between 43 and 58, sustained injuries, police said.
The attack took place at about 5 a.m. local time at the Grafing train station, a commuter town about 20 miles southeast of the Bavarian capital in southern Germany, Reuters reported.
German officials have warned that an attack is possible and German security services have been on alert.
According to Reuters, more than 800 German natives have left their country to join Islamist extremist groups in Syria and Iraq. About 260 have returned.
Germany was also a transit point for militants who carried out attacks in Belgium this year and Paris last year.
Tuesday's attack heightens concerns that some of the more than 1 million migrants who arrived in Germany last year have slipped off officials' radar and become radicalized.
—
The Associated Press contributed to this report.