New York artist Brian Andrew Whiteley drew alarm Easter Sunday when he placed his latest creation — a realistic gravestone dedicated to Republican presidential candidate Donald Trump — in Central Park.
The epitaph on the gravestone read "Made America Hate Again." The stone was quickly discovered by the city's parks department and handed over to police.
In the weeks following the headstone's discovery, Whiteley's identity remained a mystery, but the artist, 33, had a feeling the anonymity wouldn't last long.
On Monday afternoon, a pair of plain clothes police officers and a Secret Service agent showed up at Whiteley's Brooklyn apartment. Though nervous, Whiteley told the New York Times that he wasn't really surprised — he had previously spoken to reporters anonymously, for fear of arrest.
But after the Monday visit, his name was printed in the Times. He decided it was time to come forward.
"It was superintimidating," Whiteley told the Times Monday evening, recalling the nearly hour-long interrogation.
Intimidation aside, the artist said it was "one hundred percent worth it." He said that after weeks of fear and uncertainty, the visit was, in some ways, a relief.
"I've been literally terrified for about a month," he said. "It's been like nightmare land, it really has, to pull this off."
"I don't plan on stopping my guerrilla-style projects," he added, "but I do know my limits."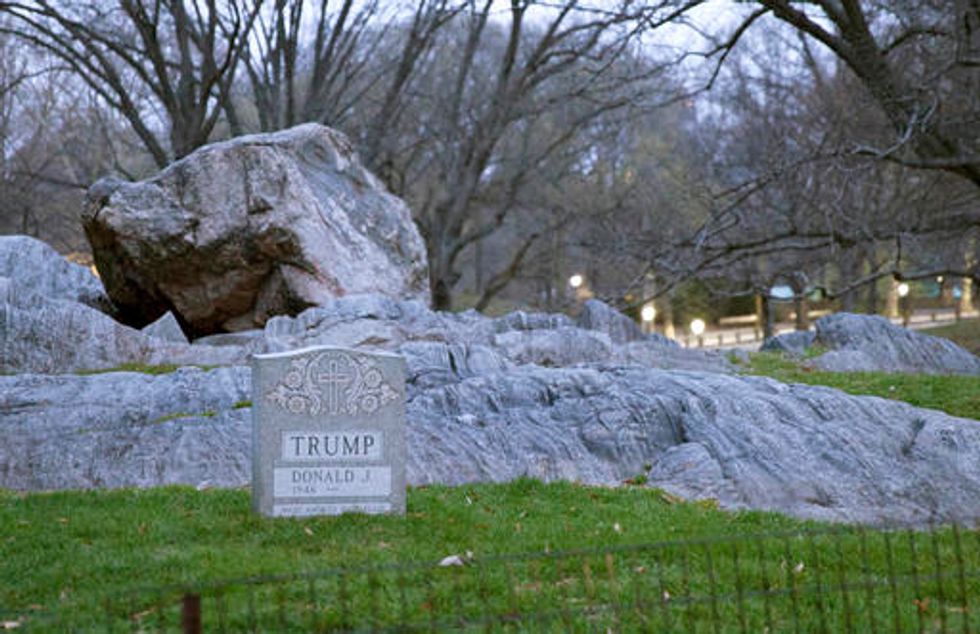 Ventiko/Molly Krause Communications via AP
Whiteley was not charged with a crime, and the Trump campaign has not commented on the incident. A Secret Service spokesman confirmed to the Times late Tuesday, "The Secret Service is aware of this matter and is conducting the appropriate follow-up investigation."
Before his identity was revealed, Whiteley spoke to the Times anonymously shortly after the gravestone's discovery. He told the paper that the project was "not calling for the death of Donald" but was rather "an artistic statement" questioning the candidate's legacy.
The gravestone wasn't Whiteley's first artistic critique of Trump. The artist dressed up as Trump in February as part of a live gallery. He stood by fellow artist Rebecca Goyette, dressed as Sarah Palin in the lewd depiction. He said that his interrogators Monday were aware of this.
The police officers and Secret Service agent asked Whiteley about what books he was reading, whether he owned a gun and whether he had attended any presidential rallies.
"Luckily, I think I passed all the marks that they needed to see," Whiteley said, noting that he "did not fit the profile" of an assassin.
Whiteley gravestone project was financed by an independent collector. Christopher Stout, who shows Whiteley's pieces at his Brooklyn art gallery, told the Times he was "absolutely unsurprised" when his colleague described the gravestone idea to him last year.
"It thoroughly fits the canon of his work," Stout said, though he did advise Whiteley to consult a lawyer.
Whiteley explained that he chose the gravestone knowing that it would shock people.
"I thought the only thing that could affect someone who builds buildings and talks real loud and is the bully on the playground is to remind him of his own mortality," he said.
Whiteley told the Times that he hopes to get the piece back eventually and exhibit it in New York or Washington. He said that at the moment it is not for sale.