Outspoken conservative rocker Ted Nugent hopped on Facebook and shared a fake video of Hillary Clinton being shot by Bernie Sanders — and it appeared many of those reacting to his Tuesday post were disturbed by it.
Nugent may have added to the shock value by his one-line description of the clip: "I got your gun control right here bitch!"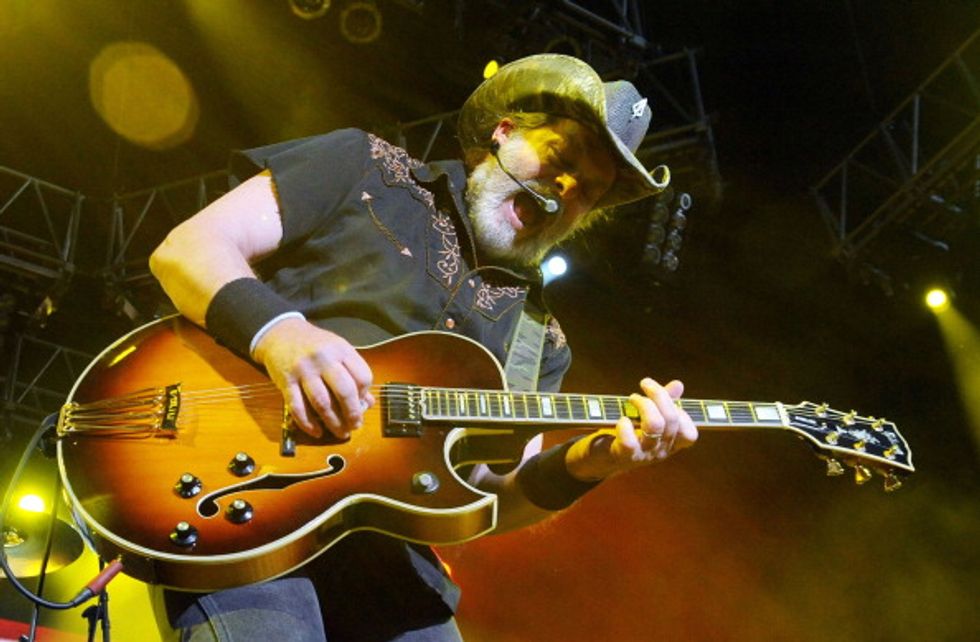 Ted Nugent (Image source: Chris McKay/WireImage)
The video, posted to YouTube last month by cooljunkproductions, is titled "Bernie Sanders destroys Hillary Clinton in debate on Vermont gun laws." The description says, "Bernie Sanders absolutely killed Hillary over this issue."
The clip shows Clinton being asked during a Democratic presidential debate if she blames Sanders for New York's gun violence. Clinton replied that she doesn't and noted a "serious difference" between her and the Vermont senator, presumably with respect to gun control.
Seconds later, the clip is altered to show Sanders reaching into his jacket pocket with his left hand, pulling out a handgun, aiming it at Clinton and firing. The altered graphics showed Clinton being hit and falling to the ground as the crowd hollers.
Nugent's post has attracted nearly 700 comments as of Wednesday afternoon. It appeared that the vast majority of early comments were positive, but the tide seemed to shift with regard to later comments.
"Horrible! This is what's wrong with our discourse. Inciting violence is NOT the American way. Go sit down and shut the hell up!" one commenter posted.
Another added: "I don't like Hillary or gun control but that's not cool."
"Ted Nugent should be arrested for that one! Not Funny you Idiot! I'm throwing every piece of Nugent music I have in the trash right now!" someone else noted.
But the positive reactions were aplenty.
"This is the best thing I've seen all day," one commenter noted.
"Get em, Uncle Ted! These gun control people have lost their marbles," another commenter said. "It's called a 2nd amendment for a reason. These brain dead control nuts need to bell rung real quick like."
And then this commenter pleaded with Nugent to run for president: "I know a ton more people who would support you, because they believe in your way of thinking, than any of the leading candidates. This election is an embarrassment... let's put a real man in charge, please."
Nugent, a strong supporter of the Second Amendment and the National Rifle Association, is scheduled to address the NRA's annual convention May 22 on "2016 Election Do or Die for America and Freedom."
(H/T: Huffington Post)