James Moody is a native Philadelphia resident and truck driver and was Pennsylvania's Golden Gloves super heavyweight boxing champion back in 1988.
Now the 49-year-old jogs to stay in shape — and a few months back added an eye-opening element to his exercise routine: a gun strapped to his hip.
Moody told WCAU-TV he comes from a "firearms family" and has been going on open-carry jogs in his Mt. Airy neighborhood to raise awareness about gun rights.
And police took notice.
While Moody was in the middle of a jog last Monday, an officer walking his beat saw Moody's gun, crossed the street and stopped him. Moody's GoPro camera recorded the encounter.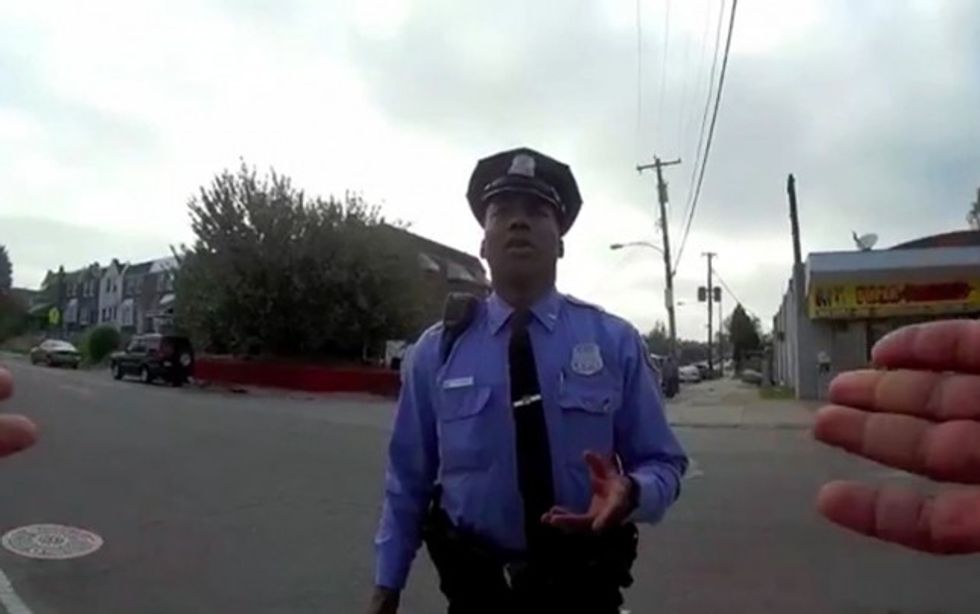 Image source: WCAU-TV
The officer asked Moody if he has a license to carry but Moody refused to answer. Other officers arrived on the scene and asked Moody the same question, including if he was carrying indentification, which he also refused to answer.
The officers acknowledged to Moody that he's being detained because he's carrying a gun — at least one officer told Moody he's not allowed to carry a firearm openly, WCAU noted —  but Moody told them that isn't a crime.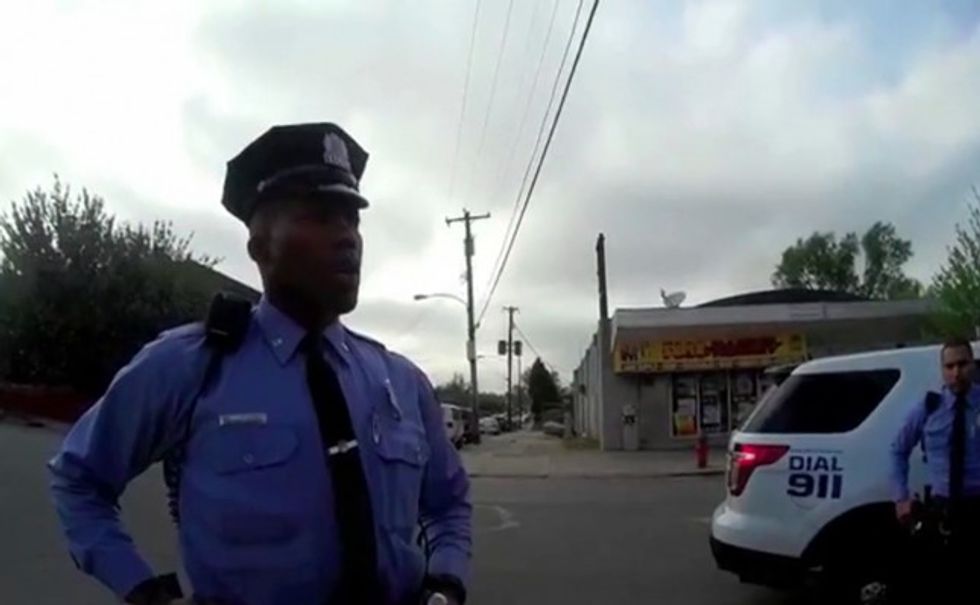 Image source: WCAU-TV
Moody's 15-minute video ended when his battery died, the station reported, but he said police handcuffed him briefly, searched him, found his license to carry inside his wallet and then let him go.
In an interview following the incident, Moody told WCAU that gun owners with licenses to carry firearms can open carry anywhere in Pennsylvania.
"Clearly the officers don't know the laws that Philadelphia is governed by. They had no clue about what is lawful and unlawful," Moody told the station. "You can, under Title 18 Section 6108, open carry a firearm."
"We also don't live in a stop-and-identify state," he added to the station. "Do they stop everyone in a motor vehicle just because they're driving? No, you need probable cause. You have no reason to detain me and question me. It may be a little eye opening, but it is not unlawful."
Local attorney Jon Mirowitz agreed with Moody but said he should have produced ID when police asked him for it.
"In this sort of a confrontation, there is nobody that's right or nobody that's wrong," Mirowitz told WCAU. "Being civil is the key. All the guy has to do is say, 'Here's my ID.' All the cop has to do is say, 'I'm not giving you a hard time. I just want to see some ID.'"
Philadelphia police didn't respond to WCAU's request for comment about the incident.
Moody said he doesn't plan on giving up his open-carry stance.
"I love the idea of open carry. It's our constitutional right. I do it all the time," he told WCAU. "I don't see why anyone would impede my right to do so."
Well, maybe one person.
"My wife is upset with me now because I put myself at risk," Moody added to the station. "But I told her freedom isn't free. I call it my exercising my mind, my body, and my Second Amendment rights."