House Speaker Paul Ryan (R-Wis.) told reporters Thursday that his highly anticipated meeting with presumptive Republican presidential nominee Donald Trump was an "encouraging" start toward unifying the Republican Party.
Trump and Ryan met face-to-face in order to discuss Ryan's recent reluctance to endorse Trump's candidacy.
The meeting was spurred when Ryan, the nation's highest-ranking elected Republican, said that he is "just not ready" to support Trump as his party's nominee.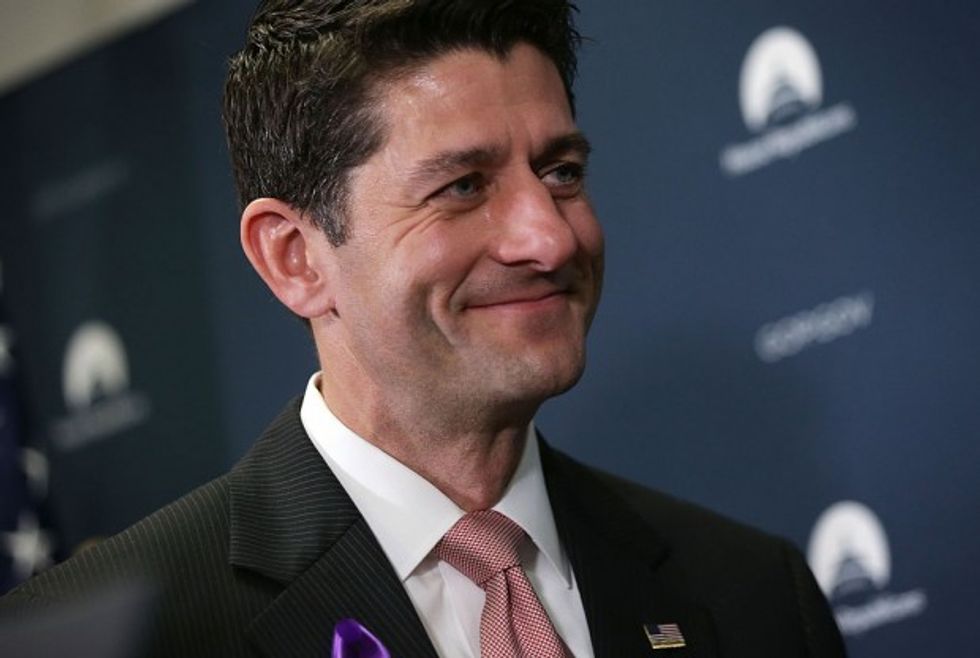 Speaker of the HousePaul Ryan (R-Wis.) holds a news briefing after a House Republican Conference meeting Wednesday on Capitol Hill in Washington, D.C. (Alex Wong/Getty Images)
In a joint statement, Ryan and Trump said that they are "committed to working together" to ensure the party's victory in November.
.@PRyan and @realDonaldTrump's joint statement on their meeting: https://t.co/Fw4Cxxxsdy

— Kate Scanlon (@Kate Scanlon) 1463066807.0
"While we were honest about our few differences, we recognize that there are also many important areas of common ground," the pair said, pledging to have "additional discussions."
During the press conference following the meeting, Ryan said it was important to discuss their differences and "core principles" and that the process of "unifying" the party after a "divisive" primary "takes some time."
The congressman noted that he wants to avoid a "fake" unification process by truly trying to "understand one another" and promised the two would have deeper discussions about policy.
"We will have policy disputes, there's no two ways about that," Ryan said, noting that he also had policy disagreements with his 2012 running mate Gov. Mitt Romney.
Trump and Ryan found common ground in their shared belief that a Hillary Clinton presidency would be a "disaster" akin to a third term for President Barack Obama.
Ryan had expressed doubts about Trump's candidacy during a during a May 5 interview on CNN due to his lingering questions over Trump's commitment to "conservative principles."
"At this point, I think he needs to unify this party," Ryan told CNN's Jake Tapper, adding, "I hope to support our nominee."
Paul Ryan on Donald Trump: "I hope to support our nominee" https://t.co/xzLaxvkTPe https://t.co/JH8mg3p8CZ

— CNN Politics (@CNN Politics) 1462479404.0
Trump hit back in a statement, saying he's "not ready to support Speaker Ryan's agenda."
Trump later expressed optimism about his upcoming meeting with Ryan on Twitter.
I look very much forward to meeting w/Paul Ryan & the GOP Party Leadership on Thurs in DC. Together, we will beat the Dems at all levels!

— Donald J. Trump (@Donald J. Trump) 1462897121.0
Republican National Committee chairman Reince Priebus, who was also in attendance at the Thursday meeting, tweeted that it was "a very positive step toward party unity."
The meeting was great. It was a very positive step toward party unity.

— Reince Priebus (@Reince Priebus) 1463062276.0
Trump also addressed the meeting on Twitter:
Great day in D.C. with @SpeakerRyan and Republican leadership. Things working out really well! #Trump2016 https://t.co/hfHY9MdAc7

— Donald J. Trump (@Donald J. Trump) 1463076758.0
This story has been updated to include an additional tweet from Trump.
—
Follow Kate Scanlon (@kgscanlon) on Twitter