In a sneak peek of Megyn Kelly's upcoming exclusive sit-down interview with Donald Trump, the Fox News reporter challenges the real estate tycoon-turned-presumptive presidential nominee on the role of the media.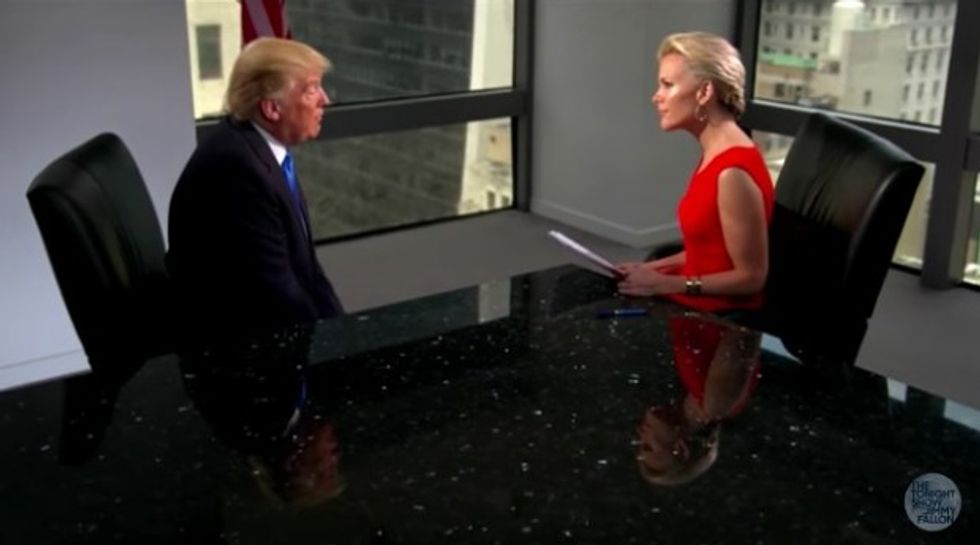 Fox News' Megyn Kelly interviews Republican presidential candidate Donald Trump. (Image source: YouTube)
Kelly appeared on NBC's "The Tonight Show With Jimmy Fallon" Thursday to discuss her primetime special, which will air on Fox's broadcast network on Tuesday at 8 p.m. While on the show, Fallon played a clip of Kelly confronting Trump about his previous statements that the Fox News moderators at the August 2015 GOP debate weren't "nice."
"Do you think it's the journalists' role to be nice to presidential candidates at a debate," Kelly asked Trump.
Trump clarified that he believes journalists should be "fair" but not necessarily "nice." "I might have said they weren't nice, but that doesn't mean that they have to be nice," Trump said.
"You know it's not a cocktail party," Kelly shot back.
"No," Trump replied. "I'll tell you what, in a certain way what you did might have been a favor. I said, 'If I can get through this debate with those questions, you can get through anything.'"
–
(H/T: Mediaite)
Follow the author of this story on Twitter and Facebook: