According to a new study by the pro-abortion Guttmacher Institute and the World Health Organization, abortion rates have declined "significantly" in developed countries, while remaining virtually unchanged in developing countries between 1990 and 2014.
According to the report, the global abortion rate declined during the 25-year period, but the absolute number of abortions per year increased "as a result of population growth."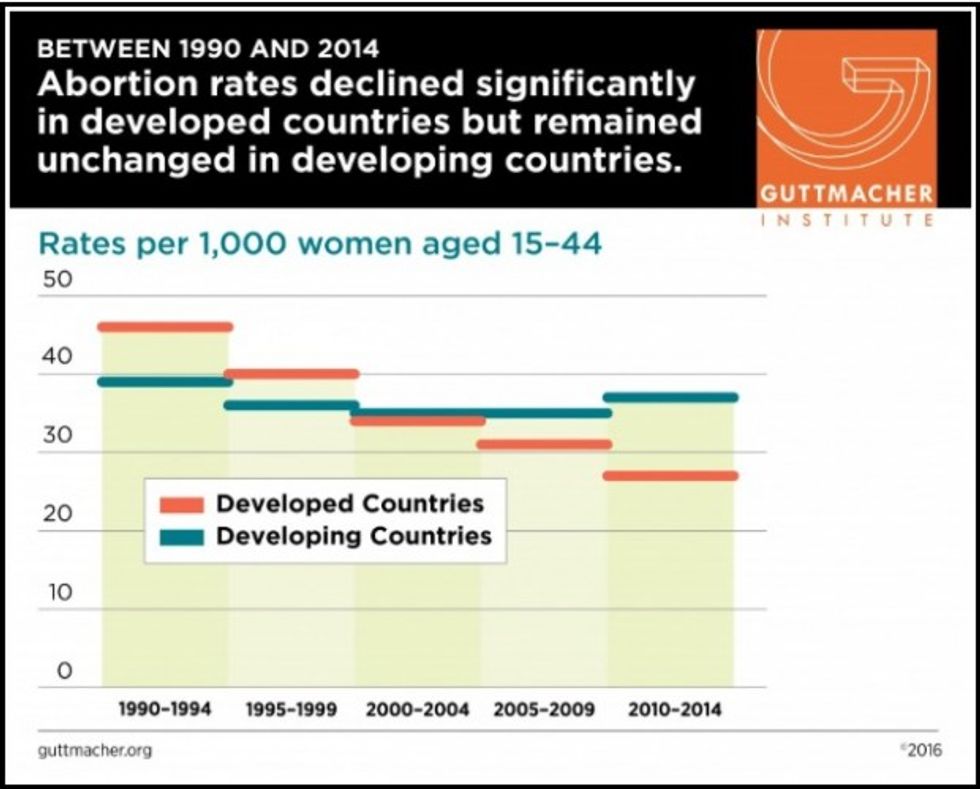 Image source: Guttmacher Institute
The study also concluded that from 2010–2014 "a quarter of all pregnancies worldwide ended in abortion."
The authors went on to contend that countries with "restrictive" abortion laws have higher abortion rates.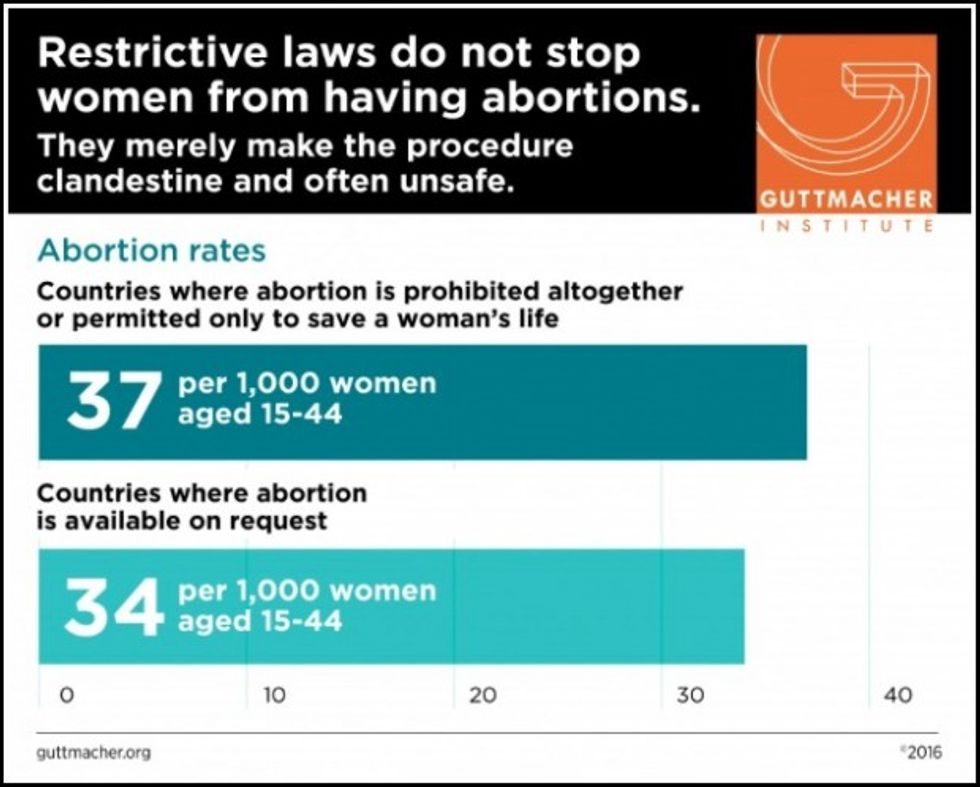 Image source: Guttmacher Institute
But Chuck Donovan, president of the Charlotte Lozier Institute, a pro-life research institution, told TheBlaze, "Abortion rates rise when protective laws are repealed, and countervailing alternatives are not promoted and pro-life attitudes are undermined."
"Abortion remains a serious problem worldwide and a violation of the child's right to life and a mother's right to protect the child she carries and will almost always choose to keep if she has family and social support," Donovan added. (He also noted that a recent State Department report found that international "government statistics on the percentage of all abortions that were nonelective was not available.")
"When discussing abortion, the overall context — political and family freedom, economic growth and supportive services, respect for the standing and dignity of women, and personal values — is what matters most," Donovan said.
Dr. Michael New, an associate scholar at the Charlotte Lozier Institute, told TheBlaze, "Most media outlets that have covered the study have focused on two specific findings. First, countries which legally restrict abortion have similar abortion rates to countries where abortion is legal. Second, the abortion rate has fallen in developed countries but has remained the same in developing countries. A number of reporters and commentators have used these findings to argue that pro-life laws are ineffective and programs to encourage contraception use are effective way to lower the abortion rate."
New said that there is "very little empirical support for this argument."
"There is good academic research from Eastern Europe which finds that when the legal status of abortion changes, that has a significant impact on abortion rate," New said.
"One interesting finding that is getting relatively little attention is that in North America and Oceania abortion rates are lower among married women than among single women. However, in Europe, Latin America, and Asia the abortion rate for married women is much higher than the abortion rate for single women," New noted. "In these countries there may be practices and policies which may discourage and — in extreme cases like China — prohibit childbearing among some married women. More public health research in these countries might provide insights about effective strategies for reducing the rate of abortion."
—
Follow Kate Scanlon (@kgscanlon) on Twitter