President Obama issued an order to public schools Friday morning that they must allow transgender students to use whichever restrooms correspond with their gender identity, regardless of their biological sex.
Lt. Governor of Texas, Dan Patrick, who shared a petition on Facebook earlier this month asking supporters to "keep men out of women's bathrooms" and has condemned educators for enforcing policies that favor transgender students, was one of the first to object to Obama's mandate.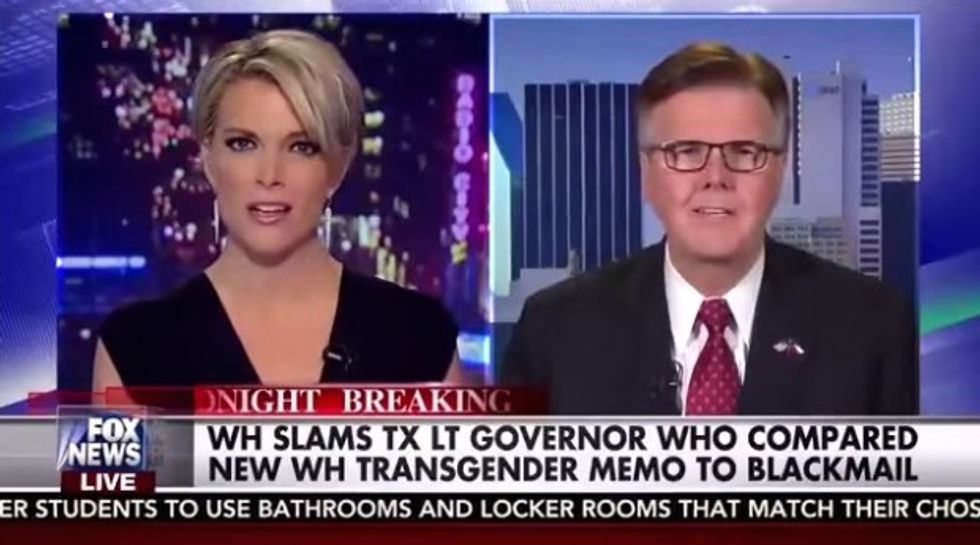 Image source: YouTube / Mediaite
When asked about Patrick's comments Friday, White House press secretary Josh Earnest attacked the Texas politician: "This does underscore the risk of electing a right-wing radio host to a statewide elected office," he said.
Patrick later appeared Fox News to share more of his thoughts on the matter with Megyn Kelly.
Kelly asked Patrick to explain his assertion that the president's order marks the "end of public education," and challenging him with arguments from LGBT rights defenders who have hailed the decision for improving the lives of transgender students.
When he restated his point about "allowing men" in women's rooms, Kelly forced him Patrick to consider the mandate from the perspective of its advocates: Allowing men in the ladies' rooms or allowing trans women in the ladies' rooms?
She continued to press Patrick, asking him why he was so concerned about men pretending to be women in order to molest little girls when there are grown men who prey on little boys have had the right to enter men's restrooms for years.
Patrick said, "Megyn, you're missing th–" but Kelly cut him off.
"No, I don't think I'm missing anything," the Fox host said.
Watch: