Donald Trump's former butler, Anthony "Tony" Senecal was interviewed by the Secret Service this week following after posting threatening messages about President Barack Obama on Facebook.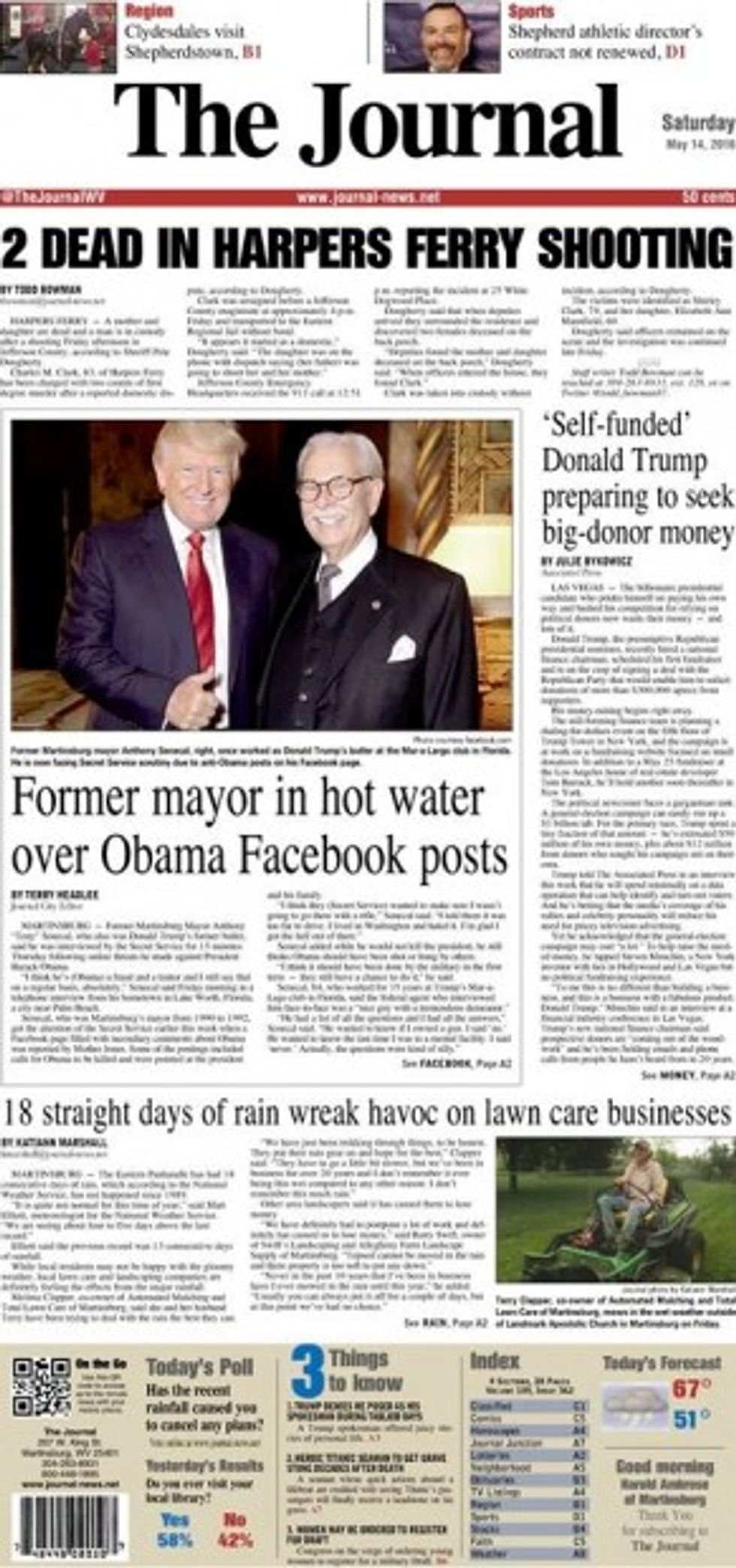 Image source: Facebook/The Journal
Senecal served as mayor for the city of Martinsburg, West Virginia, from 1990 go 1992. He spoke with the Journal on the phone Friday morning from his home town in Lake Worth, Florida. On Saturday, Senecal's interview made the front page of the Martinsburg paper.
"I think he's (Obama) a fraud and a traitor and I say that on a regular basis, absolutely," Senecal told the Journal, adding, "I think they (Secret Service) wanted to make sure I wasn't going to go there with a rifle."
The former mayor apparently jokingly told Secret Service that Washington, D.C., where he used to live and work, was "too far to drive" and said he was "glad I got the hell out of there."
Senecal told the paper that while he would not kill Obama himself, he still thinks the president should have been "shot or hung" by someone.
"I think it should have been done by the military in the first term," he said, adding, "They still have the chance to do it."
The Journal added that Senecal, 84, worked at Donald Trump's Mar-a-Lago club in Florida for 15 years.
Senecal described the agent who interviewed him Thursday as a "nice guy with a tremendous demeanor."
He said he answered every "silly" question during the face-to-face interview, including if he owned a gun and if he had ever been admitted to a mental facility, to which the former mayor answered "no" and "never."
Last September, Senecal wrote in a Facebook post that the president should be hung by the military for treason and other "high crimes." That same month, he referred to Obama by a slur used for someone of the Muslim faith, the Associated Press reported Thursday. In that post, Senecal added that he does not speak for Trump: "This is my opinion, only!!!!," he wrote.
Trump posted a statement to his personal Facebook page Thursday, announcing that his campaign had denounced the "horrible statements" made by Senecal, who worked ay Mar-a-Lago from 1994 to 2009.
Senecal told the Journal that he believes he was targeted for his incendiary Facebook posts because of his former job as a Trump employee.
A recent profile of Senecal in the New York Times reported that after he tried to retire in 2009, Trump kept him on as an unofficial historian at Mar-a-Lago.
"I think that was a big part of why they interviewed me, absolutely," Senecal said. "The big thing I kept reiterating was it has nothing to do with Mr. Trump. Mr. Trump and I have never discussed Obama. These are my thoughts."
—
Follow the author of this story on Twitter: