MANCHESTER, England (AP) — Manchester United's Premier League game against Bournemouth at Old Trafford was postponed on police advice Sunday after a suspect package was found at the stadium.
The announcement was made by both United and Greater Manchester Police. United said the package was "found in the North West Quadrant" of Old Trafford.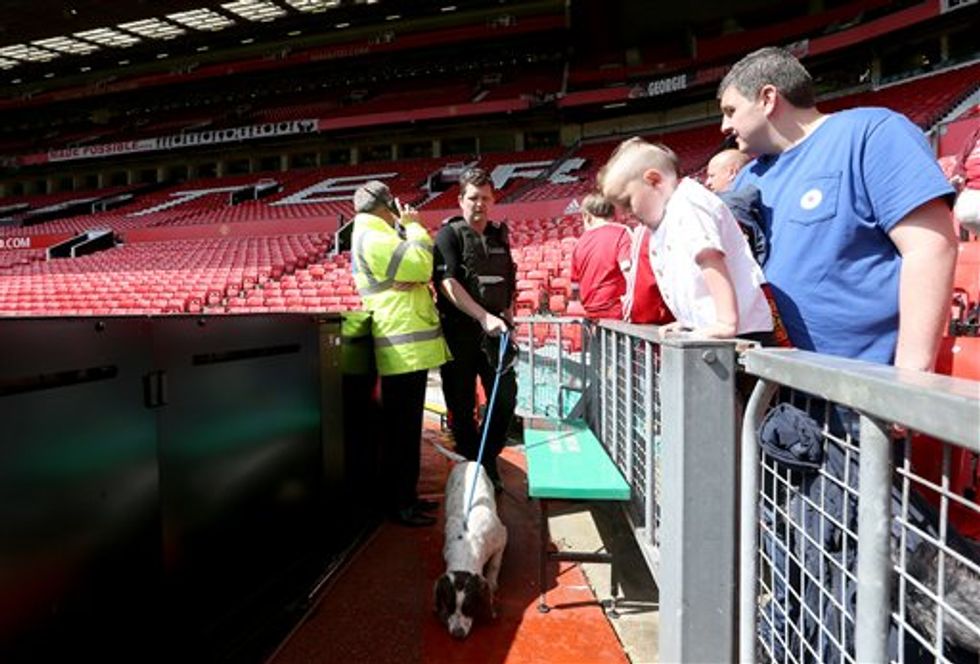 A sniffer dog circles the stadium during the English Premier League match at Old Trafford, Manchester, England. (Martin Rickett/PA / PA via AP)
After the initial reports, new details emerged as police sources confirmed that a phone was found attached to a pipe near the stadium.
Police confirm a phone has been found attached to a pipe at Old Trafford #mufc https://t.co/pKWsPfwJy4

— Samuel Luckhurst (@Samuel Luckhurst)1463325950.0
Old Trafford evacuation: a police source has just confirmed that a phone has been found attached to a pipe.

— John Scheerhout (@John Scheerhout)1463325906.0
Two stands — The Sir Alex Ferguson Stand and the Stretford End — were evacuated about 30 minutes before the scheduled kickoff time of 3 p.m. local time (1400 GMT). Fans in other stands initially had been allowed to stay inside the stadium.
"Those inside OT are asked to remain seated while the forecourt is cleared of fans already evacuated from the stadium," United said.
Manchester United midfielder Ander Herrera described the evacuation to reporters Sunday.
"We are still in the dressing room and it seems we'll be the last ones to leave the stadium," Herrera said, according to Manchester Evening News. "It has been very tense and we have all been nervous."
Police with sniffer dogs were seen inside Old Trafford after the announcement was made.
Just before 5 p.m. local time, Greater Manchester Police share on its Twitter page that "a controlled explosion has just been carried out within the stadium by bomb disposal experts."
Latest update: A controlled explosion has just been carried out within the stadium by bomb disposal experts at Old Trafford. More to follow.

— Greater Manchester Police (@Greater Manchester Police)1463326789.0
The rest of the Premier League games being played on Sunday, the final day of the league season, went ahead as scheduled.
United was vying with Manchester City to finish in fourth place in the Premier League and qualify for the Champions League. United needed to beat Bournemouth and for City to lose at Swansea.
A Premier League official said it's unclear when the match between Manchester United and Bournemouth will be played.
The official said the league will look to rearrange it as soon as possible. The official was speaking on condition of anonymity because the Premier League had not yet issued an official statement.
United is scheduled to play in the FA Cup final on Saturday.