Former House Speaker and 2012 presidential candidate Newt Gingrich said Sunday that he'd consider being Donald Trump's running mate, a job that hasn't seemed to interest too many other GOP leaders.
"I don't think it's an automatic yes," Gingrich said on "Fox News Sunday." But, he said, "I'd be hard-pressed not to say yes," under the right circumstances.
.@newtgingrich: if @realdonaldtrump asks me to be Vice President, we will talk about it. Would be hard pressed not to say yes #FNS

— FoxNewsSunday (@FoxNewsSunday) 1463318951.0
Gingrich, who has been one of Trump's most vocal supporters among Republican Party leaders, entertained the possibility of serving as vice president to Trump, but noted that he would have to discuss the issue with his wife Calista.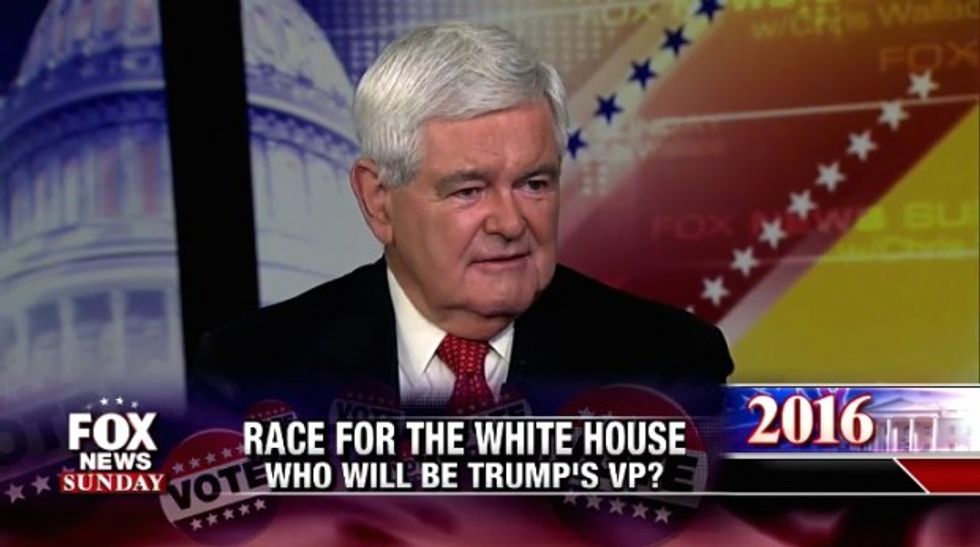 Image source: "Fox News Sunday"
He also mentioned that he has been focusing on promoting his latest book. But that doesn't make him beyond persuasion.
"We're pretty busy, but we certainly could be lured into a new path," Gingrich said Sunday.
"I don't know," he continued. "It's certainly a great challenge. But … I have a pretty interesting, exciting life."
Trump claimed last week that he has five or six names on his list of potential running mates. He said that he would announce his decision in July at the Republican convention in Cleveland.
Gingrich added Sunday that his decision to accept the role of vice president would depend largely on what duties Trump would expect from him and whether Trump views the job as something "doable" and "serious."
Watch: