The Fox News Channel has not given up on its aspiration to host a Democratic presidential debate this election cycle.
The cable-news network sent letters to both Hillary Clinton and Bernie Sanders on Tuesday, requesting the candidates agree to participate in a debate before California's looming June 7th primary.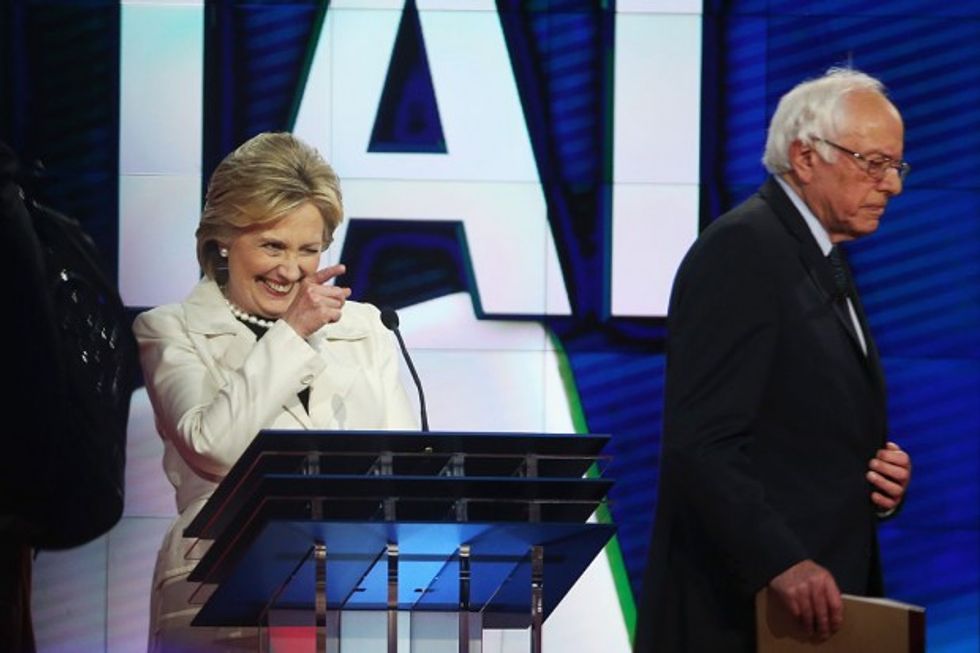 Democratic Presidential candidates Hillary Clinton and Sen. Bernie Sanders (D-Vt.) walk on stage for the CNN Democratic Presidential Primary Debate at the Duggal Greenhouse in the Brooklyn Navy Yard on April 14, 2016 in New York City. (Photo by Justin Sullivan/Getty Images)
"The Fox debate would be moderated by anchors Megyn Kelly, Bret Baier and Chris Wallace, the respected journalists who were widely praised – by Democrats and Republicans alike – for their fair but rigorous questioning in a series of GOP presidential primary debates dating back to August, the cycle's first debate," Vice President of News and Washington Managing Editor Bill Sammon wrote in a letter obtained by The Washington Post. "That same team is now poised to bring that same level of fairness and rigor to the cycle's last debate."
The letter requested a "prompt reply," according to the Post. It said that the debate would be sanctioned by the Democratic National Committee.
Neither a spokesperson for Clinton nor Sanders responded to a request for comment Tuesday evening from TheBlaze.
Fox hosted the highest-rated debate of the election season (the first GOP debate), but has failed to score a Democratic presidential debate. The network did, however, host a Democratic presidential town hall in which anchor Bret Baier questioned both candidates.
—
Follow the author of this story on Twitter and Facebook: