The National Security Council has grown massively during President Barack Obama's tenure — in both size and influence. But there's only so much that the public is permitted to know about what exactly the national security-focused office within the White House is doing.
In an amendment to the National Defense Authorization Act, which funds the Pentagon, Rep. Jackie Walorski (R-Ind.) has added language that would bring the NSC under the scrutiny provided by the Freedom of Information Act.
The amendment passed the House floor unanimously today.
Once subject to FOIA, journalists and everyday citizens would be able to request information about the office's inner workings, including documents like emails and other records.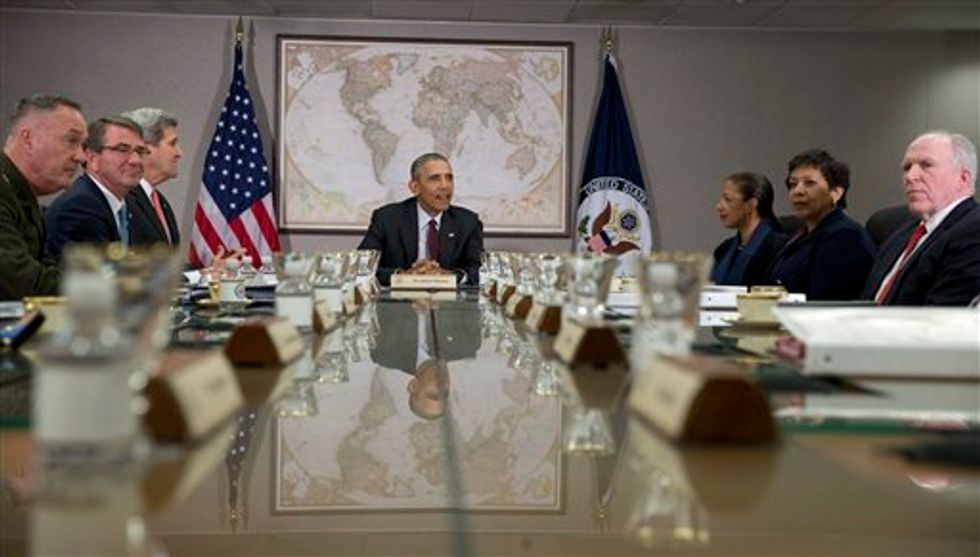 President Barack Obama hosts a meeting of his National Security Council at the State Department in February. Seated with the president from left, Joint Chiefs Chairman Gen. Joseph Dunford, Defense Secretary Ash Carter, Secretary of State John Kerry, the president, National Security Advisor Susan Rice, Attorney General Loretta Lynch and CIA Director John Brennan. (AP/Carolyn Kaster)
Walorski said in an interview with TheBlaze that this move is a crucial step toward opening up a shadowy office, which doubled in size during the Obama administration to about 400 staffers.
"We have started to really see a lot of symptoms of NSC growing, really exponentially growing," Walorski told TheBlaze. "NSC, especially in the last year, has really taken lead control on military strategy."
Walorski said she's spoken with military commanders off-record and they tell her it's nearly impossible to get information to the president without having to jump through the NSC's hoops.
"Some of these folks would absolutely acknowledge that if they went through regular channels, they'd be stymied by the NSC," she said. "There are so many people now."
As a result, Congress needs to step in to force the office to be more transparent, she added.
"If the commander in chief is willing to continue to let that agency grow bureaucratically, then we're getting into a situation where there's no accountability," Walorski said. "There's no transparency whatsoever with this group, they're not subject to FOIA, so the open media, journalism, nobody can really go in and look at [them] or ask any questions."
"Nobody knows, we don't either, how much information is going through the NSC, how much is factual," she said. "I'm a former reporter, so I really believe that the light that transparency brings with the free and open media is something that really needs to play in here."
The amendment was considered this week by the House of Representatives during NDAA discussions.
The White House is "pretty up in arms" about the amendment, Walorski said, so she expects there to be some "controversy" surrounding the legislation after it passes the House floor. However, the amendment will only allow FOIA requests of the NSC moving forward after it becomes law, not retrospectively.
Combined with House Armed Services Committee Chairman Mac Thornberry's (R-Texas) amendment, which would limit the size of the NSC to 100 staffers, HASC is trying to limit the NSC's power as much as possible this year.
Though a new president will take office in January 2017, Walorski said this NSC-limiting legislation is aimed at more than the Obama administration.
"I certainly don't want any precedent to be set under this president that is not a good precedent, and [we're] making sure that we stop it now before anybody else comes in," she said.
—
Follow the author of this story on Twitter and Facebook:
[facebook //www.facebook.com/plugins/like.php?href=