Presumptive Republican nominee Donald Trump announced Tuesday that he has filed his second annual personal financial disclosure forms with the Federal Election Commission and then used the announcement to take a swipe at one of the Democratic presidential contenders.
The Manhattan real estate tycoon declared that he filed his 104 pages of disclosure forms Monday, which he bragged was the "largest in the history of the FEC." Trump contended that he even made the filing deadline despite the option of an extension — something Democratic presidential contender Vermont Sen. Bernie Sanders did not do.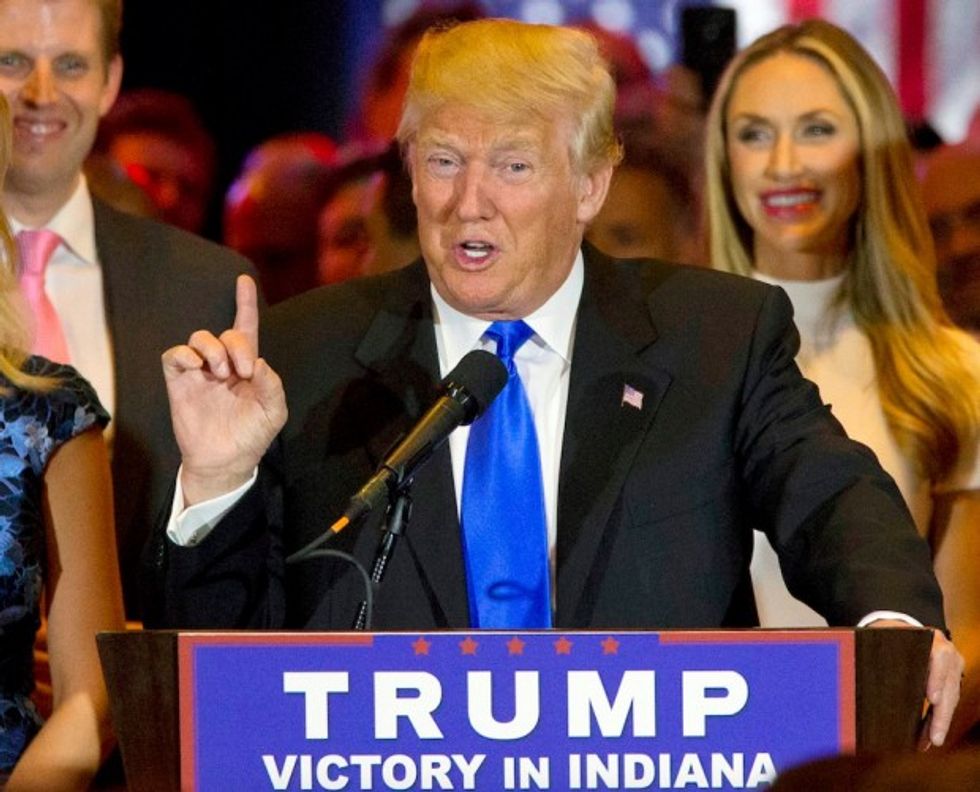 Republican presidential candidate Donald Trump speaks in New York. (AP Photo/Mary Altaffer, File)
"Bernie Sanders has requested, on the other hand, an extension for his small report," Trump said. "This is the difference between a businessman and the all-talk, no-action politicians that have failed the American people for far too long." 
"I have built an incredible company and have accumulated one of the greatest portfolios of real estate assets, many of which are considered to be among the finest and most iconic properties in the world," Trump continued in his statement. "This is the kind of thinking the country needs."
According to Trump's campaign, his filing "shows a tremendous cash flow, and a revenue increase of approximately $190 million (which does not include dividends, interest, capital gains, rents and royalties)."
Trump's income, which totals in excess of $557 million according to the statement, has been used for funding construction projects as well as his 2016 presidential campaign. His net worth is more than $10 billion, the campaign said.
The Sanders campaign requested a 45-day extension to file the senator's personal financial disclosure report last month reportedly due to his campaign schedule.
"As the senator has noted, Jane does their taxes, and they've been a tad bit busy," campaign spokeswoman Symone Sanders said at the time.
That extension put Sanders' filing deadline after California's Democratic presidential primary.
—
Follow Kaitlyn Schallhorn (@K_Schallhorn) on Twitter