Controversially candid Deputy National Security Adviser Ben Rhodes will not have to testify before Congress regarding the Iran nuclear deal, the White House announced Monday.
Rhodes was initially called to testify at a Tuesday hearing on "White House Narratives on the Iran Nuclear Deal" by House Oversight Committee Chairman Jason Chaffetz (R-Utah) after Rhodes gave a remarkably blunt interview to the New York Times Magazine on the Iran deal. However, Fox News reported that Chaffetz received a letter from White House counsel W. Neil Eggleston Monday, which explicitly said the Obama advisor would not attend.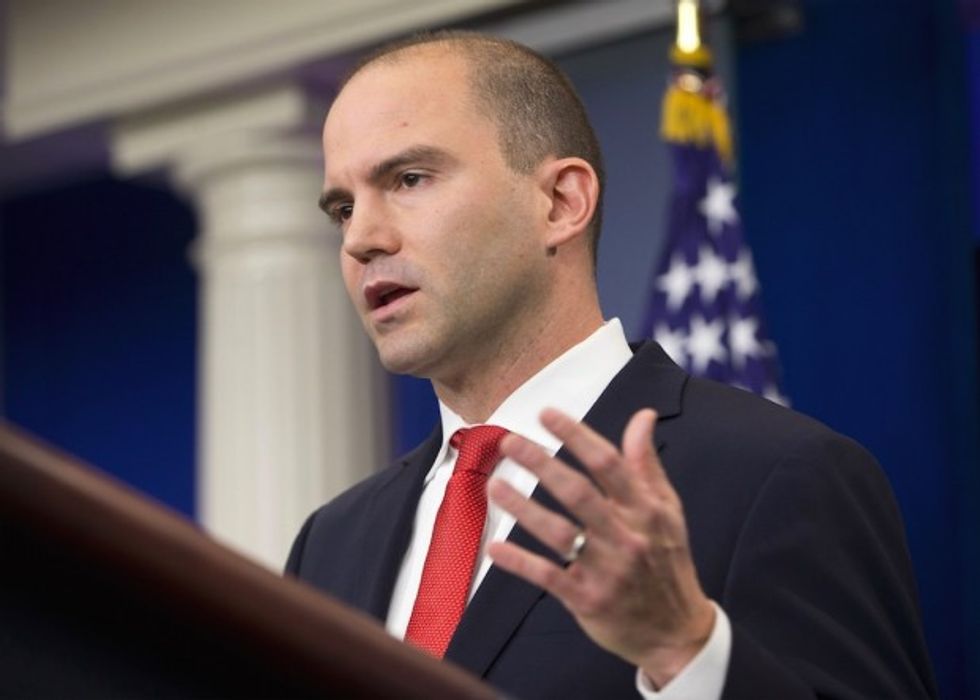 Deputy National Security Adviser Ben Rhodes speaks in the Brady Press Briefing Room of the White House in Washington. (AP Photo/Pablo Martinez Monsivais, File)
Eggleston alluded to an executive privilege-related claim in the letter, according to Fox News, as he asserted that Rhodes' appearance "threatens the independence and autonomy of the President, as well as his ability to receive candidate advice and counsel."
"We will not make Mr. Rhodes available to testify," Eggleston said.
Rhodes ignited a firestorm of controversy — as well as a reported feud between the White House and Chaffetz — after he claimed in the Times report that the administration used young and inexperienced reporters in order to push the narrative for the controversial Iran nuclear deal with certain "experts" and other groups.
"We created an echo chamber," Rhodes told the Times. "They were saying things that validated what we had given them to say."
Fox News reported that despite Eggleston's claim of executive privilege in the letter, White House press secretary Josh Earnest told the news outlet just a few days prior that "this has nothing to do with executive privilege."
Chaffetz upped the pressure on Rhodes to testify last week as he gave in to Earnest's request that a top Republican lawmaker should be made to testify as well.
Earnest said during a press briefing last week that "if [Chaffetz] has an interest in a hearing about false narratives as it relates to the Iran deal, then I've got some suggestions for people that they should swear in." Arkansas Sen. Tom Cotton was then named by the press secretary as Earnest said he "has a special relationship with the Supreme Leader."
On Friday, Chaffetz sent a letter to Cotton with an invitation to testify. However, Chaffetz made clear that Cotton's appearance at the hearing "would be contingent on Mr. Rhodes' appearance at that hearing."
Chaffetz took to social media Monday to decry the fact that Rhodes would not appear at his hearing.
"Disappointing but typical," the lawmaker wrote.
WH informed me @rhodes44 will not testify. Talks to reporters and his "echo chamber" but not Congress. Disappointing but typical.

— Jason Chaffetz (@jasoninthehouse) May 16, 2016
On Friday @PressSec said this was not about Executive Privilege. Today @rhodes44 can't answer because of EP. Who precisely is inconsistent?

— Jason Chaffetz (@jasoninthehouse) May 16, 2016
—
Follow Kaitlyn Schallhorn (@K_Schallhorn) on Twitter