A Vermont high school found itself in the middle of the transgender debate when a series of disagreements between students sparked two student-led protests over the course of a week.
The controversy began after one unnamed student complained about a transgendered student named AJ Jackson (formerly "Autumn Jackson") using the boys' restroom, the New York Times reported.
Green Mountain Union High School principal Tom Ferenc called Jackson's mother the night the complaint was brought to his attention and told her that he was going to ask her child to use the gender-neutral bathroom, Mrs. Jackson told the Times. On Monday, May 9, AJ Jackson and about 30 supportive students walked out of the school in protest.
A complaint against a transgender student for using the boys' bathroom sparked a protest at a Vermont high school https://t.co/P3Qm8CMyvk

— The New York Times (@The New York Times)1463570886.0
Three days later, the district complied with the students' demands and announced its new policy: Transgender students may now use whichever bathroom they feel most comfortable using, regardless of their biological sex.
But not all students were satisfied with the new policy, which was announced just a day before President Barack Obama told all public schools to allow transgender students to use the restrooms of their choosing. And a counterprotest was launched by two of Jackson's classmates, Tanner Bischofberger and Mariah Lique, who are dating.
"It's like me going into a girls' bathroom wearing a wig," Tanner, 15, told the Times. "It's just weird."
This week, Tanner, Mariah and several other classmates sported "Straight Pride" T-shirts, which had been ordered by one student's father. The students said that the school's new policy catered to a vocal minority without taking into account the opinions of straight students.
Junior Daniel Baldwin, 17, who sported one of the "Straight Pride" shirts, told the Times that he believes people should use male or female bathrooms depending on what their birth certificates say, adding, "I just want to be clear: I accept everybody being proud. Everybody has the right to be who they are."
Baldwin also said he would defend Jackson from being bullied for being transgender or even for using the boys' bathroom. "I would step up for AJ," he said. "We're Americans. We're supposed to be civil."
One mother, whose daughter used to play on girls' sports teams with Jackson, told the Times that she sympathizes with Jackson's struggles, but explained that the situation is complicated.
"As we move forward as a community, there has to be compassion on both sides," Deb Brown, a member of the Green Mountain Union High School board, said. "He needs to understand that this has been 15 years that students have known him one way. It's obviously his choice, but maybe he should have respect for his classmates right now."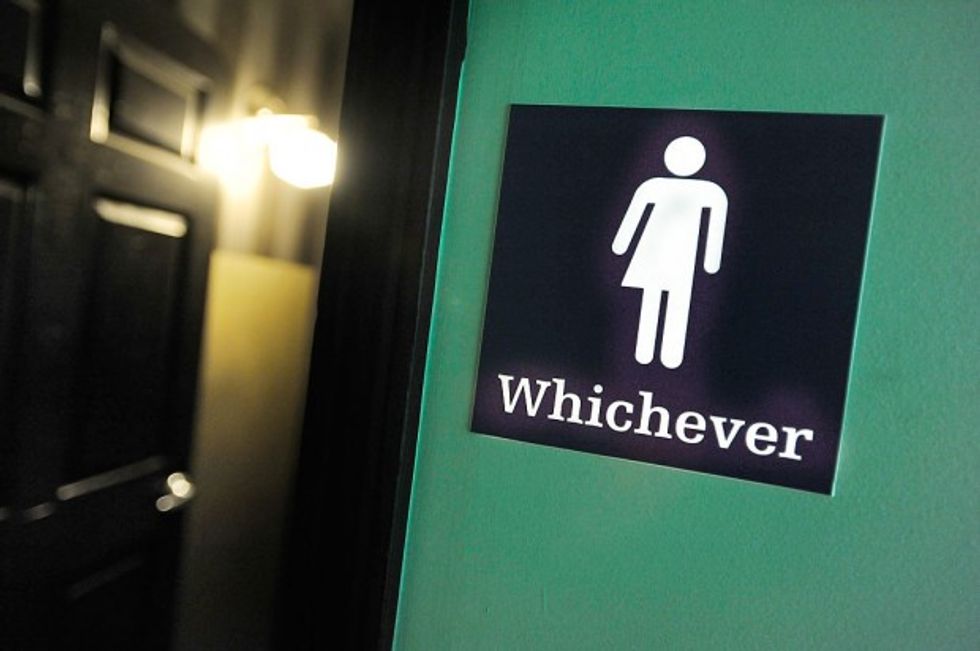 Sara D. Davis/Getty Images
Jackson has been dealing with the desire to be a boy since the sixth grace, according to the Times, and came out to the school last year in ninth grade, explaining the decision in emails to teachers.
Upon entering Green Mountain Middle School in seventh grade, Jackson said, "I was using the female bathroom because, I really don't know, I was still kind of back and forth about my identity. This year is the year I started using the men's bathroom, because I already felt like way more comfortable in who I was."
Adding to the complication, when Jackson menstruates, there's no place to discard used feminine products. More from the Times:
There were practical issues. When he had his period, he wondered if he should revert to the girls' bathroom, because there was no place to throw away his used tampons. But he had started feeling like an intruder in the girls' bathroom, and the single bathrooms were so far out of the way it was hard to get to class on time.

So he stuck with the boys' bathroom.

"I use a stall, and I wait till everybody's gone to get up and leave," Mr. Jackson said. "The guys, they look at me like I'm some kind of freak, or they're concerned or scared."
Hank Mauti, a school board member, told the Times he wondered why Jackson would feel the need to demand to be allowed to use the boys' bathroom when there were six single-use gender-neutral bathrooms in the school.
But for Jackson, the last week's protest was about the wider issue of feeling accepted and comfortable in school.
Ferenc told the Times he was happy to offer "clarity" with the new policy and that he was proud of his students for rallying in support of Jackson.
"It reminded me of Rosa Parks, honestly," he said.
As far as the counterprotest goes, Tanner and Mariah believe that more students agree with them but are afraid to voice this because if they did, "you'd get hated," Mariah explained.
The two teenagers shared that their decision to be vocal on the transgender issue has left them with an army of enemies. For example, someone taped a sign to a trash can this week that read, "Reserved for Mariah and Tanner."
What really troubles them, they told the Times, is that Jackson is still biologically female.
"Autumn, AJ, whatever you call them, hasn't had any hormone or sex change yet," Tanner said. "This opens up opportunities for other kids to do stuff they're not supposed to."