Mitt Romney is no longer pursuing an independent candidate to challenge likely Republican nominee Donald Trump, and he doesn't plan to run himself, according to a report today.
Romney allies told Yahoo! News that the former GOP presidential nominee and former Massachusetts governor "remains hopeful someone will emerge" in opposition to Trump but is dropping his efforts to recruit another candidate to jump into the 2016 race to play spoiler to the billionaire's presidential ambitions.
Romney had reportedly tried to get both former 2016 hopeful Ohio Gov. John Kasich and Republican Sen. Ben Sasse of Nebraska — an outspoken Trump opponent — to mount independent bids.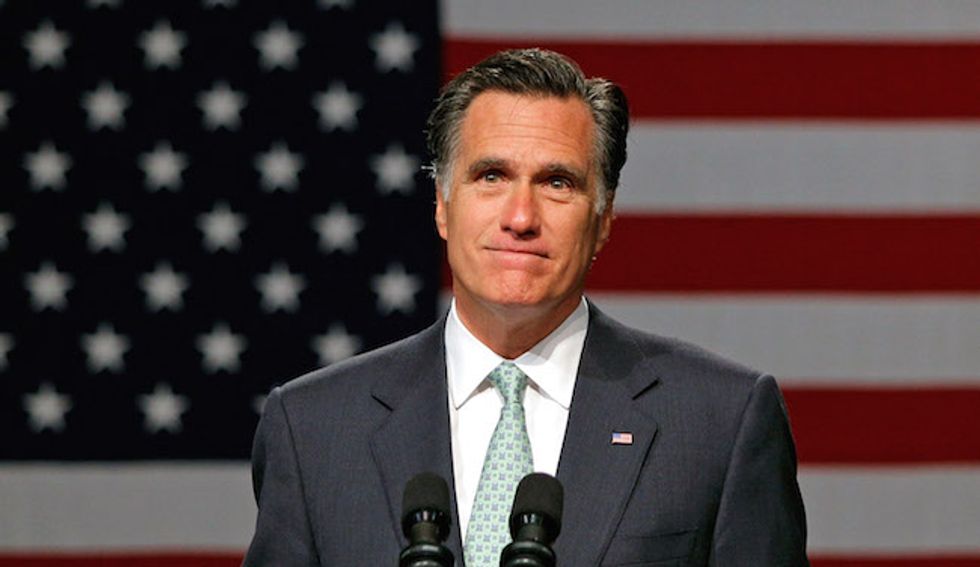 Mitt Romney is shown in Michigan in 2012. (Getty Images)
But those leads have mostly dried up, according to the report.
And while Romney remains "motivated to help the 'stop Trump' cause," a person involved in the stop-Trump discussions said that Romney is not calling or emailing any of the people who are still considering a run. A few potential candidates remain, the source said, although none at the moment are "live prospects."

"He thinks someone should run. That's his role. That's the beginning and end of it," the Romney adviser said. "Is he organizing it? No. But he has talked to people who have thought about it."
The biggest criticism of Romney's third-candidate mission was that it would make it difficult for anyone other than likely Democratic nominee Hillary Clinton to take the White House.
From Yahoo!:
Ultimately, it appears a Romney candidacy never went anywhere seriously this year for the same reasons others do not want to run: Any independent candidate would almost certainly be blamed for electing Clinton. Those close to Romney did not want to be responsible for laying that burden on his shoulders.
—
Follow the author of this story on Twitter and Facebook:
[facebook //www.facebook.com/plugins/like.php?href=