The brother of one of the bombers in March's terror attack on the Brussels Airport is reportedly a world-class athlete who has qualified for this summer's Olympic Games in Rio de Janeiro.
Mourad Laachraoui, whose brother Najim Laachraoui detonated a suicide bomb in the March 22 attack in Brussels, won the European Taekwondo championship Thursday, the Washington Post reported.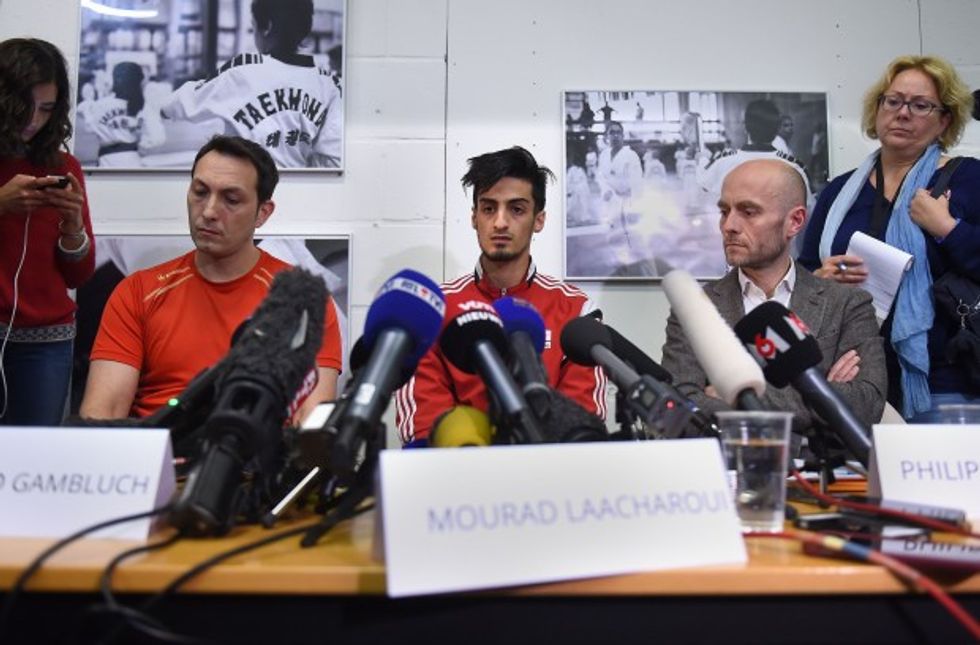 Belgian Taekwondo athlete Mourad Laachraoui, younger brother of Brussels bomber Najim Laachraoui, gives a press conference March 24 at the headquarters of the Francophone Belgian Taekwondo Association in Brussels (Emmanuel Dunand/AFP/Getty Images)
Najim, 25, killed 14 and wounded dozens when he detonated his bomb, according to the Israeli news site Haaretz.
Mourad, 21, "beat Spaniard Jesus Tortosa 6-3 in the 54 kg final in Montreux, Switzerland, on Thursday evening, earning him the European Taekwondo Championship's gold medal," the Post reported.
He qualified for the Olympics last year and is expected to compete for the Belgian team.
The family had not been in contact with Najim since he left Belgium to go to Syria in 2013, Mourad told reporters at a news conference days after the attacks.
"Our family has the same questions you all have," he said, according to Haaretz. "He used to be a nice intelligent guy. I couldn't believe it. ... I'm not trying to understand, I'm trying to move on and turn the page."
The Olympic Games are set to begin Aug. 5.
—
Follow the author of this story on Twitter and Facebook:
[facebook //www.facebook.com/plugins/like.php?href=