Conservative pundit Charles Krauthammer said Friday on the Fox News Channel that he believes Sen. Bob Corker (R-Tenn.) will most likely be tapped by Donald Trump to run on the Republican ticket as vice president.
Krauthammer used $100 in "casino chips" to illustrate to the Fox audience the odds of various individuals scoring the VP nomination.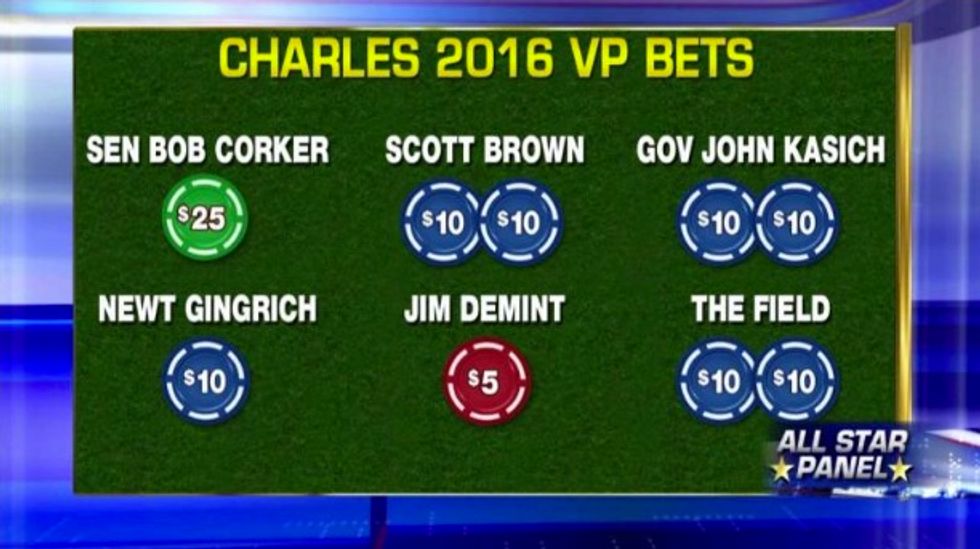 Image source: Screen grab
The syndicated columnist placed a $25 bet on Corker, saying the Tennessee senator has "a bit of gravitas" and "spoke well" of Trump's speech at AIPAC. Corker is also scheduled to meet with Trump Monday.
Former Sen. Scott Brown (R-Mass.) earned $20 in chips, as did Ohio Gov. John Kasich.
Krauthammer placed a $10 bet on former House Speaker Newt Gingrich and $5 on former senator and Heritage Foundation President Jim DeMint.
The remaining $20 in chips were placed by Krauthammer on "the field."
"I have no idea," he conceded.
—
Follow the author of this story on Twitter and Facebook: