Sen. Tom Cotton (R-Ark.) let loose on Senate Minority Leader Harry Reid in a fiery speech from the Senate floor on Wednesday, strongly criticizing his actions and "cancerous leadership."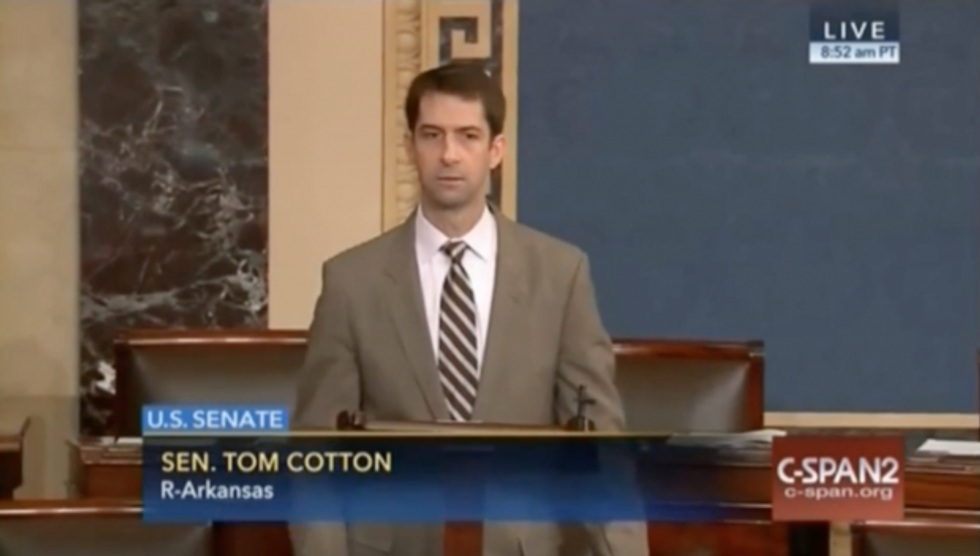 C-SPAN
"As a junior senator, I preside over the Senate," Cotton said. "I usually do in the morning, which means I'm forced to listen to the bitter, vulgar, incoherent ramblings of the Minority Leader. Normally, like other Americans, I ignore them. I can't ignore them today, however."
Cotton made his displeasure with Reid's decision to stall a vote on a defense bill that ultimately passed with a 98-0 vote. Reid accused Republicans of drafting the bill in the "dead of night," leaving lawmakers with no time to read the actual bill.
"When was the last time the Minority Leader read a bill? It was probably an electricity bill," Cotton joked.
The Republican senator also argued that the defense bill has been "public for weeks."
"This coming from a man who drafted Obamacare in his office and rammed it through this Senate at midnight on Christmas Eve on a straight party-line vote," Cotton said.
Cotton, a military veteran, also angrily questioned Reid's insistence that his actions were based in his caring for U.S. troops.
"To say that he's delaying this because he cares for the troops, a man who never served himself, a man who in April 2007 came to this very floor before the surge had even reached its peak and said the war was lost, when over 100 Americans were being killed in Iraq every month, when I was carrying their dead bodies off an airplane at Dover Air Force Base," he added, calling Reid's claim an "outrage."
Reid's only interest, Cotton said, is in saving his "sad, sorry legacy" in the Senate.
Watch the video below:
---