During a late-night interview Wednesday with show host Jimmy Kimmel, Donald Trump discussed what he thinks about the hotly debated transgender bathroom issue.
Asked how he would approach the topic as president during the discussion with Kimmel, Trump seemed unsure about what the right answer would be, telling the comedian he would rather leave it to the states to decide.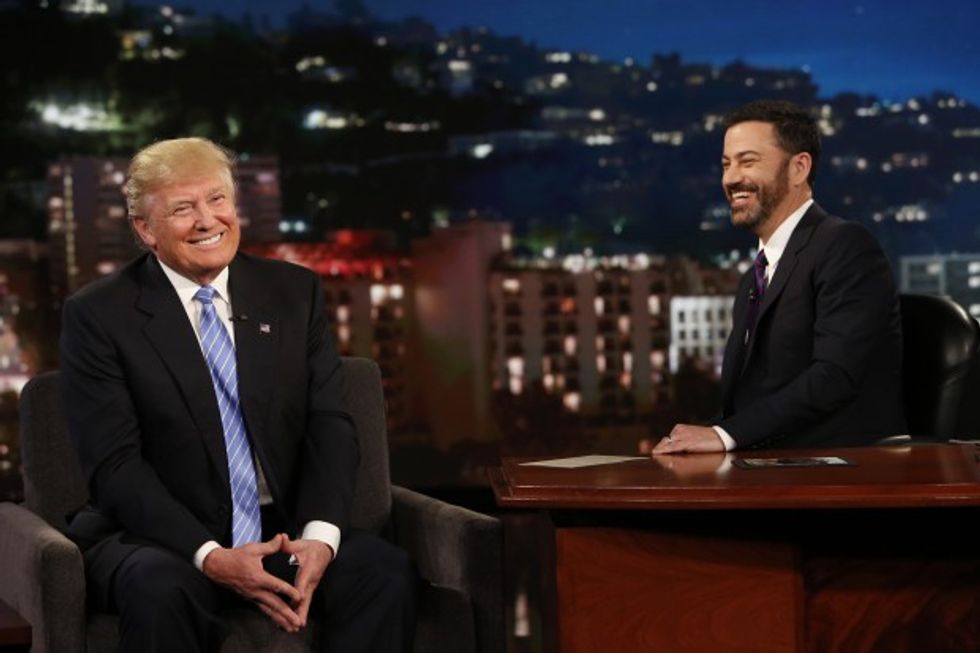 Randy Holmes/ABC via AP
"What I support is let the states decide. … And I hope the states will do the right thing," the presumptive Republican nominee said.
But when Kimmel pressed him to clarify what "the right thing" to do is, Trump simply said, "I mean, I don't know yet."
The transgender bathroom controversy seems to be one in which Trump often finds himself on the outskirts of conventional conservative ideology. Last month, Trump asserted that North Carolina is "paying a big price" for its controversial bathroom bill.
He went on to say transgener people should be allowed to "use the bathroom that they feel is appropriate."
"North Carolina did something that was very strong, and they're paying a big price, and there's a lot of problems," Trump added, pointing out the many companies that have since boycotted the state over the legislation, which requires individuals to use the bathroom that coincides with their biological sex.
The real estate developer also slammed the idea of creating restrooms specifically for transgender people, calling the move "discriminatory" as well as "unbelievably expensive for businesses and for the country." Trump also affirmed that, should Caitlyn Jenner visit Trump Tower, he would permit the reality star to use any restroom.
In a display to prove a point, Jenner later did just that.
During the same interview with Kimmel, Trump claimed he was "a little bit" insincere when he offered up glowing words for likely Democratic nominee Hillary Clinton in the past — a key line of attack for Trump's one-time Republican primary rivals.
"So you were full of s***?" Kimmel interjected.
Trump, laughing, replied, "A little bit."
—
Follow the author of this story on Twitter: