Japanese Prime Minister Shinzo Abe invoked the infamous Lehman Brothers bankruptcy as he warned his fellow Group of Seven leaders of potential economic hardships that could befall his country.
Abe's warning of an impending Lehman-magnitude crisis could be his set-up for why another delay in a hike of Japan's national sales tax could come, according to CNBC. The prime minister has planned to raise the country's sales tax from 8 percent to 10 percent in April 2017 unless a natural disaster or economic collapse occurs.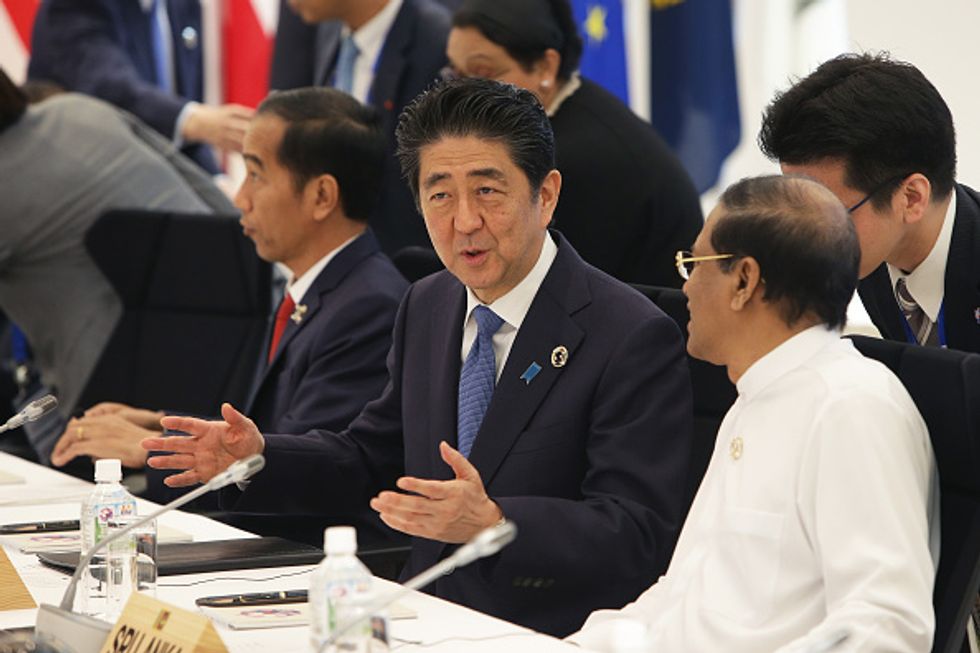 Japanese Prime Minister Shinzo Abe talks with Sri Lanka President Maithripala Sirisena during an "Outreach Session" on Friday in Kashikojima, Japan. In the two-day summit, the G7 leaders discussed the pressing global issues including counter-terrorism, energy policy and sustainable development. (Getty Images/Chung Sung-Jun)
During Thursday's session of the G7 summit, which Abe is hosting, the prime minister showed that commodity prices have plummeted 55 percent since 2014 — the same margin those prices fell during the global financial crisis.
Bloomberg reported that Abe said the leaders at the summit engaged in a "full debate" on economic issues.
"We agreed on the perception that we are facing serious risks, that the world economy is facing serious risks," Abe reportedly said.
Lehman Brothers filed for Chapter 11 bankruptcy in 2008 — the largest bankruptcy in U.S. history.