Former Republican presidential candidate Dr. Ben Carson said that the United States may be on a course to "tremendous carnage and death" during an interview Monday on Fox and Friends.
"America, right now, is like a cruise ship that is about to go off of Niagara Falls with tremendous carnage and death," Carson said. "What you have to do first is recognize the problem, stop the ship, turn it around and then move in the other direction."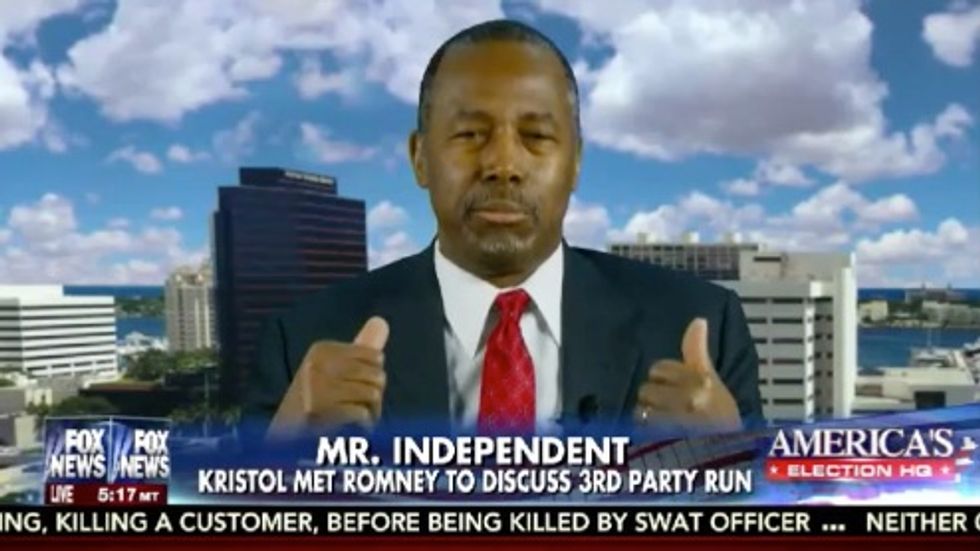 Image source: Twitter
Carson, a surrogate for Donald Trump, also addressed reports that an independent candidate may run for president, arguing that a third-party bid by an independent could lead to victory for Democratic frontrunner Hillary Clinton in November over "petty little differences" with the Republican candidate.
"I'm hoping that whoever that third-party candidate is will just stop for a moment and think about what the implications are of allowing Hillary Clinton or someone like her to get in there," he added. "They get two to four Supreme Court picks and completely change the nature of this country and destroy the prospects for their children and their grandchildren to have the same opportunities that they had."
Bill Kristol, a Weekly Standard editor and a leader of the #NeverTrump effort tweeted Sunday that an "impressive" third-party candidate will enter the race for the White House. Trump retaliated by calling Kristol a "dummy" on Twitter.
Just a heads up over this holiday weekend: There will be an independent candidate--an impressive one, with a strong team and a real chance.

— Bill Kristol (@Bill Kristol) 1464555608.0
If dummy Bill Kristol actually does get a spoiler to run as an Independent, say good bye to the Supreme Court!

— Donald J. Trump (@Donald J. Trump) 1464562921.0
Watch below:
BEN CARSON: America is like a cruise ship that is about to go off of Niagara falls with tremendous carnage and deathhttps://t.co/cVRp45XbJq

— FOX & Friends (@foxandfriends) May 30, 2016
—
Follow Kate Scanlon (@kgscanlon) on Twitter