Dr. Kelli Ward thinks Donald Trump could be an asset in 2016.
In fact, the former Arizona state senator believes that Trump, the Republican presidential nominee, could be valuable to her campaign as she seeks to take out Sen. John McCain (R) in the GOP Senate primary — especially when it comes to the issue of illegal immigration, an issue that Ward said cited as one of the most important plaguing Arizonans as well as the rest of the country.
"For me, having Trump at the top of the ticket is going to be advantageous," Ward told TheBlaze in an interview Tuesday evening. "Now, for Sen. McCain, not so much."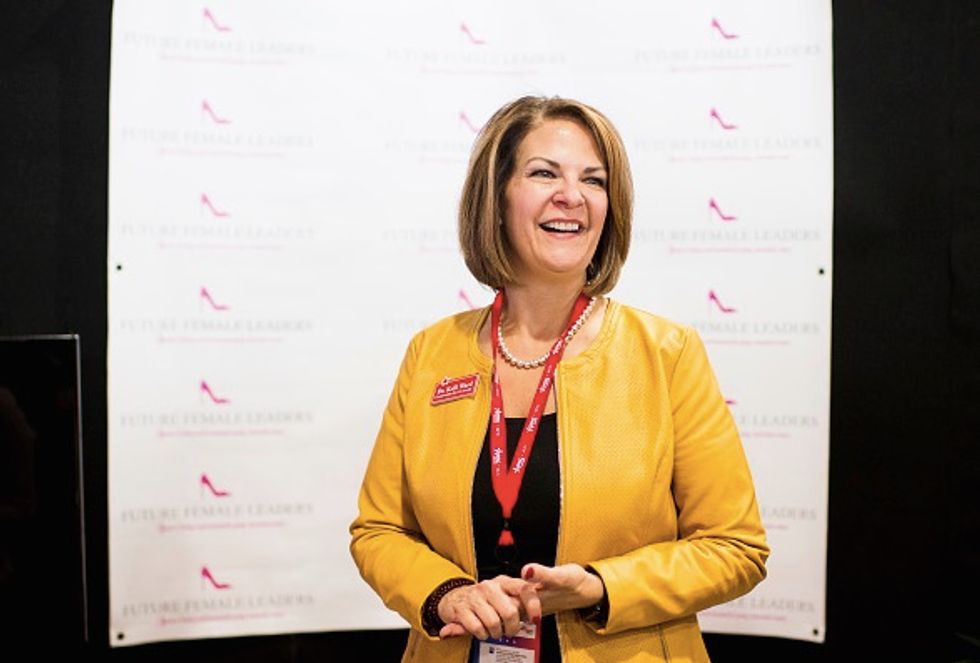 Dr. Kelli Ward, a candidate vying to unseat GOP Sen. John McCain, speaks with supporters. (Getty Images/Bill Clark)
Ward, who calls herself a "liberty-loving conservative Republican," argued that illegal immigration and the country's southernmost border would be the first and foremost issue she'd tackle as a U.S. senator, because "it's effecting every single aspect of our society — from health care to education to public safety to the economy."
"We here in Arizona are fed up with hearing John McCain saying 'build the dang fence' whenever he's running for office, and then going straight to an amnesty bill whenever he gets to Washington, D.C.," she said.
While Ward met with and attended a variety of rallies for GOP presidential contenders as they campaigned in Arizona, she does support Trump for president, Stephen Sebastian, a spokesman for her campaign, confirmed to TheBlaze. She also "hopes to sponsor his 'Build the Wall' legislation and looks forward to working alongside Sen. [Ted] Cruz to pass it," Sebastian said.
Trump soundly won Arizona's presidential primary in March, garnering more than 47 percent of the vote.
"I think that a lot of people are afraid of Donald Trump; I'm not one," Ward told TheBlaze. "I think the things he is saying on the campaign trail are resonating with the people. They want secure borders. They want to stop illegal immigration. They want to prioritize America and American citizens. They want to have a strong economy. They want jobs to come back to this country so that they, their families and their friends can have access to employment and the freedom of employment rather than the shackles of welfare."
Political insiders in the Beltway, Ward said, are concerned that McCain is "the most vulnerable down-ballot Republican from Donald Trump."
"Here in Arizona, people are really considering which Republican they want to keep down ballot because we want to keep that seat," she said. "We want to make it a conservative Republican seat. That's been wonderful for me because they understand that I am that right Republican, so when Donald Trump is at the top of the ticket, they're going to come out and vote for Kelli Ward as well."
Multiple Republican politicos with knowledge of the campaign told TheBlaze Wednesday that Ward wasn't wrong. GOP strategist Noel Fritsch told TheBlaze:
In March, Donald Trump and Ted Cruz, two outsider presidential candidates, combined for an astonishing 72 percent of Arizona's Republican primary vote, a clear indication that Copper State voters will undoubtedly look to replace grumpy John McCain — a politician who repeatedly votes to fund Planned Parenthood and Obamacare, saddles our kids with astronomical debt, supports amnesty and ships American jobs to China — with a proven conservative like Senator Kelli Ward.
Dr. David Woodard, Thurmond professor of political science at Clemson University, said that there is a feeling that the lawmakers have "overstayed their welcome."
"That may not auger very well for running statewide in November," Woodard told TheBlaze, adding that other candidates can "bring new, fresh and improved ideas to the race — that's what most people will vote on."
But the McCain campaign maintains confidence in the upcoming primary — as well as the general election.
"John McCain has built a strong campaign that is ready for any challenge," Lorna Romero, McCain's campaign spokeswoman, told TheBlaze Wednesday. "We are confident that voters will support John McCain, a great Arizona hero whose record of service and sacrifice is unmatched."
Aside from immigration, Ward said that her background as a physician enables her to tackle the controversial Affordable Care Act — otherwise known as Obamacare.
"There are lots of problems with Obamacare, but one of the biggest is that they didn't get people who actually take care of patients to weigh in on how we could better provide access to high-quality, cost-effective health care," she said. "And they came up with a kind of unworkable utopia that will never be able to financially stand on it's own; it will never provide care to all people."
"Sen. McCain has said that Obamacare is the law of the land, we just need to accept it. Well, I'm not willing to accept it," Ward continued, adding that her background in the emergency room, private practice and academia gives her a well-rounded view of the health care system.
Besides policy issues, Ward said there is another stark difference between her and McCain that brings a unique set of challenges on the campaign trail — gender.
"I think it is a little bit different as a female candidate, because people are very judgmental," Ward said. "You think about Sen. McCain getting ready to go up on the stage. All he has to do is throw a blue blazer on and change his tie, and he's ready to go. I have people who have no qualms about telling me that my hair is bad, or they don't like my lipstick, or that I look frumpy. I don't think a man who is in politics has ever been called 'frumpy.'"
Ward recalled a time when she wore flats as she was on crutches — and people noticed.
"Those things are definitely a challenge — superficial kinds of things where people make comments and judgments based on what somebody looks like, and that's harder for a woman," Ward said. "Also, you have to think as a mom and a wife, it is a big challenge because you're leaving your family. And men do too, but traditionally a mom is there."
Thankfully, Ward said, her parents and in-laws are nearby and can help her husband and three children while she's running for office, which eases her "mommy guilt" and "wife guilt."
"I try to bring the whole package," Ward said. "I try to look good, and I try to have great ideas and put sound policies forward because I will take the shallow votes from the people who say, 'Oh, she looks nice.' I'll take those votes just as much as from the policy wonks."
McCain remains in front of his challengers ahead of the Aug. 30 primary — but not by a landslide, according to a Public Policy Polling survey released last month. The survey found that McCain is polling at 39 percent followed by Ward at 26 percent. Three other challengers are polling at less than 5 percent.
About 27 percent of Arizona Republican primary voters were still undecided.
—
Follow Kaitlyn Schallhorn (@K_Schallhorn) on Twitter