Intense furor over the Cincinnati Zoo's decision to kill a gorilla after a small child fell into its cage has led a prominent megachurch pastor to conclude: "Americans have officially lost our minds."
Perry Noble of NewSpring Church in South Carolina penned a blog post on Tuesday, saying that "human life was chosen over the gorilla," and that he believes hypocrisy is running rampant among the hundreds of thousands of angry individuals who signed a petition asking police to investigate the child's parents.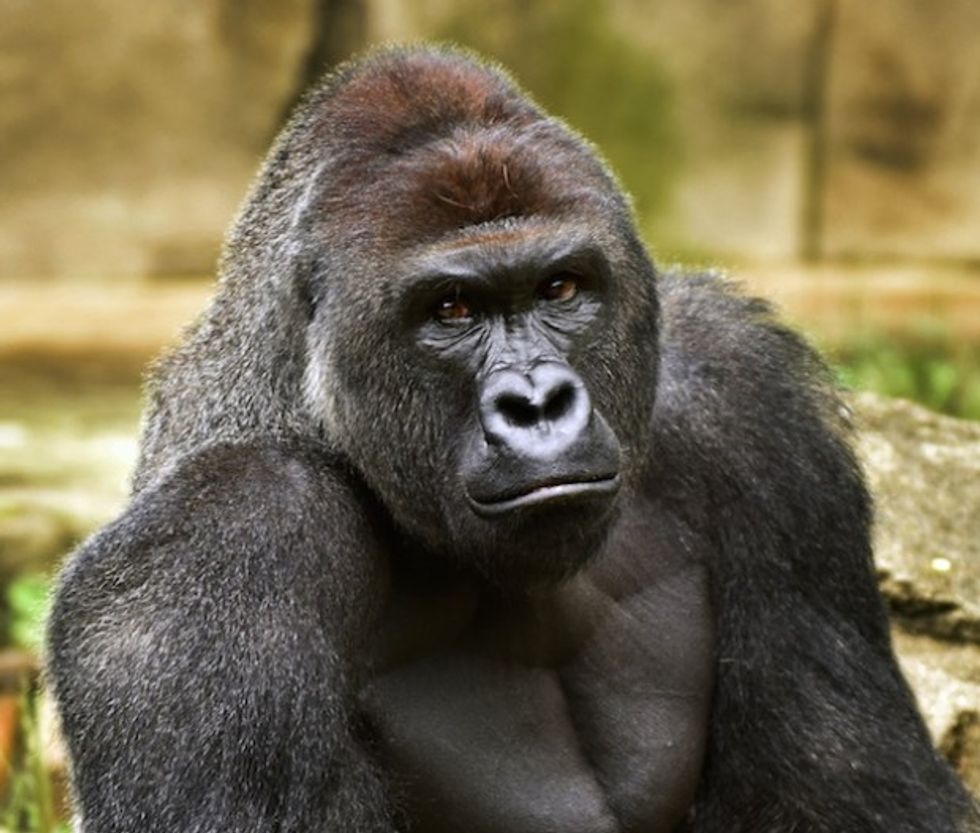 FILE - This June 20, 2015 file photo provided by the Cincinnati Zoo and Botanical Garden shows Harambe, a western lowland gorilla, who was fatally shot Saturday, May 28, 2016, to protect a young boy who had entered its exhibit. (Jeff McCurry/Cincinnati Zoo and Botanical Garden via The Cincinatti Enquirer via AP, File)
"I wonder if the same 300,000 people have been equally bothered by Christians being beheaded/tortured in the Middle East?" he asked. "I wonder if the same 300,000 people were as upset when all of the dirt was exposed on Planned Parenthood?"
Noble continued, "I wonder if the same 300,000 people were as upset when Dr. Kermitt Gosnell murdered a child after a botched abortion?"
While the preacher said that he certainly feels bad for the gorilla, "human life simply has more value," appealing to Bible scriptures in Genesis 1:27 and Psalm 139 to back that sentiment.
Genesis 1:27 reads, "So God created mankind in his own image, in the image of God he created them; male and female he created the," with the text in Psalm 139 dealing with God's creation of man.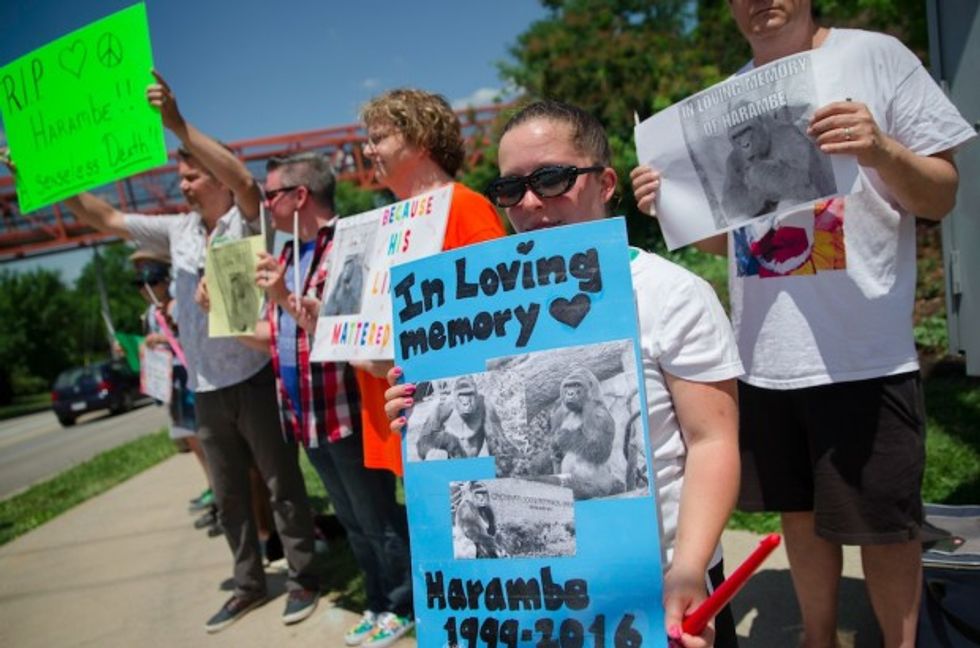 Kate Villanueva of Erlanger, Kentucky, center right, holds a sign depicting the gorilla Harambe during a vigil outside the Cincinnati Zoo & Botanical Garden, Monday, May 30, 2016, in Cincinnati.Harambe was killed Saturday at the Cincinnati Zoo after a 4-year-old boy slipped into an exhibit and a special zoo response team concluded his life was in danger. (AP Photo/John Minchillo)
"Let me be very clear — this does NOT mean we can be cruel to animals (even cats)!" Noble wrote. "However, it was very clear in this situation that a human life was at stake and when you consider that life against the feelings of some people who most likely never even saw the gorilla, putting the gorilla down, though tragic, was absolutely the right call."
As TheBlaze perviously reported, the Cincinnati Zoo has defended its decision to kill the gorilla — who was named Harambe — after the boy fell in, with leaders there saying that the child's life was at risk.
That said, controversy has raged, with more than 423,000 people signing a petition calling on officials to investigate the parents of the toddler who fell into the gorilla enclosure. Police are currently looking into what unfolded.
"We stand by our decision," zoo director Thane Maynard said on Monday.
--
Follow the author of this story on Twitter and Facebook and check out his new book "The Armageddon Code: One Journalist's Quest for End-Times Answers":