Former Major League Baseball star Curt Schilling made a surprise call to TheBlaze Radio on Thursday to weigh in on a White House action that he said is "disrespectful" of veterans and their families.
Schilling was referring to the Obama administration's decision to bring Denver Broncos to the White House on Monday to celebrate their Super Bowl 50 win over the Carolina Panthers.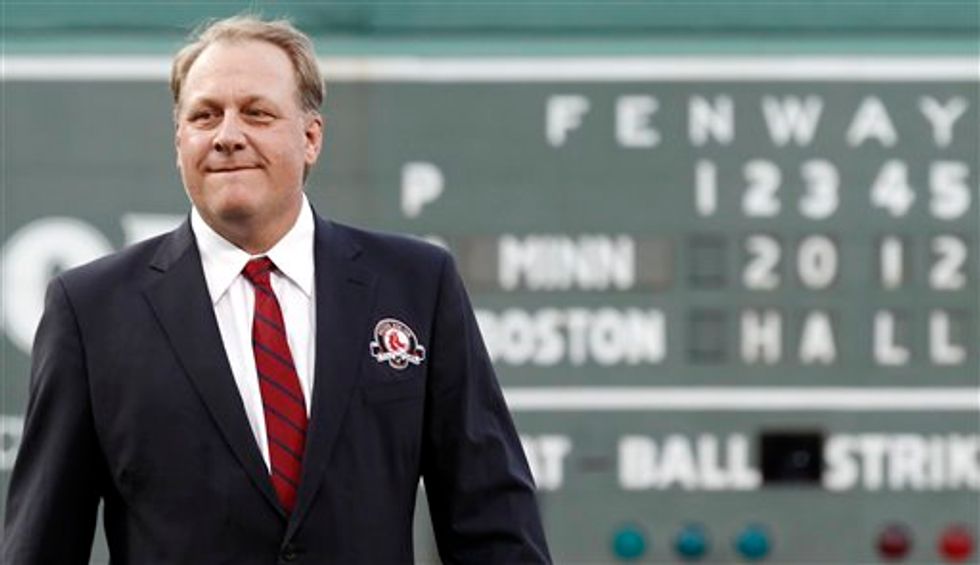 Former Boston Red Sox pitcher Curt Schilling looks on after being introduced as a new member of the Boston Red Sox Hall of Fame before the baseball game between the Boston Red Sox and the Minnesota Twins at Fenway Park in Boston Friday, Aug. 3, 2012. (AP Photo/Winslow Townson)
But it isn't the invitation itself that has upset Schilling, as reigning Super Bowl champions are often invited to visit the executive mansion in Washington, D.C. Instead, Schilling pointed out the timing of the football team's visit, which is scheduled for the same day as the 72nd anniversary of D-Day from World War II.
In a Facebook post on Wednesday, Schilling suggested Obama was telling the American people to "f*** off" by bringing the team to the White House on historical day.
"I am incredibly disappointed in the perception that this president continues to put off," Schilling told TheBlaze's Mike Opelka. "I know the Denver Broncos aren't going to be in the White House for 24 hours. I know they're not going to take every minute of his time that day."
Schilling continued: "I don't believe our president hates our country, unlike a lot of people. But I do believe the amount of disrespect that he repeatedly shows for veterans and their families, it sickens me."
"What on Earth would lead you think that publicizing the Broncos on the anniversary of D-Day is a good thing," the former MLB pitcher said. "You're either stupid, or you're just not watching."
You can listen to Schilling's entire interview below, in which he also discusses his recent controversies including being fired by ESPN for comments he made about transgender individuals and which bathrooms they are allowed to use.
TheBlaze's Mike Opelka contributed to this report.
—
Follow the author of this story on Twitter and Facebook: