NASHVILLE, Tenn. (AP) — The number 41 and the initials "DE" were everywhere around Hawkins Field as the Vanderbilt Commodores mourned the death of freshman pitcher Donny Everett while trying to play in the NCAA Tournament regional they are hosting.
College baseball shared Vanderbilt's grief Friday.
Everett drowned Thursday while on a fishing trip at a Tennessee lake, and his teammates waited out a storm delay Friday night of more than 2 hours before their NCAA opener against Xavier was postponed until Saturday. Baseball and being together in the locker room at least gave them a break from an emotionally draining 26 hours.
Vanderbilt coach Tim Corbin said his Commodores wanted to try to play.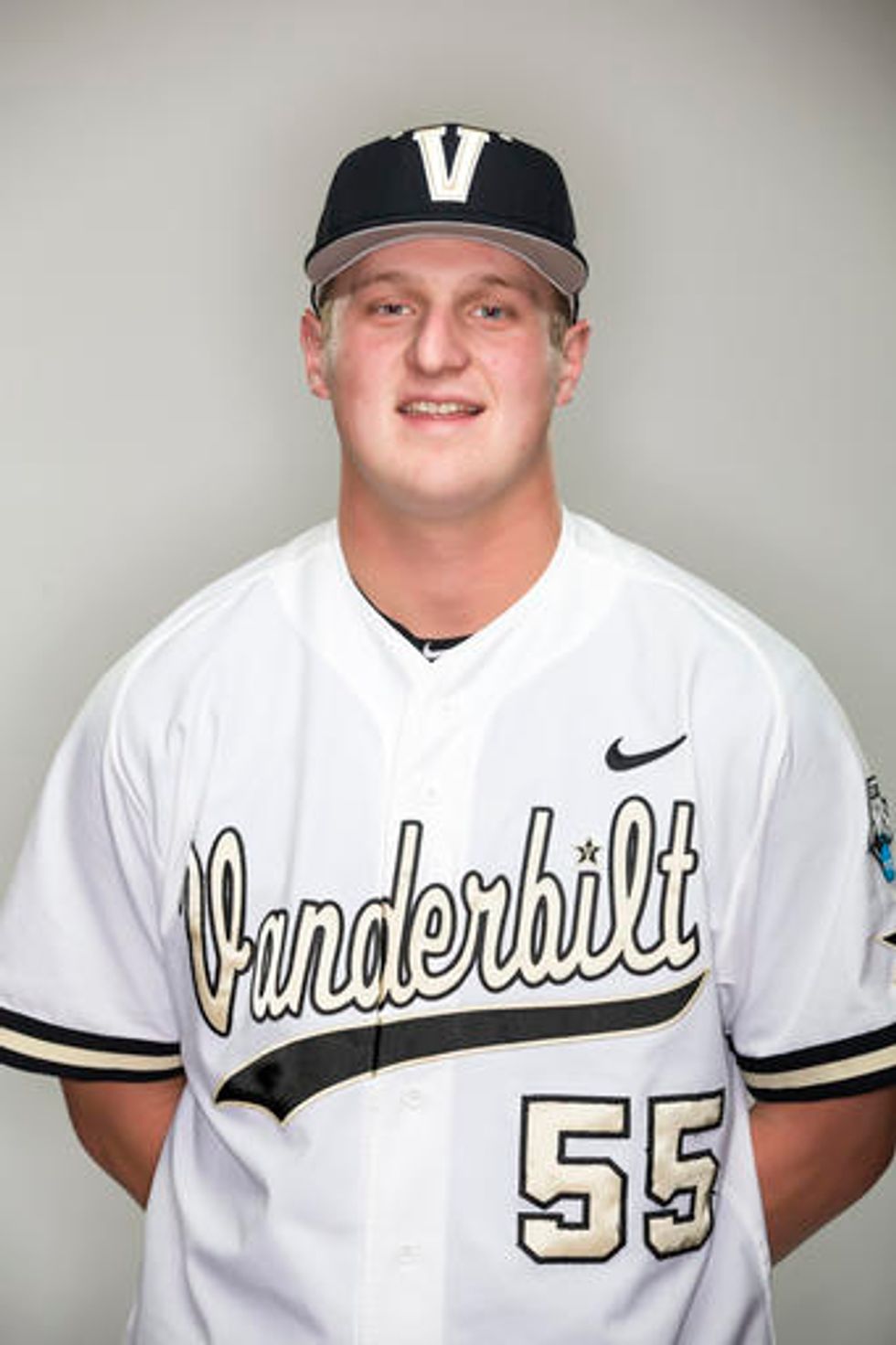 This November 2015 photo provided by Vanderbilt University shows freshman pitcher Donny Everett. Officials report Everett drowned Thursday, June 2, 2016, while fishing in Tennessee. He was 19. (Joe Howell/Vanderbilt University via AP)
"We could've not played," Corbin said. "I'm not so sure that would've been a healthy thing for the kids. It may have set them back. When you go through something like this, I don't have the answers. There's not a textbook. I'm just trying to work through it as best we can. I still believe that was the best thing to do to help them and to work through the emotions."
Everett, 19, Tennessee's Gatorade player of the year in 2015, went fishing with two teammates and two other people after practice Thursday. He tried to swim across Normandy Lake near a bridge and was halfway across when he asked for help. Friends told a Coffee County Sheriff's deputy they thought Everett was joking because he was smiling.
One person went into the water and pulled Everett several feet before letting go, still thinking Everett was joking while struggling to stay afloat himself. When he looked back, Everett had gone under and did not re-surface from the lake located about 60 miles southeast of Nashville.
Divers with the Coffee County Rescue Squad found Everett just before 7 p.m. Thursday in 25 feet of water, some 15 feet from shore. His body was taken to Nashville for autopsy by the state medical examiner.
Corbin informed his Commodores of Everett's death Thursday night, and the coach said the team was trying to comfort the teammates, fellow pitchers Ryan Johnson and Chandler Day, who went on the fishing trip.
"They understand the level of guilt that those two kids have thrown upon themselves, and they're trying to help them through that," Corbin said.
The 2014 national champ and 2015 national runner-up, Vanderbilt was given the option of postponing its regional opener until Saturday. The Commodores opted to play, and they boarded buses to visit Everett's family in Clarksville, Tennessee, before heading to their stadium.
Fans tacked No. 41 pins and ribbons to their hats and shirts while waiting out UC-Santa Barbara's 4-3 win over Washington in 14 innings that took nearly 5 hours. Moments of silence were held before every NCAA game Friday, and the South Carolina Gamecocks wrote Everett's initials and number on their caps in small black marker with a small cross.
"Gonna be with us on the field tonight and the rest of the season," Commodores pitcher Collin Snider wrote on Twitter along with a photo showing a black Vandy cap with "DE41" written in gold near the bill.
Everett had gone 0-1 with a 1.50 ERA and 13 strikeouts in 12 innings this season. Everett enrolled at Vanderbilt after being drafted by the Milwaukee Brewers in the 29th round last year. Baseball America ranked Everett 21st among prospects for the 2015 draft.
Vanderbilt will take the field — weather permitting — at noon Saturday. Athletic director David Williams hugged Corbin and the coach's wife, Maggie and said everyone is hurting right now with Vandy officials just trying to help the players.
"We're just trying to get to A to B, and we all are," Williams said. "We're all just going to lean on each other and help each other. Everybody's trying to be the best that they can be and get through this. I don't know what else to say."