WARSAW, Poland (AP) — Poland's two former presidents led tens of thousands of marchers Saturday in Warsaw to protest the right-wing government's policies and mark 27 years since the ouster of communism in Poland.
The march was yet another in a series organized by the new civic movement, the Committee for the Defense of Democracy, or KOD, against the conservative government that took office in November. The government's policies have strained Poland's relations with the European Union and the U.S. and angered many in Poland.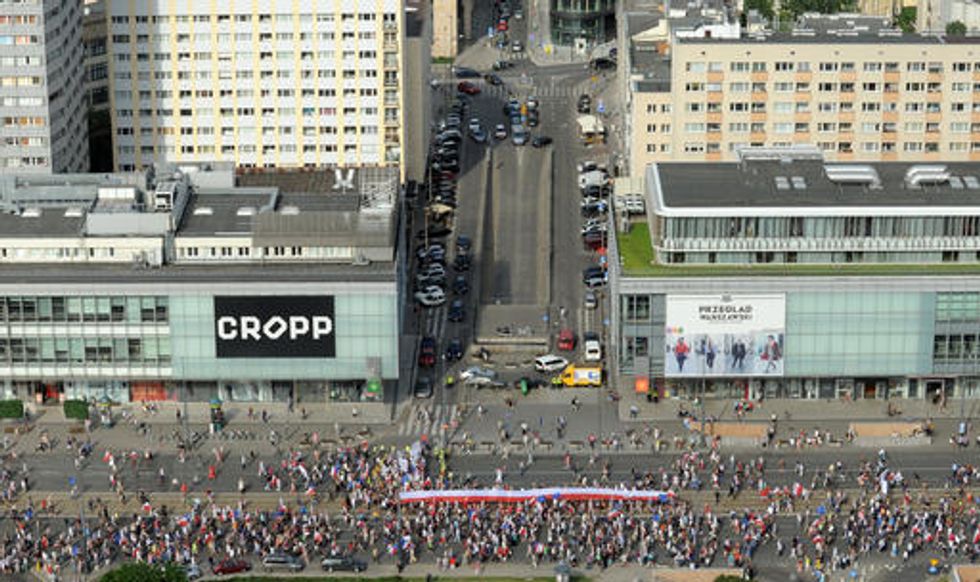 People carry a Polish national flag as they march to protest the policies of the right-wing Law and Justice government on Saturday, June 4, 2016. (AP Photo/Alik Keplicz)
The nationalist government has focused on helping those left out of Poland's economic growth and increased its grip on state institutions. The moves have paralyzed the nation's Constitutional Tribunal, put state-owned media under government control and increased police surveillance powers.
The EU says Poland's rule of law is in danger and is threatening sanctions.
The protests Saturday brought former presidents Aleksander Kwasniewski, a left-winger, and Bronislaw Komorowski, a centrist, together to remind the Poles about their attachment to democracy, which they won in an election on June 4, 1989, that peacefully ousted the communists from power.
Meanwhile, at the ruling Law and Justice party's regional meeting in Warsaw, party leader Jaroslaw Kaczynski insisted that his policies are improving the lives of Poles and protecting Poland's independence in the 28-nation EU.
Kaczynski maintains that Poland's transition to democracy after 1989 was only partial because the communists were allowed to maintain influence.