CAMBRIDGE, Mass. (TheBlaze/AP) — Matt Damon spoke to Massachusetts Institute of Technology graduates Friday and passed on a little advice he got from former President Bill Clinton.
The actor, who grew up near the MIT campus and played a mathematically gifted MIT janitor in "Good Will Hunting," listed what he described as some of the world's greatest problems, including income inequality, a corrupt banking system and a broken political system. Then he told graduates, doing his best Clinton impression, "Turn toward the problems you see. You have to engage."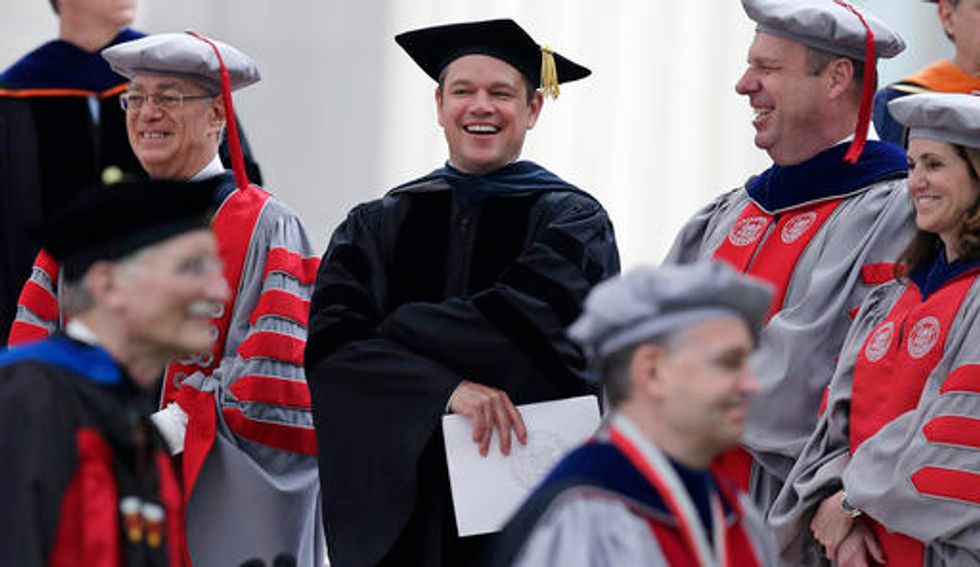 Matt Damon smiles during the academic procession at the Massachusetts Institute of Technology's commencement in Cambridge, Mass., Friday, June 3, 2016. Damon won an Academy Award for co-writing the 1997 film "Good Will Hunting", where he portrayed a mathematically gifted MIT janitor. (AP Photo/Charles Krupa)
More than 1,000 undergraduates and almost 1,800 graduate students received their degrees at Friday's ceremony.
He even let his politics shine through, taking a swipe at presumptive Republican presidential nominee Donald Trump while discussing simulation theory — the notion that the world might just be one of many simulations created by a superior intelligence.
"If there are multiple simulations, how come we have to be in the one where Donald Trump becomes the Republican nominee for president? Can we transfer to a different one?" he asked (video: 5:40).
Damon told the graduates that he's not sure if they will experience justice in this lifetime, but if they do, it will come in the form of a certain progressive politician:
"If justice does come for you in this life, her name will be Elizabeth Warren," (video: 9:25).
The actor and filmmaker best known for his roles as Jason Bourne also borrowed a line from his latest movie, "The Martian," to caution graduates: "Not every problem has a high-tech solution. We can't science the you-know-what out of every problem."
He added: "You've got to go out and do really interesting things, important things, inventive things, because this world has problems that we need you to drop everything and solve."
Watch: