Deshauna Barber is not only the newly crowned Miss USA, she's also the first-ever military member to hold the title.
From her introduction video to the question she was given, Barber's military service was a crucial part of her on-stage presence during Sunday night's pageant in Las Vegas. Representing the District of Columbia, Barber was asked by judge Joe Zee if the Pentagon's decision to open combat roles to women was the right decision or just "political correctness."
"As a woman in the United States Army, I think it is an amazing job by our government to allow women to integrate into every branch of the military. We are just as tough as men," Barber, 26, said to applause. "As a commander of my unit, I am powerful, I am dedicated, and it is important that we recognize that gender does not limit us in the United States Army."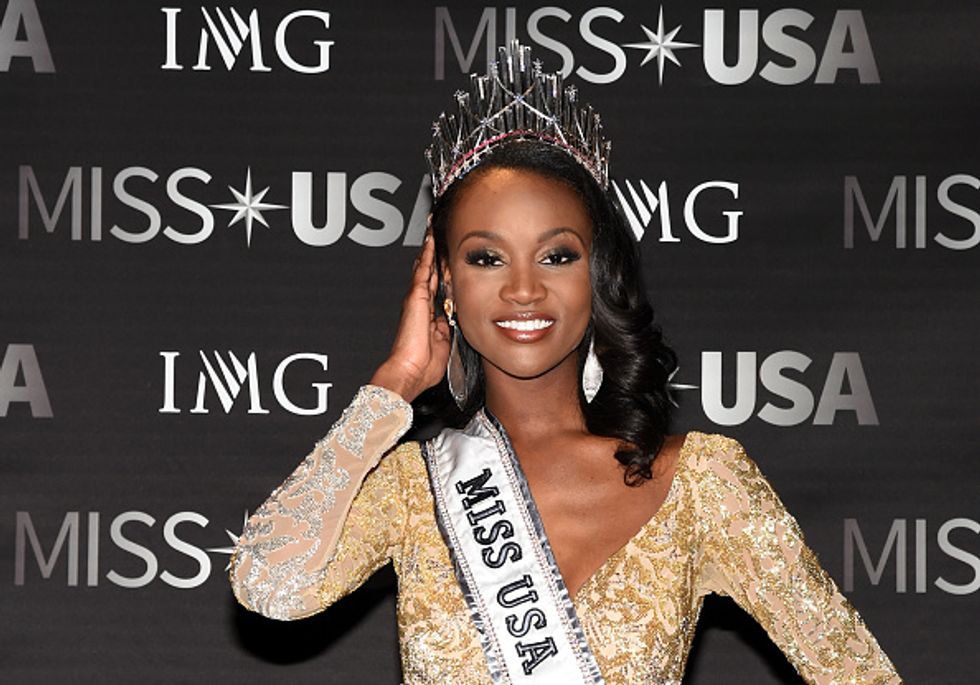 Miss District of Columbia USA 2016 Deshauna Barber poses for photos at a news conference after being crowned Miss USA at the 2016. (Getty Images/Ethan Miller)
Barber, a Department of Commerce IT analyst and Army Reserve logistics commander, later referred back to her military service again after she made the top three and was asked what the phrase "confidently beautiful" meant to her.
"Serving in the military has taught me that being confidently beautiful is about being able to earn respect from people regardless of what you look like," she said. "As a woman in the military, people associate beauty with weakness and they learn very quickly that I'm extremely strong, and though I'm small, I'm powerful. Confidently beautiful is being myself and being very happy with who I've become."
During a press conference following the pageant, the Northeast D.C. woman said that she plans to take a break from the Army Reserve and had already discussed with superiors the possibility of going inactive for a couple of years should she win the title. She said she currently serves two days per month.
"My commander should be watching right now," Barber said. "Two days a month is definitely not active duty. It is an obligation that I signed up for, but they are very flexible in the United States Army Reserve."
Barber said she plans to use the pageant's spotlight and her title to support veteran's causes and tackle the issue of suicide and post-traumatic stress disorder among military members. When asked what message she had for the presidential candidates — including former pageant owner Donald Trump — Barber said they should focus more on veteran's issues, including the backlog at veterans hospitals.
"I think that a lot of the topics that they discuss isn't as important," she said in a glittering gold gown.
The Associated Press contributed to this report.
—
Follow Kaitlyn Schallhorn (@K_Schallhorn) on Twitter