Hillary Clinton admitted in an interview with CNN that aired on Wednesday that "one or two instances ... slipped through the cracks" when it came to the Clinton Foundation's donation disclosures, but proclaimed that overall the nonprofit has had "overwhelming disclosure."
Clinton made her remarks after CNN's Anderson Cooper questioned whether her husband, former president Bill Clinton, would remove himself from the foundation should his wife become president.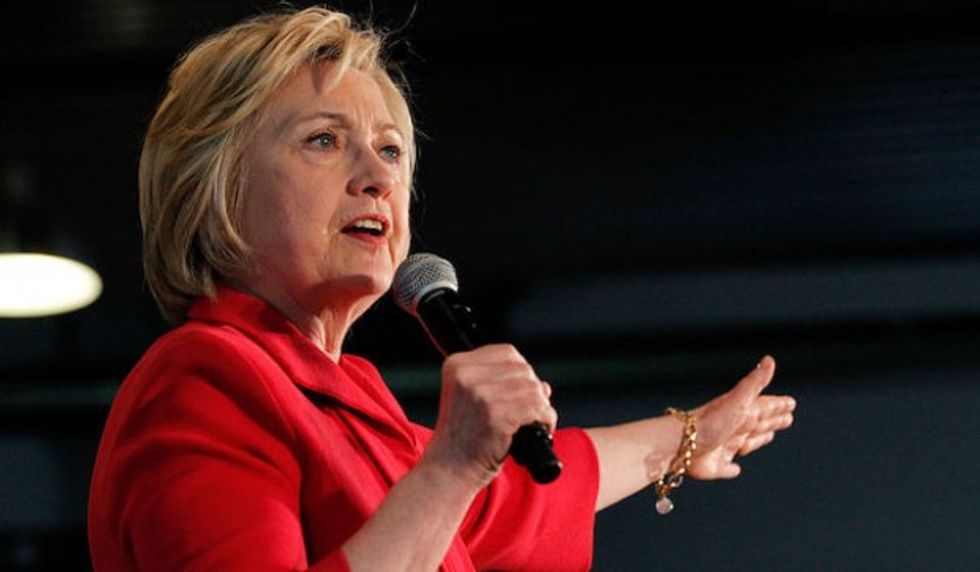 Democratic presidential candidate Hillary Clinton addresses the crowd during a campaign rally at La Gala May 16, 2016, in Bowling Green, Kentucky. (John Sommers II/Getty Images)
"We'll cross that bridge if and when we come to it, but let me just try to set the record straight. We had absolutely overwhelming disclosure," Hillary Clinton told Cooper, according to Politico. "Were there, you know, one or two instances that slipped through the cracks? Yes. But was the overwhelming amount of anything that anybody gave the foundation disclosed? Absolutely."
When Clinton was again pressed on the issue, she told Cooper that she believes people seeking to impact a candidate or a politician in office would likely simply give their money toward political causes or candidates and not to the foundation itself.
"Money that has been given to the foundation goes to support humanitarian work, and if people wanna influence anybody in office, I think they would choose the political route, and indeed the work of the foundation really speaks for itself," she said.
Watch her remarks below:
Clinton's admission comes as challenger Bernie Sanders vows to fight on to the Democratic convention. Sanders recently began hammering his rival over the Clinton Foundation's acceptance of money from foreign governments while she was secretary of state.
"If you asked me about the Clinton Foundation, do I have a problem when a sitting secretary of state and a foundation run by her husband collects many millions of dollars from foreign governments, governments which are dictatorships … yeah I do," Sanders said on CNN's "State of the Union," noting that Saudi Arabia — one foundation donor — is restrictive of civil liberties.
(H/T: Politico)
--
Follow the author of this story on Twitter and Facebook and check out his new book "The Armageddon Code: One Journalist's Quest for End-Times Answers":