Presumptive Democratic presidential nominee Hillary Clinton told Fox News' Bret Baier there's no chance she'll be indicted over the email scandal that has plagued her campaign.
During a discussion of current FBI investigations into her use of a private server to conduct official State Department business, which included now-classified information, Clinton on Wednesday repeated a claim she'd recently made that there is no chance she'll be indicted.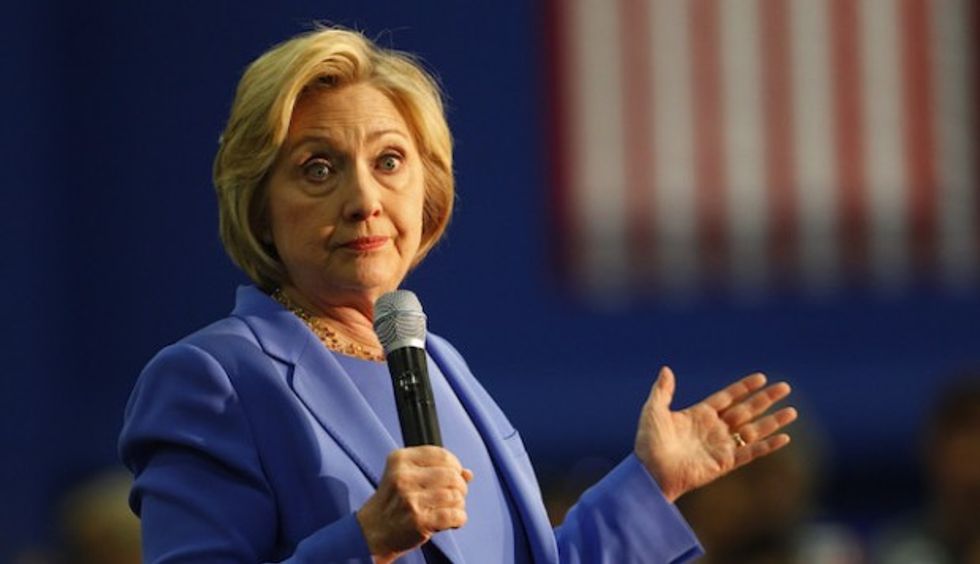 John Sommers II/Getty Images
Citing fears among some Democrats that another shoe could drop in the email investigation, the "Special Report" host asked, "What basis did you tell this radio station … on Friday that there is 'absolutely no possibility of an indictment'? Has anybody from the DOJ talked to you or your representatives?"
Clinton replied, "I will repeat what I said. That is not going to happen. There is no basis for it."
When Baier asked why she and her aides didn't talk to the State Department Inspector General in the email investigation, Clinton said she was "not going to comment on ongoing litigation" and then added that she has "talked endlessly about the emails."
Baier continued to press: "The State Department IG, though, wanted to talk to you, and you didn't want to do that."
But Clinton asserted that she and her representatives had "already talked about in the public arena" everything the IG wanted to ask.
She went on to claim that the IG report "actually supported what I have been saying for years" that the rules weren't clear and that other secretaries of state "had the same practice." However, the IG report specifically debunked that claim, noting that the guidelines about email use were updated prior to Clinton's time as the nation's top diplomat.
Baier also brought up other controversies Clinton has been dealing with over the last few years — and which have gained attention during the Democratic primaries.
"The Clinton Foundation investigation, the FBI investigation into the email — you're saying zero chance that this is a problem for you in this election?" Baier asked.
"Absolutely, that's what I'm saying," Clinton answered. "That happens to be the truth."
(H/T: Townhall)