Courtney Baker, the mother who wrote a viral open letter to the doctor who advised her to abort her baby with Down syndrome, said that she wants him to see beyond the "misconception that there's no value in the life of a person with Down syndrome" during an interview on Fox and Friends Thursday.
"These babies are so – so precious and I want every – not just all the doctors to know that, I want all the mommies to know that, that are pregnant right now who are in that – making that decision," Baker added.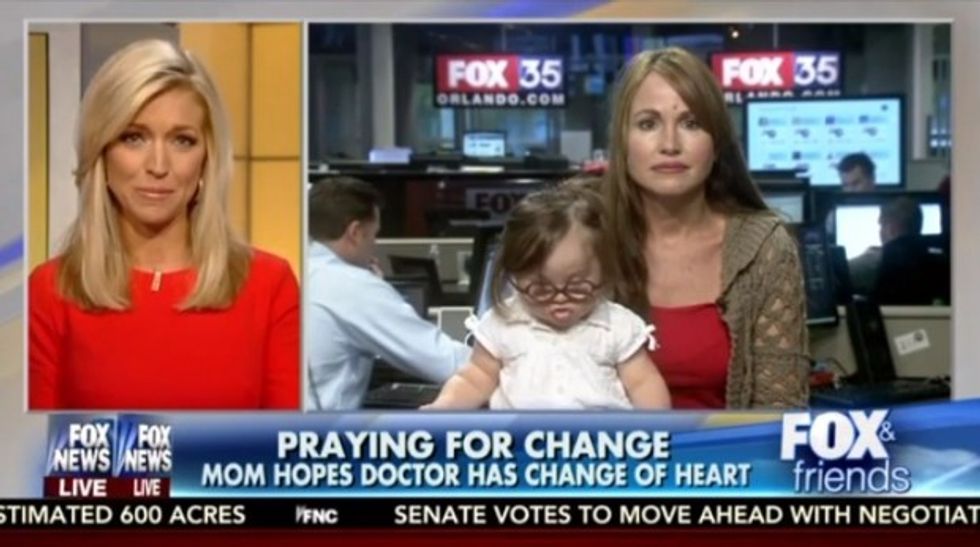 Image source: Fox News
According to Baker's letter, after diagnosing her unborn daughter with Down syndrome, her doctor pressured her to terminate her pregnancy:
"I came to you during the most difficult time in my life. I was terrified, anxious and in complete despair. I didn't know the truth yet about my baby, and that's what I desperately needed from you. But instead of support and encouragement, you suggested we terminate our child. I told you her name, and you asked us again if we understood how low our quality of life would be with a child with Down syndrome. You suggested we reconsider our decision to continue the pregnancy.

From that first visit, we dreaded our appointments. The most difficult time in my life was made nearly unbearable because you never told me the truth. My child was perfect."
"She's given us a purpose and a joy that is impossible to express," Baker added.
Baker told Fox and Friends co-host Ainsley Earhardt that her daughter Emmy is "hilarious," "smart" and "fun," and has changed her family's lives for the better.
"This has been the best year of my life by far," Baker said. "She's brought so much joy to – to me and to so many other people."
"She's really grown our faith," Baker added. "She's grown us as people."
Baker said Emmy is "changing the world."
"That little baby inside of you is going to change the world. It's going to change your world," Baker said. "It's – you know, I really felt like my life was over. And my life just started. And, you know, your life is just beginning and that's the – the greatest, it's the greatest thing in the world."
Watch below:
(H/T Newsbusters)
—
Follow Kate Scanlon (@kgscanlon) on Twitter