A high school valedictorian in Texas, who will attend Yale University on a full scholarship, revealed three "unexpected realities" during her recent graduation speech — but not until the third one did she not-so-subtly refer to Donald Trump and his controversial immigration policies.
It was the first time that Larissa Martinez, valedictorian of McKinney Boyd High School, has publicly acknowledged that she is one of the millions of immigrants in the U.S. illegally since moving from Mexico City six years ago, the Dallas Morning News reported.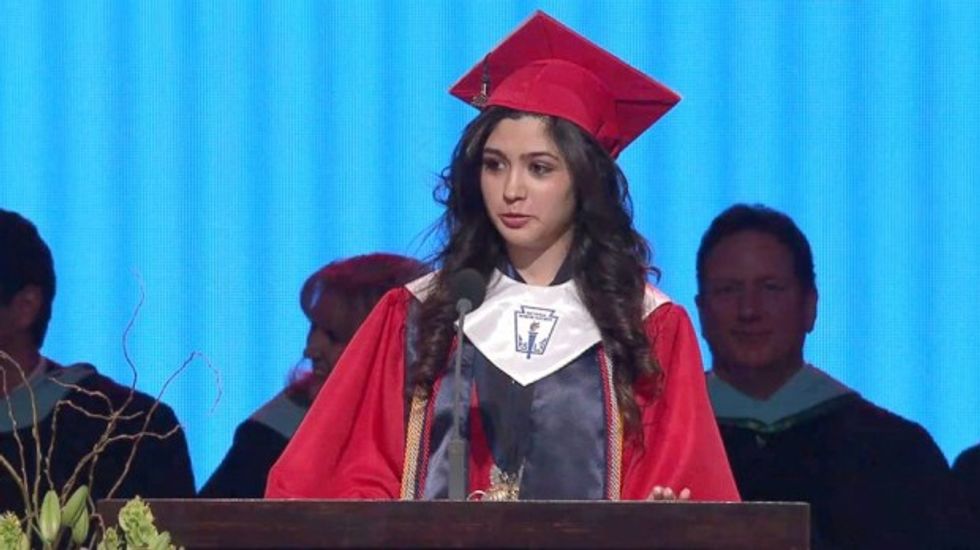 Image source: YouTube
"I am one of the 11 million undocumented immigrants living in the shadows of the United States," Martinez said.
The soon-to-be Ivy League college student said she wanted to raise awareness about how illegal immigrants want to come to America "the right way," but because of a broken immigration system, they "don't know how."
One example Martinez gave of the broken system is the status of her own citizenship application, which she said has been waiting to be processed for seven years.
In her speech, Martinez acknowledged the political football that the debate on immigration reform has become, even using Trump's presidential campaign slogan to criticize his highly controversial policies.
"The most important part of the debate, and the part most often overlooked, is the fact that immigrants, undocumented or otherwise, are people too. People with dreams, aspirations, hopes and loved ones. People like me," Martinez said.
"People who have become a part of the American society and way of life and who yearn to help make America great again without the construction of a wall built on hate and prejudice," she added.
—
(H/T: Dallas Morning News)
—
Follow the author of this story on Twitter and Facebook: