A LGBT gun rights group is urging people to focus on the motives behind the mass shooting at a popular Orlando nightclub — not on the weapon the gunman used to slay at least 49 people.
"At such a time of tragedy, let us not reach for the low-hanging fruit of blaming the killer's guns," Gwendolyn Patton, a spokesperson for the Pink Pistols, said in a statement. "Let us stay focused on the fact that someone hated gay people so much they were ready to kill or injure so many. A human being did this. The human being's tools are unimportant when compared to the bleakness of that person's soul."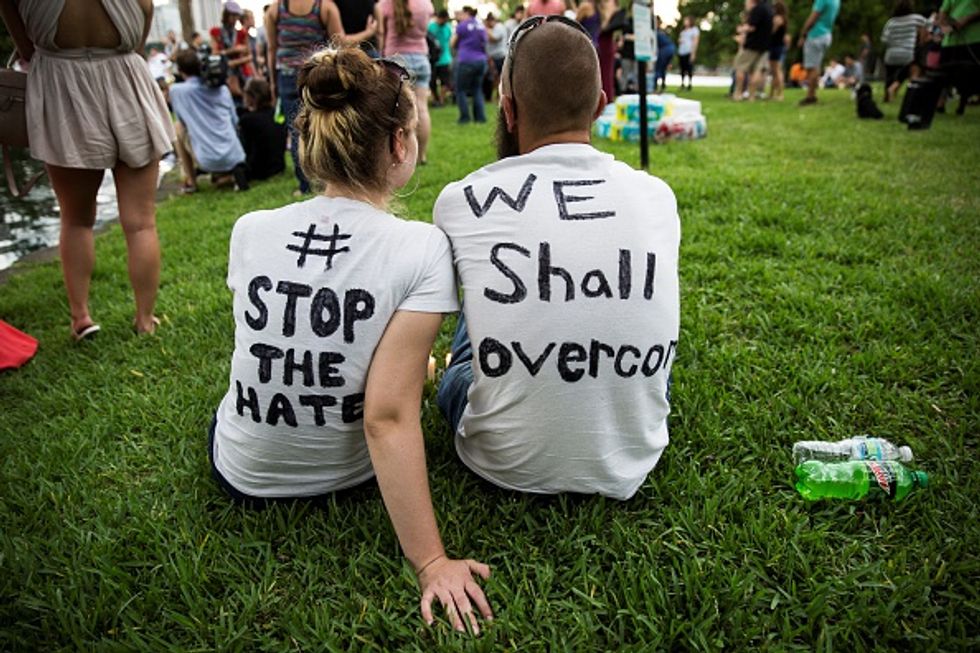 Two mourners with messages of peace on their shirts sit in the grass during a vigil for the victims of the terrorist massacre at the gay nightclub Pulse in Orlando. (Getty Images/Samuel Corum)
"Our job now is not to demonize the man's tools but to condemn his acts and work to prevent such acts in the future," Patton continued.
At least 49 people were killed and 52 people injured early Sunday morning at Pulse in Orlando after Omar Mateen, 29, opened fire at the popular nightclub. FBI Director James Comey said Monday that Mateen had "strong indications of radicalization" and may have been inspired by "foreign terrorist organizations." The terrorist reportedly proclaimed his allegiance to the Islamic State on a 911 call during his harrowing attack.
Mateen was eventually killed by police.
"This is exactly the kind of heinous act that justifies our existence," Patton said.
Patton commended the off-duty police officer who exchanged gunfire with the shooter during the attack for potentially saving dozens of lives. But she also stressed the importance of others in the LGBT community to exercise their Second Amendment rights as well.
"Allowing the people who are potential victims of this to also engage in defending themselves — people who have been trained, people who are responsible for their weapon — to help out with the defense, this could be a positive factor in protecting the community," Patton said.
"We want to present the deterrent to people who would think that the LGBT community is somehow a weak target and is safe to attack," Patton said, adding that the LGBT community has problems with the perception that they are somehow unable to defend themselves. "We respectfully disagree with that description. We are not helpless, and we will most definitely fight back if there is an attack."
James Holcomb, a 30-year-old gay man in Washington, told TheBlaze Monday that he finds gun rights "especially important" due to his sexual orientation. He recalled an attack on two men following Seattle's Pride festivities last year and expressed his wish to have been there to help.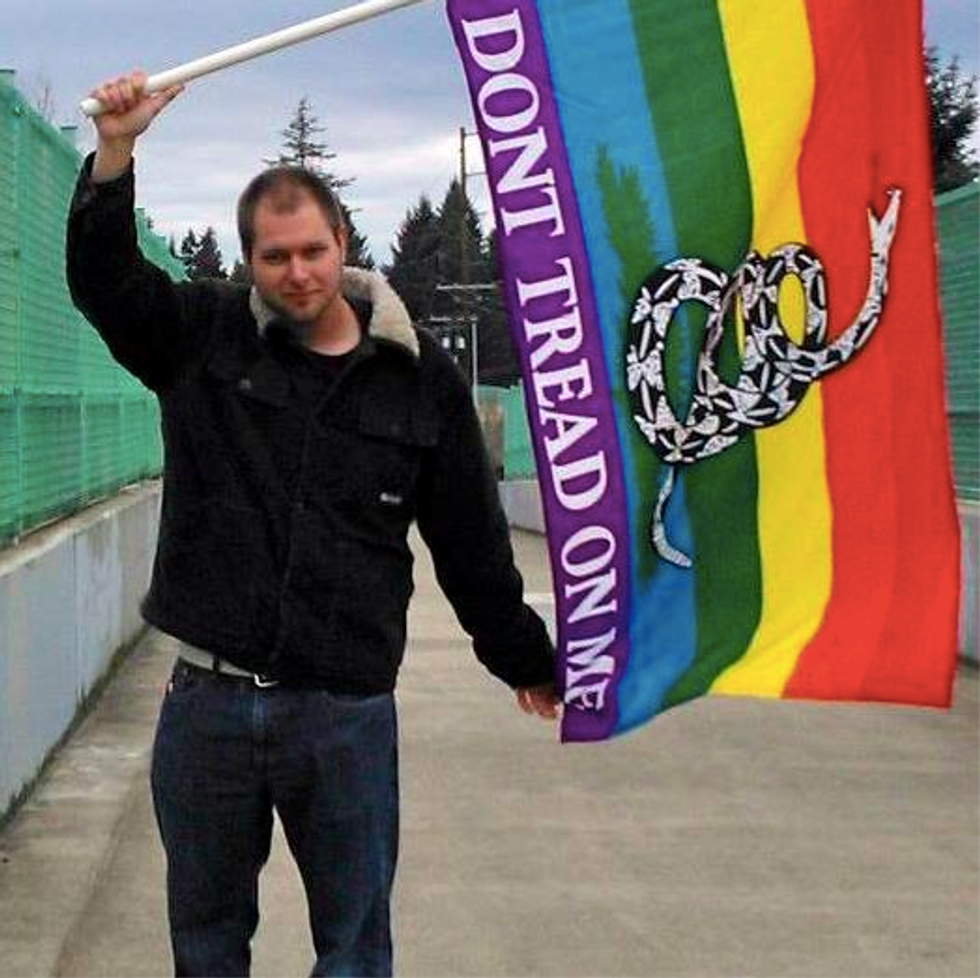 James Holcomb, a 30-year-old libertarian, stands with a rainbow Gadsden flag. Holcomb adamantly supports both gay rights and gun rights. (Photo courtesy of James Holcomb)
"I just recently became a gun owner because I see what's going on in the world, especially with the recent tragedy, and I want to be able to protect my friends and family," Holcomb said.
He told TheBlaze that while he never felt fear for his personal safety because of his sexual orientation in the past, he does now in the wake of the Orlando terrorist attack.
"Anger is on the rise it seems, and everyone's using violence to achieve political goals, and that scares me so I got a gun to protect myself," Holcomb said.
"It makes me sad when they call for more gun control because people are just sitting ducks without any means to protect themselves," Holcombe, a member of Olympia's Pink Pistols chapter, continued. "Our group not only advocates for guns as protection, but also non-lethal means like tasers and pepper spray. No one should be left defenseless."
Left-leaning politicians, including presumptive Democratic presidential nominee Hillary Clinton, increased calls for stronger gun control Monday. Reuters reported that several leading Senate Democrats, including New York Sen. Chuck Schumer, renewed a vehement push for stronger gun control legislation that was defeated just last year.
Speaking to supporters at a rally in Cleveland Monday afternoon, Clinton argued, "Weapons of war have no place on our streets."
"If you are too dangerous to get on a plane, you are too dangerous to buy a gun in America," she continued.
Patton said she vehemently disagreed with the notion that banning guns outright in the U.S. would eradicate gun violence as she cited the Paris terrorist attacks last year as an example. The guns used to carry out that terrorist attack, Patton pointed out, were brought into the city illegally.
And even if the U.S. did decide to round up every gun in the country, "it wouldn't stop people who are bound and determined to bring harm to others," Patton said. "They would find a way to do it. They would make bombs."
"America seems to be the only country I know of that when somebody does something wrong, human cry goes out to punish the people who didn't do it," Patton said. "This is the problem. The lawful gun owners in the United States did not do this. A criminal did this — a person that chose to leave the realm of being a lawful gun owner and become a criminal lunatic."
—
Follow Kaitlyn Schallhorn (@K_Schallhorn) on Twitter