© 2023 Blaze Media LLC. All rights reserved.
Schilling Excoriates Gun Control Crowd in Wake of Orlando Terror Attack, Says We're at War With Muslims 'Taught to Actively Seek Us Out, and Convert or Kill
"Tell me why I'm wrong or shut your mouth."
In the wake of the deadly mass shooting in Orlando at a gay nightclub by a Muslim with reported ties to radical Islam, former baseball star Curt Schilling took to social media to make his views known.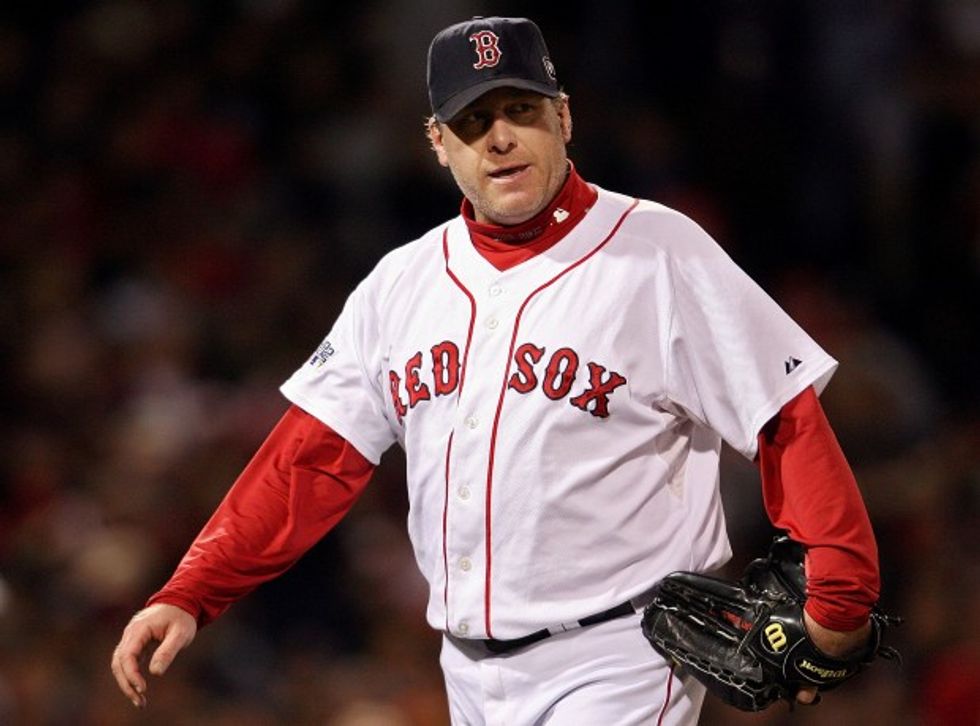 Curt Schilling of the Boston Red Sox walks off the mound during Game Two of the 2007 Major League Baseball World Series against the Colorado Rockies at Fenway Park, Oct. 25, 2007. (Getty Images/Nick Laham)
And given Schilling's conservative posture and outspoken nature, the direction of his initial Twitter posts on Sunday weren't surprising — but he really cut loose on his blog, 38 Pitches, titling his latest entry, "You are, quite literally, killing us":
This is a full fledged war on everyone on this planet NOT faithful to the Prophet Muhammed. This is a war of an ideology who's "Bible" states 109 times that followers of the Prophet Muhammad are duty bound to kill, maim, rape, pillage, beat, torture and/or destroy anyone not of the Islamic faith, anyone.

They are taught to actively seek us out, and convert or kill. No other options. Oh and transgenders? Homosexuals, they're allowed to just toss you from roofs in public, to a cheering audience.
Schilling addressed gun control advocates directly, saying "many of you believe you can walk into a Bass Pro Shop or K-Mart, show your drivers license and buy any gun you want. You can't. And if you do one or both folks in the transaction are breaking the law. There are a few states where this is not true, but those states don't generally make the news for mass shootings of ANY kind."
He then predicted that authorities will "find out SOMEONE knew about him before this, but either A) didn't speak out of stupidity or as in the San Bernadino killings B) was scared to be called a racist, for profiling."
More from Schilling:
Real conservatives, honest to God Americans, don't care who you are, who you sleep with who you marry or who you hate. We care about WHAT YOU DO to others.

Yes there are "Conservatives" who will talk about homosexuality as blasphemy and what not, but they're as Christian as Ghengis Khan.

They are the folks who tend to judge others only because they sin differently than they do.

I thought our President was right on today, calling it terrorism at the outset of his speech. I thought he failed miserably afterwards in refusing to acknowledge what we knew about the affiliations even then.

So you folks spewing idiocy about gun control, stop.

Do yourselves a favor, even if you don't want to own a gun, apply for a license, check out the process, and realize the Boxers, Feinsteins, Clintons and Reids are lying their liberal asses off when talking about guns. Those hypocrites are surrounded by armed details but don't know the actual laws around firearms from their buttholes.
Schilling invoked other recent Islamic mass killings such as those in Paris, Belgium, and San Bernardino, saying they aren't "going away, and it is clearly not getting smaller." He added that if he were president, he'd want the U.S. military to attack those overseas "in legion" with domestic terrorists — "every single one they can find."
"As a devoted Christian who deals with his flaws daily it pains me to wish this on another human being," Schilling noted. "But I guess I am a sinner when it makes me honestly believe at some point you relinquish your rights as a human when you slaughter innocent men women and children on purpose."
"Tell me why I'm wrong," he concluded, "or shut your mouth."
(H/T: Chicks on the Right)
Want to leave a tip?
We answer to you. Help keep our content free of advertisers and big tech censorship by leaving a tip today.
Sr. Editor, News
Dave Urbanski is a senior editor for Blaze News.
DaveVUrbanski
more stories
Sign up for the Blaze newsletter
By signing up, you agree to our
Privacy Policy
and
Terms of Use
, and agree to receive content that may sometimes include advertisements. You may opt out at any time.