YouTube prankster Joey Salads is catching heat after posting a video Monday — the day after the Orlando terrorist attack that claimed the lives of 49 people at a gay nightclub — in which he compares how people react to an "Islamic terrorist" versus a "Christian terrorist."
In the clip, Salads' partner in crime Stevie Croutons donned a white robe and hood resembling Arab attire, ran by unsuspecting individuals and dropped a metal container while declaring "Allahu Akbar!"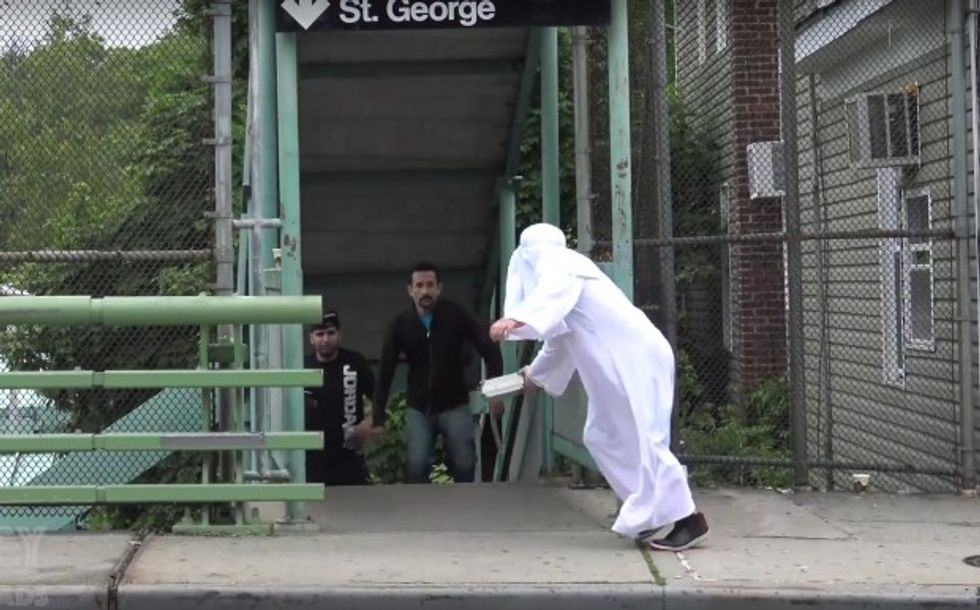 Image source: YouTube
Several of Croutons' targets became unnerved and left the area, presumably over fear that the container was an explosive device.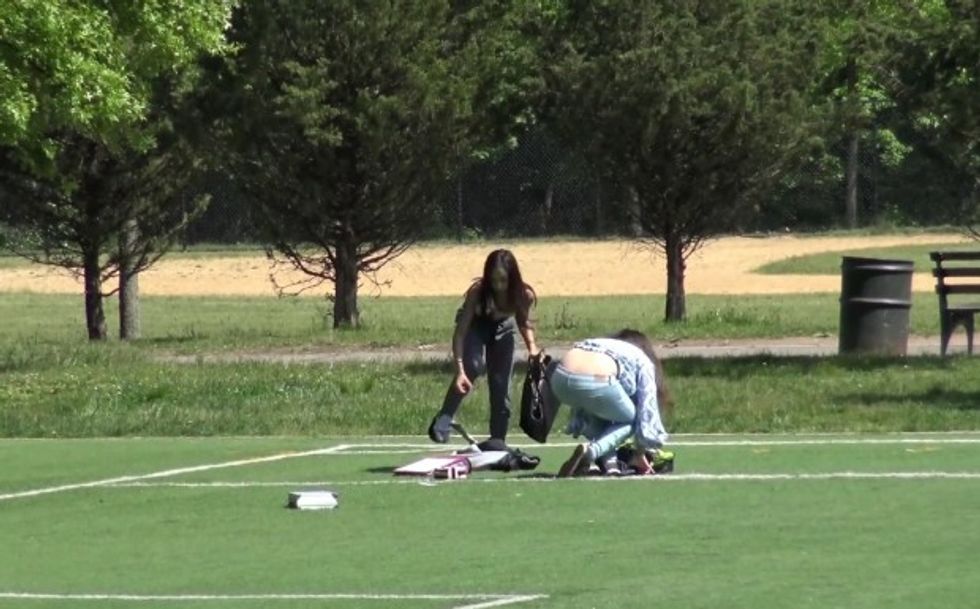 Image source: YouTube
Then it was Salads' turn. He simply dressed in street clothes and did roughly the same thing as Croutons' character — except when he ran by people and dropped a container, Salads said, "Praise Jesus!"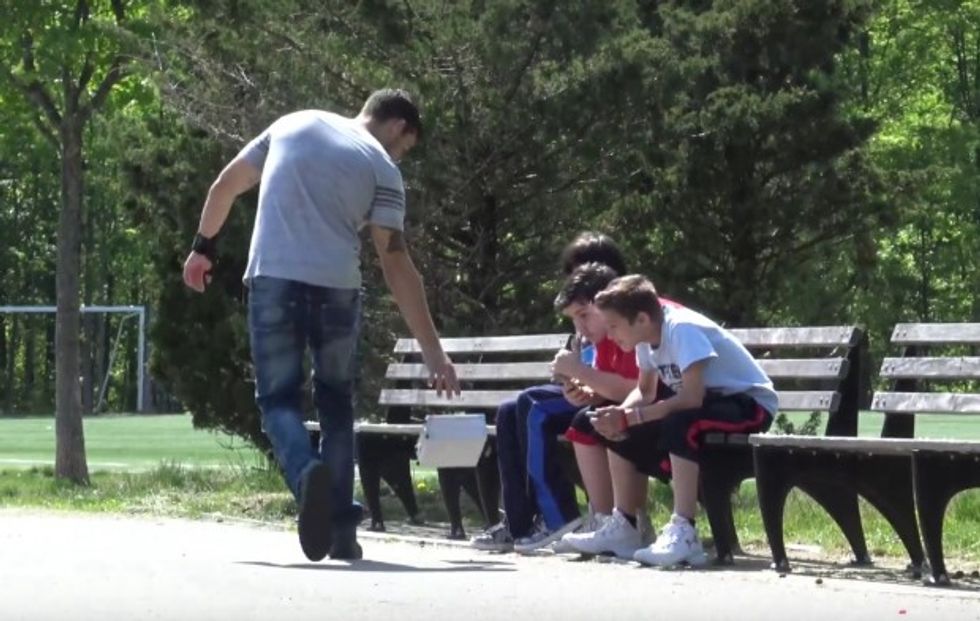 Image source: YouTube
The reactions to Salads' character were fairly unremarkable: No one ran off or appeared unnerved.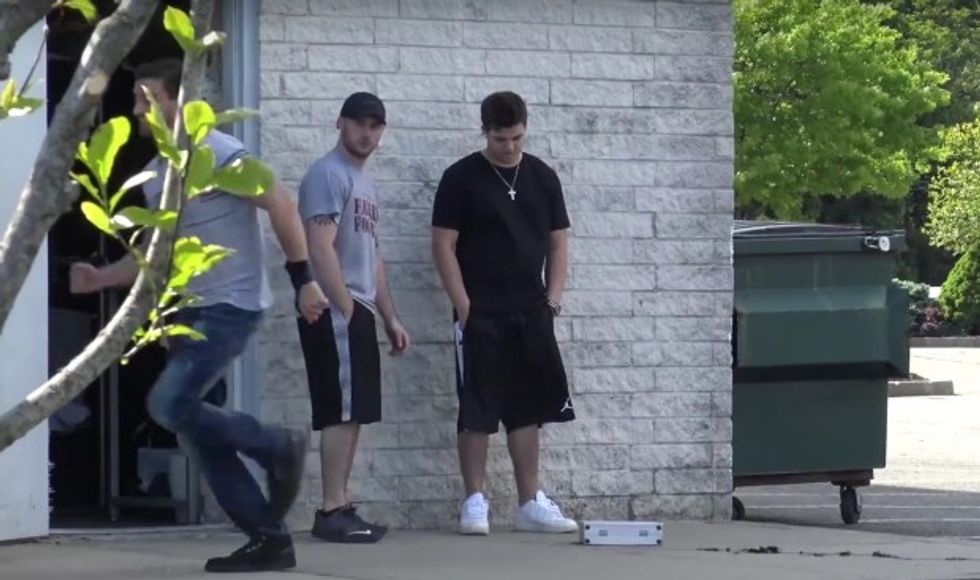 Image source: YouTube
Concluding the clip, Salads said, "As you can see, people react differently when there's an Islamic terrorist versus a Christian terrorist."
Here's the clip:
After Salads received a deluge of negative comments about the video, he posted a note along with the clip: "PLEASE READ: Seems people are disliking before understanding the concept of this video" and that it "shouldn't offend anyone, it simply opens up a dialogue to a tragedy ... watch the WHOLE video to understand."
Salads also wrote in an embedded note on the video that, "Due to hate, I will be donating the money this video makes to the victims and the families of the Orlando Shooting."
But the real battle began when fellow YouTube star DOSEofFOUSEY — a Muslim also known as Yousef Saleh Erakat — got ahold of the clip and slammed it in a reaction video he posted on Tuesday.
"Why is the Christian in your experiment dressed in normal clothing?" Erakat asked Salads in his clip, adding that if "you wanted to push a stereotype, have the other character dress as KKK and now tell me it's okay."
As of Wednesday afternoon, Ekakat's reaction video has received almost as many views (681,163) as Salads' video (688,902)
Erakat also tweeted Salads' video with an accompanying note that "these are the kind of people that need to be banned from YouTube. disgusting."
here's the video. these are the kind of people that need to be banned from YouTube. disgusting. https://t.co/San5LjEjGs

— Yousef Saleh Erakat (@fouseyTUBE) June 13, 2016
Soon the pair were slugging it out on Twitter, with Salads calling Erakat a hypocrite who's trying to destroy his career — and even challenging Erakat to a debate. Then Salads said he was getting "massive amounts of death threats from Muslims who follow FouseyTube."
Salads also noted in his defense an earlier video of his that focused on Muslim stereotypes:
Everybody forgetting that I promote that prejudice bullying is wrong.
Muslim Bullying Social Experiment https://t.co/Qv83ELZ9tC

— JoeySalads (@JoeySalads) June 13, 2016
Finally on Tuesday night, an apparently tearful Salads posted a video saying he just was "punched in the face" over his prank clip.
(Content warning: Rough language):
"I was just trying to f***ing help" to "show how people discriminate," Salads said in the video, showing what appeared to be a bruise on his left cheekbone and saying he would be signing off for a few days.
(H/T: Daily Mail)