© 2023 Blaze Media LLC. All rights reserved.
"The look on her face was priceless."
A 5-year-old Michigan girl's dreams came true last week in more ways than one. Danielle Koning, a former foster child, was thrilled when June 8 — her adoption day — finally rolled around.
Knowing how much Danielle adores all things Disney, her caseworker came up with the idea to make the little girl's day truly magical by incorporating a special theme.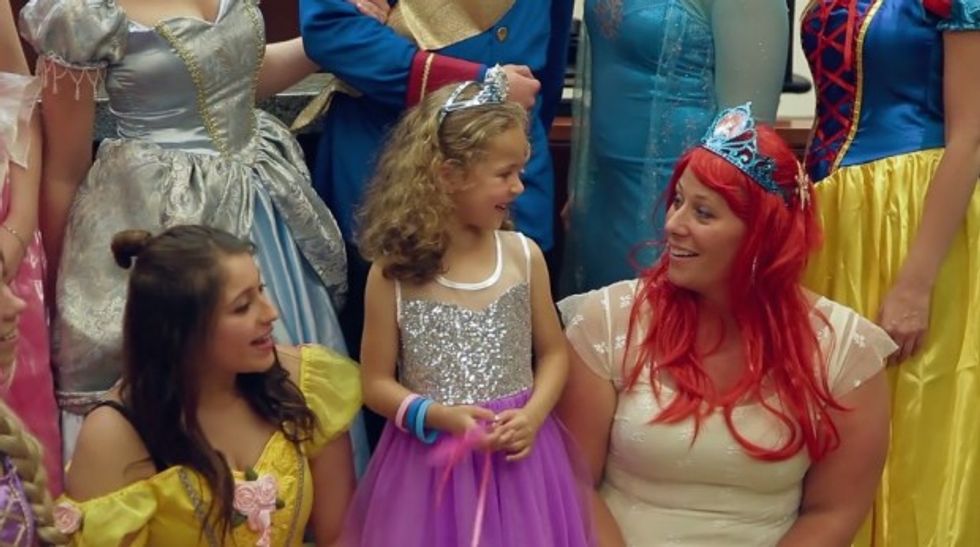 Image source: Vimeo/Samaritas
Workers with Samaritas Foster Care Program and Child and Family Services walked into the Grand Rapids courtroom transformed into Disney princesses. Prince Charming also made an appearance.
Even Judge Patricla Gardner, who presided over the adoption finalization hearing, participated as Snow White.
"Never; never have I seen so many princesses in the courtroom before," Gardner told WZZM-TV. "It was child-centered to make a kid feel special and at ease at what can be a difficult hearing."
And it was all a complete surprise for Danielle.
"She was shocked when the princesses first came in. She sure was," Danielle's new mom, Sarah Koning, told ABC News after video of the hearing gained viral traction. "The look on her face was priceless."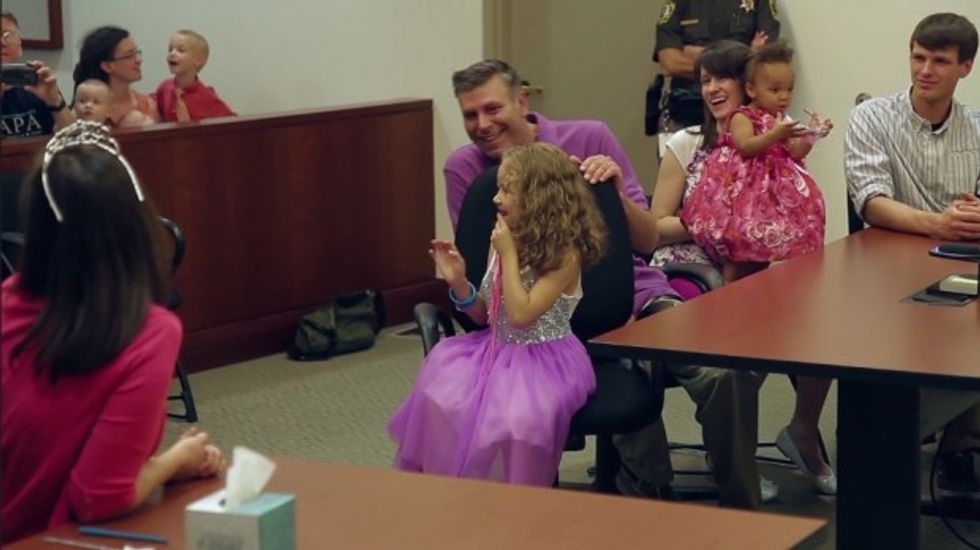 Image source: Vimeo/Samaritas
"It was a special situation that really snowballed out of a request from Danielle's caseworker, who knew Danielle loved Cinderella so much," Laura Mitchell, executive director for Samaritas, told ABC. "One of other caseworkers kind of looks like Cinderella, so she said, 'Would you mind going to the hearing and dressing as Cinderella?'"
The original video posted by Samaritas has been viewed more than 100,000 times.
Danielle had been living with her now-parents, Jim and Sarah Koning, since March 2014. For them, it was a particularly magical day as they added not one, but two new princesses to their family. They also adopted a 1-year-old baby girl.
"It's obviously a very meaningful day, a joyous occasion," Mitchell said. "The hearing is definitely a celebration that the kids now have forever families. And it shows the love and compassion that our caseworkers have."
Watch:
Want to leave a tip?
We answer to you. Help keep our content free of advertisers and big tech censorship by leaving a tip today.
more stories
Sign up for the Blaze newsletter
By signing up, you agree to our
Privacy Policy
and
Terms of Use
, and agree to receive content that may sometimes include advertisements. You may opt out at any time.