In the wake of the terrorist attack Sunday that killed 49 people and injured 53 at a gay nightclub in Orlando, one California preacher deemed it fitting to explain why Christians shouldn't be saddened by the massacre.
Pastor Roger Jimenez of Verity Baptist Church in Sacramento delivered a sermon hours after the attack in which he told his congregation that they "shouldn't be mourning the death of 50 sodomites."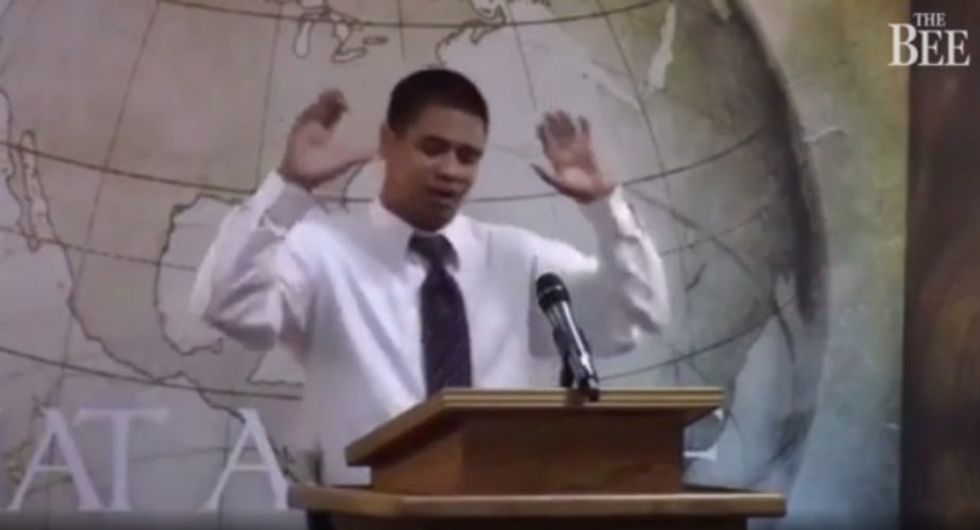 Image source: Scaramento Bee

"People say, like: 'Well, aren't you sad that 50 sodomites died?'" Jimenez said, referring to the 49 victims who were killed by gunman Omar Mateen, who was later killed in a shoot-out with police. "Here's the problem with that. It's like the equivalent of asking me — what if you asked me: ​'Hey, are you sad that 50 pedophiles were killed today?'"
"Um, no, I think that's great," he continued. "I think that helps society. You know, I think Orlando, Florida, is a little safer tonight."
The California pastor went even further to say that the real "tragedy" was that more lives were not lost in the devastating attack.
"The tragedy is — I'm kind of upset that he didn't finish the job!" Jimenez said, referring to Mateen, who pledged allegiance to the Islamic State before opening fire on unarmed clubgoers.
"I wish the government would round them all up, put them up against a firing wall, put a firing squad in front of them, and blow their brains out," Jimenez added during his Sunday sermon, which Verity Baptist posted on its website with the title "The Christian Response to the Orlando Murders."
A video of the sermon was later uploaded to Verity Baptist Church's YouTube page, gaining views and shares from people all over the country who were shocked by Jimenez's response. The sermon has since been removed by YouTube on the grounds that it violates of the site's policy against hate speech.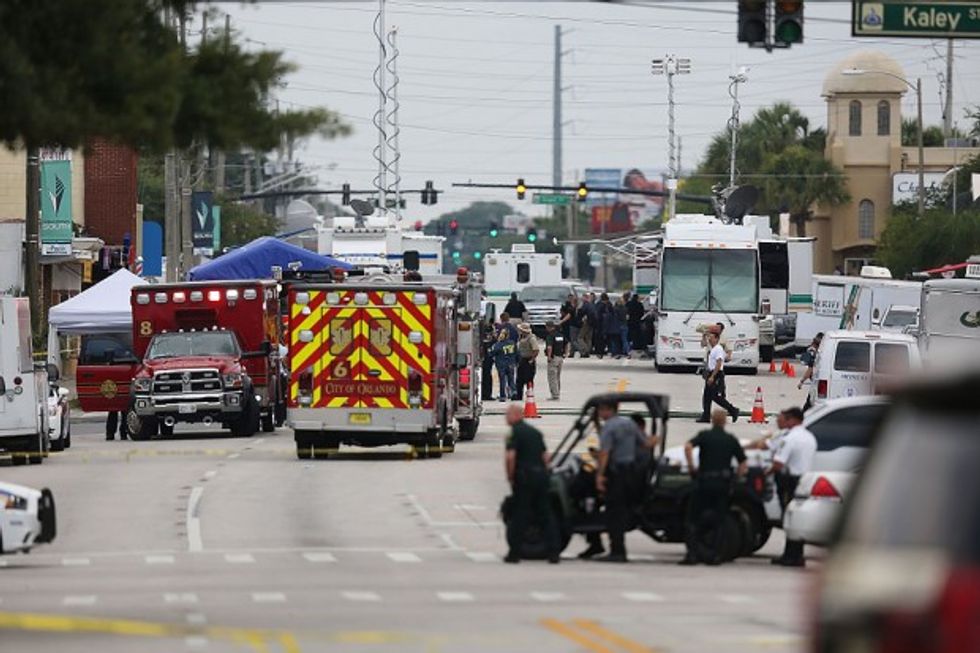 Rescue crews rush to the scene of Pulse nightclub Sunday, where 29-year-old Omar Mateen shot more than 100 people after pledging allegiance to the Islamic State. (Getty Images)
But not all Christian leaders in Jimenez's community agree with the pastor, and many Sacramento area church leaders were quick to condemn his unapologetic hatred.
"I condemn his entire presentation," the Rev. Samuel Rodriguez, a prominent Christian conservative and president of the National Hispanic Christian Leadership Conference, told Sacramento Bee columnist Marcos Breton.
Rodriguez and William Jessup University President John Jackson released a joint statement condemning Jimenez's comments. It reads, in part:
The pastor's statements do not reflect genuine Christian faith, and as followers of Christ we disavow his bigotry.

Also, as followers of Jesus Christ we stand in unity with our nation in offering love, prayer and a helping hand to the gay community. Everyone in America deserves to live their lives free from fear.

It is the heart of Jesus to save, heal and deliver. Christian leaders lead people to the love, grace, truth and healing hope of Jesus, not to insensitive judgment.
The day after he delivered the controversial sermon, Jimenez told KOVR-TV that he still believes Orlando is safer because of the attack.
"Absolutely I think they are safer now because of these deaths, and the reason I think that is because I believe all of these homosexuals are pedophiles, and the Bible — see our culture and our society puts them in these categories — gay, lesbian, whatever, but that's not found in scripture," he explained.
Jiminez contended, "As a Christian, the Bible puts people in two categories: normal/natural, unnatural."
Jimenez also spoke with the Sacramento Bee Tuesday, telling the paper that "we've received a lot of threats" from those who viewed and were angered by the sermon. But he stood by his statements.
"There are many people out there who agree with what I'm saying," the pastor said.
"In America, you're no longer allowed to have an opinion that goes against mainstream society," Jimenez told the Bee. "The whole point that I was making is, that if people who God puts the death penalty on die anyway, that's not something that we necessarily need to be mourning."
He went on to say that "when people die who deserve to die, it's not a tragedy."
Then, seeming to contradict his own comments about the massacre being "great," Jimenez said, "In fact, the gunman that went in there, he deserved to die because he killed those people; we shouldn't be mourning his death either."