The New York Times editorial board seemed to cast blame for the deadly Orlando terrorist attack on the Republican Party Wednesday.
The shooting, which left 49 people dead and at least 53 others injured, was carried out by Omar Mateen, a man who became radicalized and pledged allegiance to the Islamic State. But according to the Times, the GOP is at least partially responsible.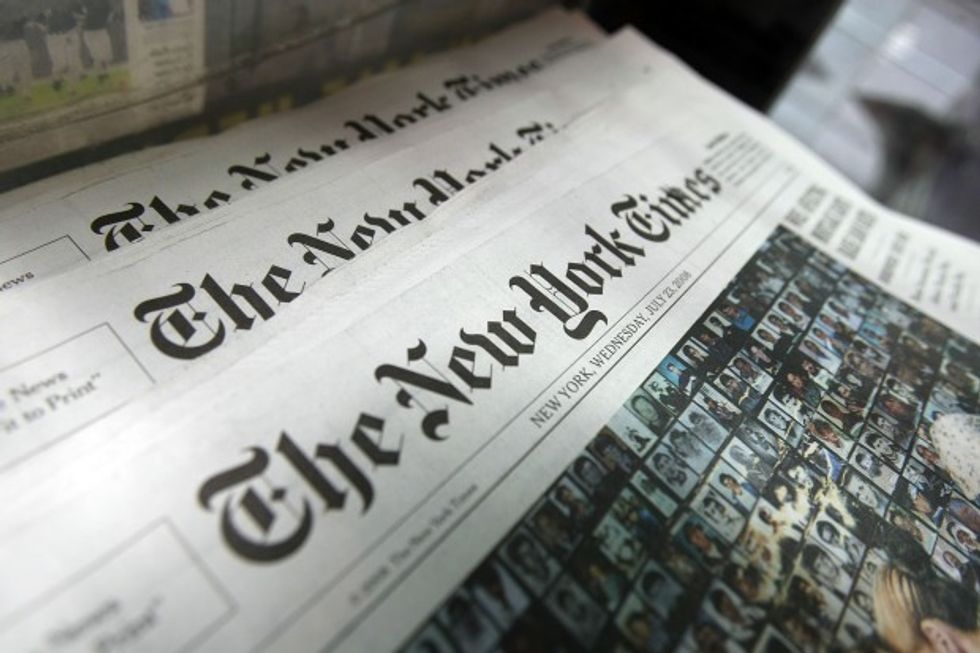 Getty Images/Mario Tama
In the editorial, "The Corrosive Politics That Threaten L.G.B.T. Americans," the Times noted that Mateen "shattered the tenuous, hard-fought sense of personal safety that many gay, lesbian, bisexual and transgender Americans have begun to feel as the movement for equality has made significant gains in recent years."
"His bullets and the blood he left behind that early morning were a reminder that in many corners of the country, gay and transgender people are still regarded as sinners and second-class citizens who should be scorned," the story continued.
Surprisingly, even though Mateen called 911 and a local news outlet shortly after the attack to tell them he was committing the killing for the Islamic State, the Times declared that the "precise motivation for the rampage remains unclear." At that, the editorial board shifted blame to Republicans.
"Hate crimes don't happen in a vacuum. They occur where bigotry is allowed to fester, where minorities are vilified and where people are scapegoated for political gain," the article read. "Tragically, this is the state of American politics, driven too often by Republican politicians who see prejudice as something to exploit, not extinguish."
There is no mention of the Islamic State and no mention of Islam in the 631-word editorial. Instead, the article focuses on the LGBT community and the chastisement of Republican leaders.
"Donald Trump, unlike some other prominent Republicans, called the Orlando massacre what it was: an attack on gay people," the story notes. "Mitch McConnell, the Senate majority leader, could not even offer that recognition to a community in pain."
The article concludes with an instruction to the politicians "who have actively championed discriminatory laws and policies" against the LGBT community, writing that they "should force themselves to read the obituaries and look at the photos" of those killed in the horrific attack.
—
Follow the author of this story on Twitter: