The ex-wife of Orlando shooter Omar Mateen has been speaking out since her former husband pledged allegiance to the Islamic State terror group Sunday and committed the worst mass shooting in U.S. history.
Sitora Yusufiy first opened up to the Washington Post about her tumultuous relationship with Mateen, whom she claims was abusive and showed signs of mental illness during their short marriage. In an interview with CNN's Don Lemon Tuesday night, Yusufiy shared more details about what it was like living with Mateen.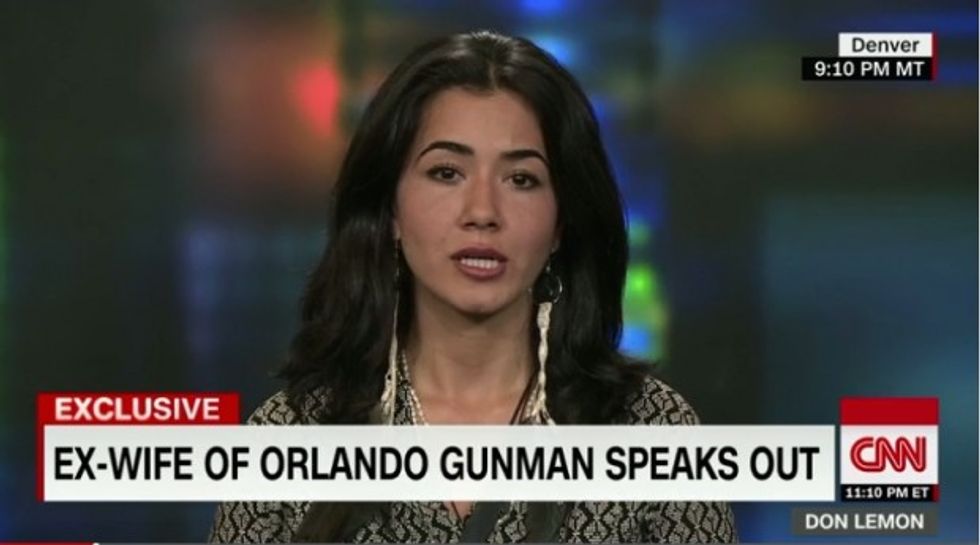 Image source: "Tonight with Don Lemon"/CNN
During the interview, Yusufiy described the abuse she endured while married to Mateen and mentioned the disturbing changes she noticed in her ex-husband once they were married.
Yusufiy said she experienced "torture" and "definitely physical violence" at the hands of Mateen. Offering an example, she shared a story of a time she and Mateen were shopping at the supermarket together:
We would go in and he would go into a certain aisle to look for something, and I would go into a different aisle to look for something else, and all of a sudden, I would hear my name being yelled out. He would be calling my name throughout the supermarket and I would — I came to him saying, "I'm right here." He grabbed my wrist, and he dug his fingernails in between my veins and made me surrender and told me to not go far from him ever again.
Lemon also asked Yusufiy about Mateen's sexuality, which was brought into question after reports emerged that he used gay dating apps and regularly attended gay nightclubs.
"I definitely questioned it in my own head when I was with him and wondered if he is (gay) because he would do a lot of things — little things, you know, but that would definitely make any woman question if he was or not," Yusufiy said.
When asked what sorts of "little things," she told Lemon, "I can't really explain it. It was the way he would behave that normal straight men wouldn't and he was very — he loved to look at himself. He loved to take pictures of himself, which some straight men do, too, but to a certain extent."
Lemon, who is gay, did not press Yusufiy further on her description of gay men versus "normal straight men."
Watch: