Senate Democrats have launched a filibuster over gun control during debate on a spending bill currently on the floor of the upper chamber.
Shortly before 11:30 a.m. Wednesday, Sen. Chris Murphy (D-Conn.) began to filibuster as he said he just can't "pretend like this is business as usual" this week in the Senate after a 29-year-old Muslim man fatally shot 49 people at a popular gay nightclub in Orlando over the weekend.
"We have got to find a way to come together," Murphy said. "Now, I don't know how long this will take, but I'm going to stand here and hold the floor while we give time to our colleagues to try and find a path forward."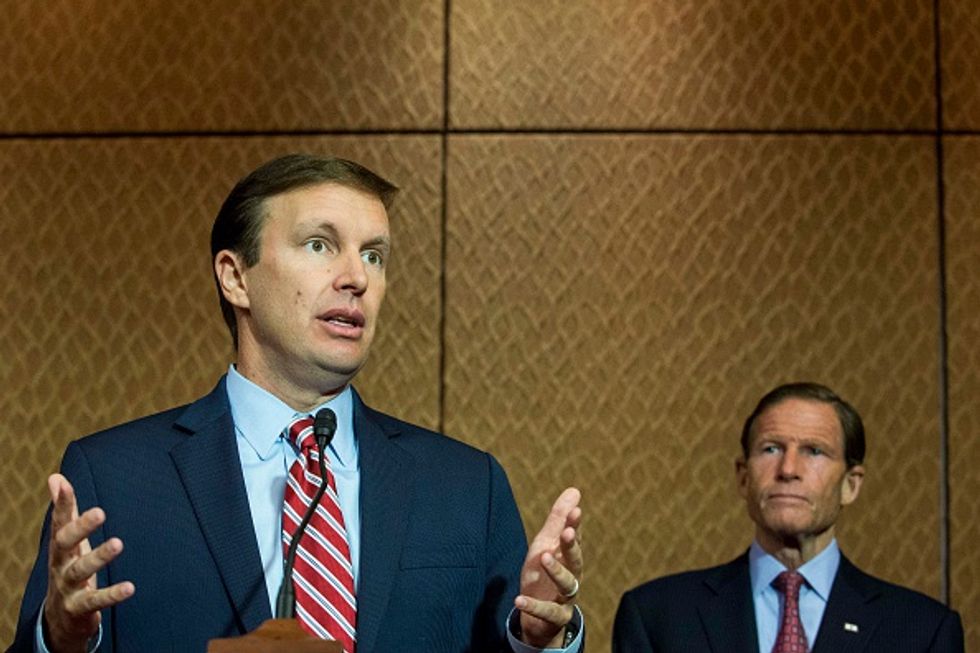 Sen. Chris Murphy (D-Conn.) speaks during a Capitol Hill event hosted by Everytown for Gun Safety and Moms Demand Action for Gun Sense in America. (Getty Images/Drew Angerer)
Murphy will have help during his filibuster from his fellow Senate Democrats, including New Jersey Sen. Cory Booker, who said he cleared his entire day to support Murphy on the Senate floor. Murphy also gained the support of Democratic presidential contender Sen. Bernie Sanders (I-Vt.).
"We can't allow guns to fall into the hands of people who shouldn't have them," Sanders tweeted during the filibuster.
Murphy has been as staunch supporter of stricter gun control especially since his state of Connecticut was the site of the horrific Sandy Hook Elementary School massacre where a 20-year-old man fatally shot 27 people, including 20 children between the ages of 6 and 7 years old.
As he stood on the Senate floor, Murphy's twitter account announced that he was prepared to "talk about the need to prevent gun violence for as long as [he] can."
I am prepared to stand on the Senate floor and talk about the need to prevent gun violence for as long as I can. I've had #Enough

— Chris Murphy (@ChrisMurphyCT) June 15, 2016
I'm speaking on the Senate floor to honor the victims of the Orlando attack & demand the Senate address gun violence. #Enough

— Chris Murphy (@ChrisMurphyCT) June 15, 2016
Murphy and other Democrats are pushing for what they call "commonsense safety measures," which would include closing certain loopholes for gun purchases over the internet and at private sales and stronger background checks. They are also advocating to forbid anyone on a terror watch list from buying a gun.
"This idea that if you really want to protect this country from terrorist attacks by firearm, and again, as I stated before, that is the weapon of choice on behalf of those who would try to do harm to this country for political reasons, then you have to both make sure those individuals are on the list of those prohibited from buying weapons, and you have to make sure that when you go and buy a weapon, you interact with that list," Booker said Wednesday as Murphy yielded him the floor.
Sen. Richard Blumenthal (D-Conn.) argued that "there is no one single solution" to gun violence but asserted that he and Murphy agree that "Congress has been complicit by inaction on any solution to the problem."
"And so we're not going to completely prevent all 30,000 deaths or every act of potential terror and hatred like Orlando, but we can make a start, can't we?" he said.
The 29-year-old man who went on a shooting rampage at the Orlando nightclub early Sunday morning was initially questioned by the FBI and placed on a terrorist watch list in 2013 and 2014. However, he was removed from the list once the FBI concluded its investigations. He reportedly legally purchased his guns 12 days before the massacre.
Murphy has given "Voices of Victims" speeches to highlight and honor victims of gun violence 45 times on the Senate floor since January 2013, Roll Call reported. 
As Politico reported, while the Senate Democrats refuse to give up the floor, votes on amendents to the spending bill will be put on hold, and many senators who planned to attend a briefing on the Orlando attack will be unable to do so. The spending bill provides funding to multiple agencies including the Justice Department. 
—
Follow Kaitlyn Schallhorn (@K_Schallhorn) on Twitter