The media, as Fox News analyst Howard Kurtz put it, offered a "warm bath of favorable coverage" to House Democrats for their 25-hour sit-in pushing for gun control and Megyn Kelly said the event was "revelatory of bias" plaguing the press.
Kelly blasted her media counterparts for the way they covered the lawmakers' demonstration Thursday night on "The Kelly File," noting a similar — but scantily-reported — sit-in staged by Republicans in 2008 that "got almost no attention after Democrats called the GOP morons and suggested the media should ignore the whole thing."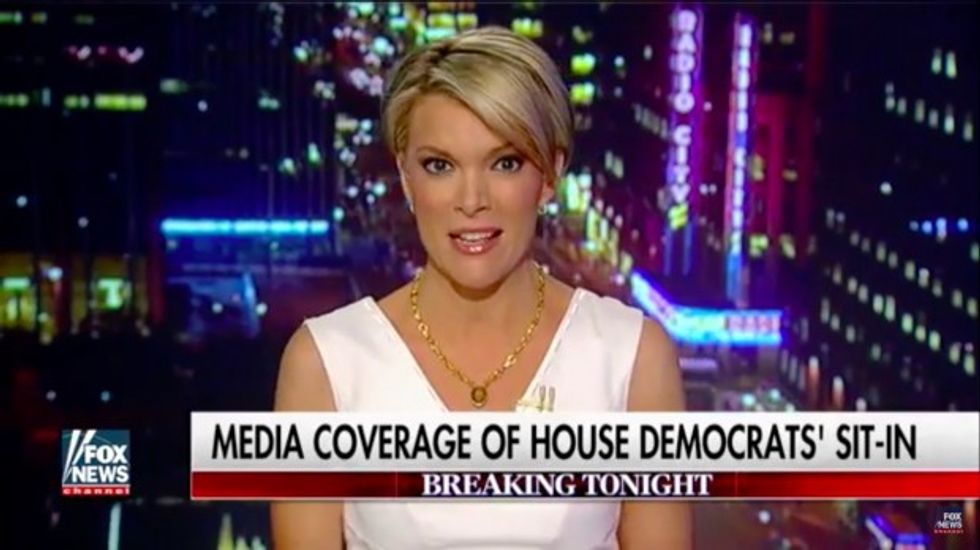 Megyn Kelly (Image source: Fox News/YouTube)
The 2008 GOP-led sit-in was aimed at expanding oil and gas drilling in the United States. The demonstration came as gas prices were reaching upwards of $4 per gallon and Republicans were hoping to get the prices lowered.
At the time, then House Speaker Nancy Pelosi (D-Calif.) simply turned off the chamber lights, according to a Politico report, and the Democrats went home.
According to the Media Research Center, this week's sit-in, which was broadcast largely from the video-streaming app Periscope, garnered four hours and 27 minutes of coverage from MSNBC and two hours and 32 minutes from CNN, while only earning 14 minutes of coverage from Fox News.
"Lets say the Republicans had done the same thing, all the same tactics, you know, the sit-in overnight, singing, what have you, but what they were protesting was they wanted to make it easier for folks to protest outside of a Planned Parenthood clinic. ... Would the media have been out there saying, 'It's historic, unprecedented?,'" Kelly asked. "It just is revelatory of bias, of bias in favor of what the Democrats were doing."
Kurtz, a guest on Kelly's show, agreed with her analysis, saying there's no need to "conjure up a hypothetical example" because, when Republican Sen. Ted Cruz (Texas) performed his highly-publicized filibuster against the Affordable Care Act, "all the focus was on him being obstructionist, even though what he was doing was within the Senate rules."
"If the goal was to get a lot of favorable press," Kurtz added, "then I guess [the demonstration] worked."
–
Follow the author of this story on Twitter: