LONDON (TheBlaze/AP) -- A British opposition lawmaker says Parliament should stop the "madness" and overturn the result of a referendum calling for Britain to leave the European Union.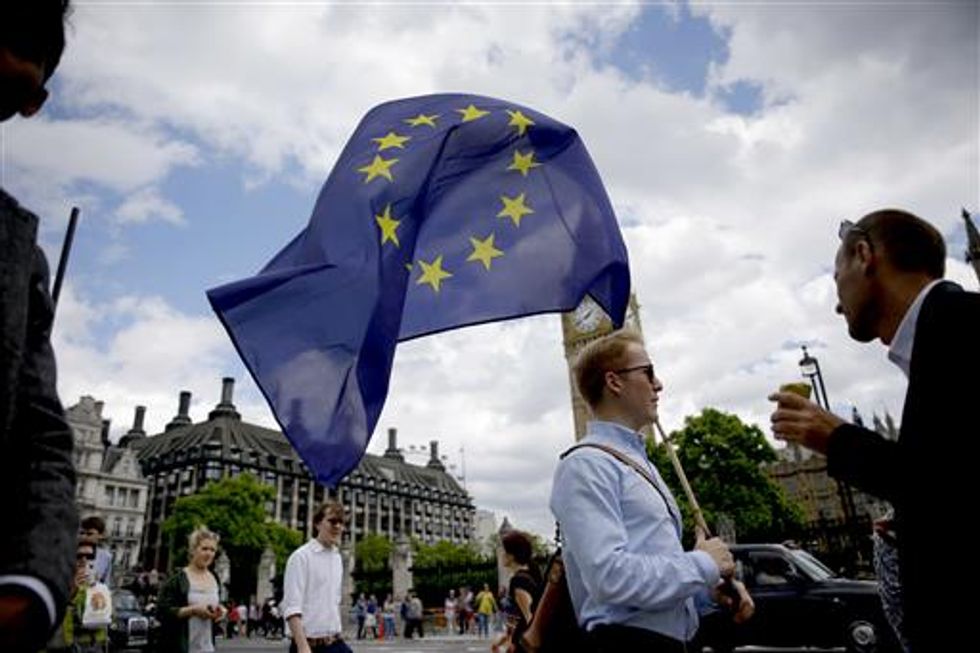 In this Friday, June 24, 2016 photo, a remain supporter stops to talk to people as he walks around with his European flag across the street from the Houses of Parliament in London. (AP Photo/Matt Dunham, File)
Labour legislator David Lammy says Thursday's national vote was non-binding and "our sovereign Parliament needs to now vote on whether we should quit the EU."
He says some "leave" supporters now regret their votes and Parliament should vote on Britain's EU membership. He said "we can stop this madness and bring this nightmare to an end. ... Let us not destroy our economy on the basis of lies and the hubris of ('leave' leader) Boris Johnson."
Constitutional experts say Parliament cannot easily ignore the will of the people. Alan Renwick, deputy director of University College London's Constitution Unit, says "in legal theory that is possible. In practice, that is absolutely not possible."
The speculation comes after an online petition seeking a second referendum on a British exit from the Europe Union drew more than 1.6 million names, a measure of the extraordinary divisiveness of Thursday's vote to leave the EU.
The online petition site hosted by the House of Commons website even crashed Friday under the weight of the activity as officials said they'd seen unprecedented interest in the measure, which calls on the government to implement a rule that stating if that if "remain" or "leave" camps won less than 60 percent of the vote with less than a 75 percent turnout "there should be another referendum."
"Leave" ended up winning Thursday's contest with a 52 percent share of the vote and a turnout of 72 percent.
Online petitions - which take little more than a valid email address to sign up for and are easy to game - are very poor measures of popular opinion, but officials said Friday that the level of activity on a single petition was unprecedented.
Any petition which draws more than 100,000 names must be considered for debate by members of parliament, but that doesn't necessarily mean much.
"It has passed the 100,000 mark for it to be debated in Parliament. All that means is that some MPs will say, 'It's a terrible shame,' others will say, 'Hallelujah'. Then that's the end of it," polling guru John Curtice said Saturday. "How many people voted in favor of Leave? Seventeen million. One million is chicken feed by comparison."
---