It has been almost two weeks since the attack on a gay Orlando night club that was dubbed the worst mass shooting in U.S. history. Since then, the ongoing debate over guns in America has exploded, with some calling for stricter policies on the purchase and accessibility of weapons, while others cling to the Second Amendment and its provisions tighter than ever before.
The issue at the heart of the gun control conversation is the question of how to best protect innocent citizens and prevent tragedies like the June 12 Pulse nightclub shooting from happening again.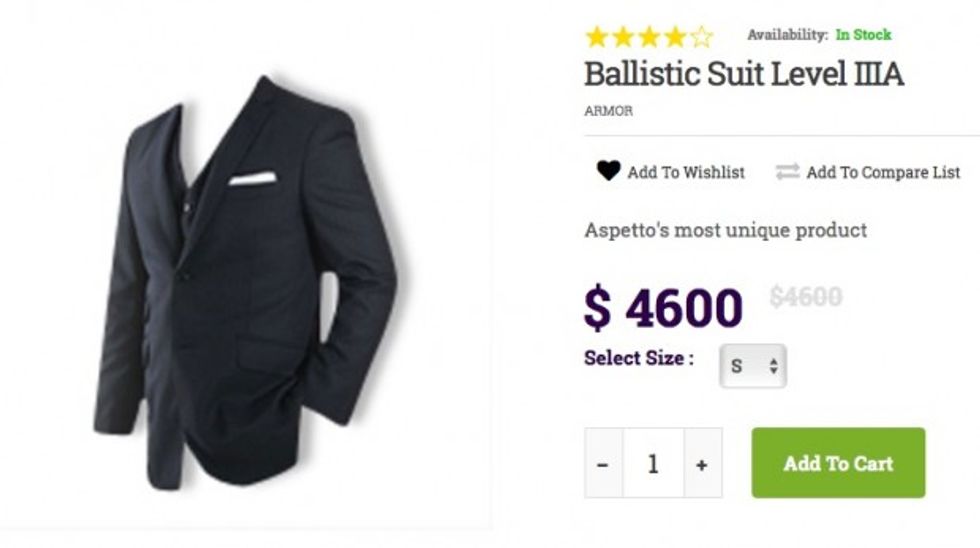 Image source: Aspetto Inc.
One businessman responded to this common concern in a unique way, and it's paying off big time.
Abbas Haider founded a custom tailoring shop in historic Fredericksburg, Virginia, that sells a wide variety of "ballistic clothing" — tailored jackets, dress shirts, ties and even underwear — designed to repel bullets shot a point blank range.
While the majority of bullet-resistant clothing consists of heavy gear typically worn over clothes, Haider's company, Aspetto Inc., offers lightweight options for everyday civilians. His products are equipped with super-thin bullet-resistant panels of Dyneema and Twaron or Kevlar that are zipped into the linings and can be removed for dry cleaning.
"For most people, we suggested ballistic t-shirts," Haider told NBC News. "They can get more use out of a ballistic T-shirt than a suit."
But protection bears a hefty price tag. One of those t-shirts Haider mentioned goes for $950, and a dress shirt costs $1,500. A bullet-resistant suit will rack up another $5,000 to $7,000. Add a pair of bulletproof boxers for $1,500.
Check out @AlphaIndustries CEO in his custom #Aspetto double-breasted #suit #menswear #mensfashion pic.twitter.com/ZzdrHCaDIm

— Aspetto Inc. (@Aspettoinc) April 28, 2016
Haider, a son of Pakistani immigrants, started his business in 2008 during his freshman at University of Mary Washington.
"We had to take a product from America and market it abroad," he told NBC. "I wanted to take something to the Middle East. My first thought was bombs and bullets and violence."
Haider, who had a brief stint working at Men's Wearhouse, concluded that everybody in the region already had suits. "But I thought, how about suits that are bullet resistant," he said. And that was that.
Haider said his traditional hand-made suits are popular with NFL players, but his ballistic clothing now comprises 85 percent of Aspetto's revenue, with sales expected to exceed $3 million this year.
According to NBC, Aspetto's best-seller in its ballistic line is modeled after the popular North Face fleece jackets and costs around $2,500.
For added protection from semi-automatic rifles like the AR-15 or the Sig Sauer MCX — one of the weapons used by Orlando shooter Omar Mateen — Aspetto offers hard armor plates that can be zipped in, Haider said.
Body armor and bullet-resistant clothing currently generate an estimated $3.8 billion-a-year in sales, and the industry is expected to grow, hitting $5.3 billion by 2024, Market Research reported.
Haider noted that Aspetto doesn't do business with just anybody. The company has a strict policy for purchasing ballistic clothing.
"We also do a background check before we proceed with manufacturing," he said. "We had one CEO from New York who contacted us a few months ago and wanted a bunch of ballistic clothing items. He was willing to spend some serious cash but when we ran his background, he had a couple of felonies on his record and we had to deny him. He frequently traveled to Africa and needed protection. He wasn't too happy with us."
When asked if he's received any requests from Hillary Clinton, Donald Trump or any elected officials, Haider told NBC, "I'm not allowed to say that," but noted, "We've done stuff for their security details."