Conservative columnist George Will made his first on-air comments on "Fox News Sunday" after announcing Saturday his decision to leave the GOP.
When asked why he chose to break away from his party, Will told Fox's Chris Wallace that he left for the same reason he joined in 1964 when he voted for Arizona Sen. Barry Goldwater.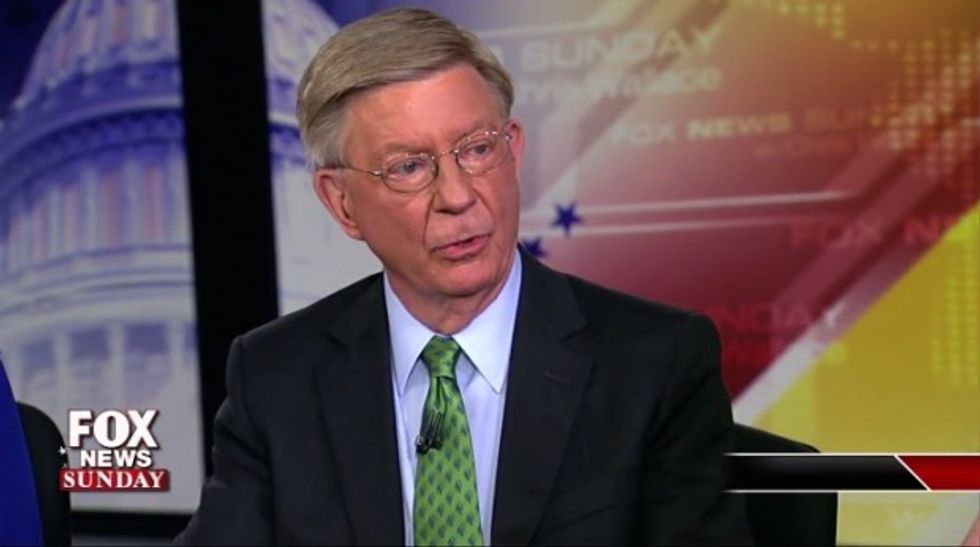 Image via Facebook/"Fox News Sunday"
"I joined because I was a conservative and I leave for the same reason, that I'm a conservative," Will said.
"Shortly after Trump became the presumptive nominee, he had a summit meeting with Paul Ryan, where they stressed that common principles and their vast shared ground, which is much more important than their differences," he continued.
Will said that the outcome of Trump's meeting with Ryan was "doubly" puzzling because afterwards, Ryan still did not endorse the candidate. He noted that it was after Trump made controversial comments about an Indiana judge's Mexican heritage that Ryan offered his endorsement, though he condemned the comments.
It was after this that the longtime conservative decided to leave the GOP.
"I decided that, in fact, this is not my party anymore," he shared. "I changed my registration to 'unaffiliated' 23 days ago."
Will quoted former President Ronald Reagan, who changed his registration from Democrat to Republican, noting, "I did not leave the Democratic Party; the Democratic Party left me."
After announcing Saturday his departure from the GOP, Will urged that because it may be too late to find another Republican candidate to replace Trump as the party nominee, conservatives who dislike Trump should do everything they can to "make sure he loses" and "grit their teeth for four years and win the White House."
The columnist shared with Wallace Sunday one area in which Trump has an "advantage" over him.
.@GeorgeWill says @realDonaldTrump has an advantage: He can say everything he knows about a subject in 140 characters and I can't. #FNS

— FoxNewsSunday (@FoxNewsSunday) June 26, 2016
"He can say everything he knows about a subject in 140 characters and I can't," he said, giving credit where credit is due.