Three terrorists, suspected by the Turkish government to be associated with the Islamic State, rocked Istanbul's Ataturk Airport with three explosions Tuesday and one journalist honeymooning with his wife was there when it happened.
Steven Nabil, a freelance reporter who was at the airport at the time of the attack, which has taken the lives of at least 36 people and wounded 147 others, documented his harrowing journey in a series of tweets Tuesday night.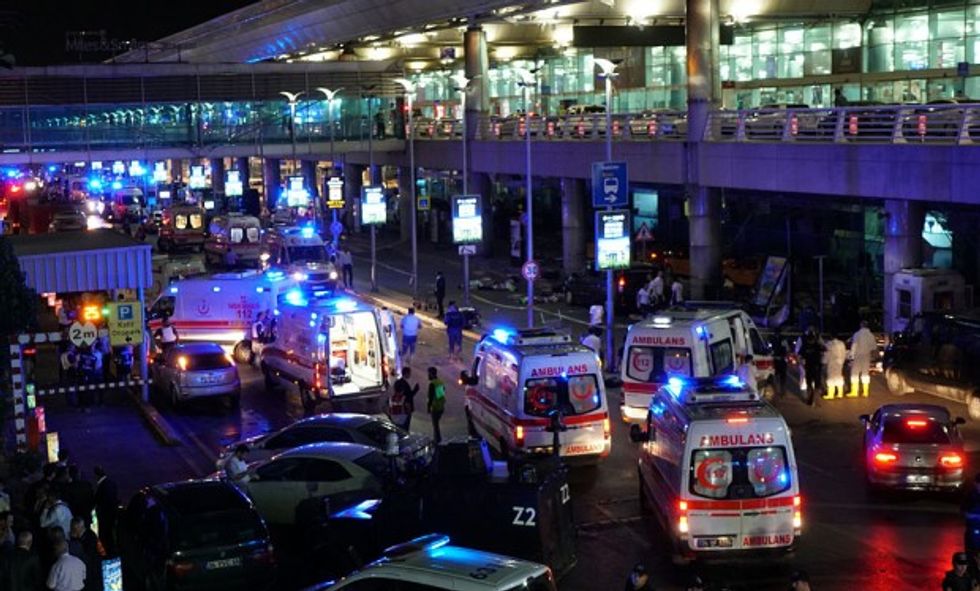 Security and ambulances block the road outside Turkey's largest airport, Istanbul Ataturk, after it was hit by a suicide bomb attack on June 28, 2016, Turkey. Two suicide bombers opened fire before blowing themselves up at the entrance to the main international airport in Istanbul, killing at least 10 people and wounding at least 60 people according to Justice Minister Bekir Bozdagç. (Photo by Mehmet Ali Poyraz/Getty Images)
Nabil's wife, whose name was not disclosed, was injured by the explosions as they were traveling through the Ataturk Airport on their way to New York City. Hoping to find safe haven, the traveling journalist broke into a nearby salon and pulled his wounded wife in.
They found shelter in the closet of the salon, where they remained, like "sitting ducks," for 45 minutes, "waiting to find out who will open the door."
"When the bullets were closer," Nabil wrote, "I hugged and kissed her."
The attack first began when the two were separated in the airport. Nabil wrote that he was on the third floor getting food from pizza chain Sbarro while his wife was waiting on another floor at the "Nero Cafe." When he returned to his wife, he found "the terrorist firing toward us."
Shortly after news of the deadly attack broke, several videos allegedly documenting the horrific attack surfaced. One video shows a suicide bomber, who appears to have been shot, falling to the ground in the lobby of the airport and, moments later, detonating his suicide vest or explosive belt.
The Tuesday attack was the fifth major assault this year in the city, Turkey's largest municipality.
In addition to dealing with the Islamic State, Turkish officials have been fielding multiple threats from the Kurdish separatist group PKK.
İşte o anlar. Orda o polis bombacıyı vurmasa belki daha kötü şeyler olacaktı. #AtaturkHavalimani#terörelanetolsunpic.twitter.com/7hyBzbq6iK

— SADO (@ezkici) June 28, 2016
See Nabil's entire Twitter thread below:
We just left the aiport. My wife was injured during the attack. We were face to face with the attacker while he sprayed #istanbul part1

— Steven Nabil (@Steven Nabil) 1467153138.0
I ran back got my wife pulled her to store broke in and waited in terror while he was shooting outside the store.we barely made it#istanbul

— Steven Nabil (@Steven Nabil) 1467153211.0
We were transiting from our honeymoon tonight through #istanbul back to NYC when the bullets were closer i hugged and kissed her

— Steven Nabil (@Steven Nabil) 1467153688.0
My wife was sitting at nero cafe while i went 3rd floor to get food from sabbaro. Heard shots ran fast toward her.people #istanbul part 1

— Steven Nabil (@Steven Nabil) 1467155172.0
Came down the stairs to see the court empty and the terrorist firing toward us.carried her arm and ran around sitting ducks part 2#istanbul

— Steven Nabil (@Steven Nabil) 1467155273.0
#istanbul we then took cover in a closet inside a hair salon.The 45 minutes we were sitting ducks waiting to find out who will open the door

— Steven Nabil (@Steven Nabil) 1467155981.0
—
Follow the author of this story on Twitter: