Former President Bill Clinton and U.S. Attorney General Loretta Lynch met privately Monday at an airport in Phoenix, Arizona, KNXV-TV reported.
The local station reported that the meeting took place on the west side of Sky Harbor International Airport on board Lynch's parked private plane, just hours before House Republicans released the 800-page Benghazi report.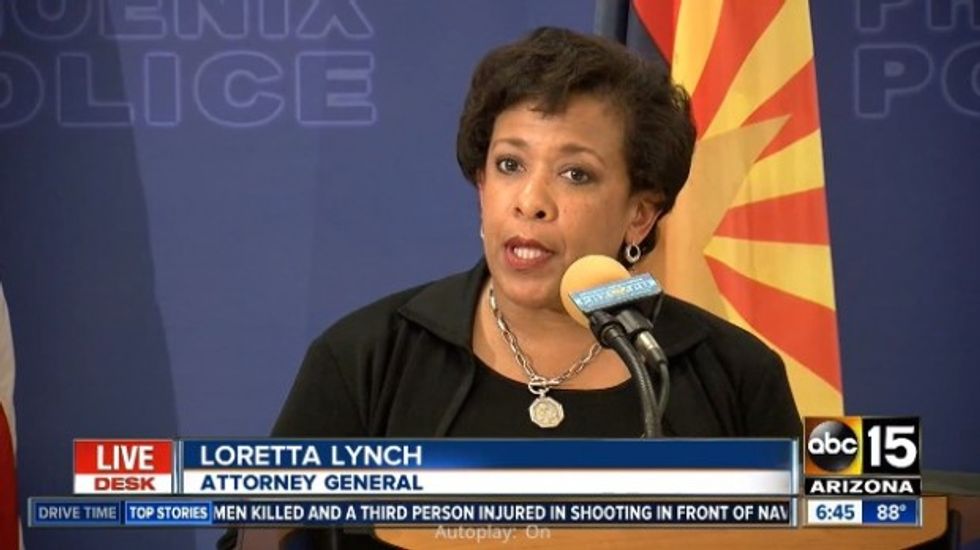 Image source: KNXV-TV
Clinton, who was visiting Phoenix and arrived to Sky Harbor Monday evening to depart, was reportedly notified that Lynch would be arriving soon and waited for her.
Lynch was heading to Phoenix for a planned visit as part of a national tour promoting community policing. KNXV asked her about the meeting during a news conference she was holding at the Phoenix Police Department.
"I did see President Clinton at the Phoenix airport as he was leaving, and he spoke to myself and my husband on the plane," Lynch told the station Tuesday afternoon, adding that the nature of their conversation was light-hearted.
The private meeting comes amid an ongoing investigation into Hillary Clinton's private email server, which Lynch and the Department of Justice are heading up. The attorney general told KNXV, however, that she and former president did not discuss this subject or the Benghazi report during their 30-minute conversation.
"Our conversation was a great deal about his grandchildren; it was primarily social about our travels and he mentioned golf he played in Phoenix," Lynch said.
"There was no discussion on any matter pending before the department or any matter pending with any other body," Lynch assured. "There was no discussion of Benghazi, no discussion of State Department emails. By way of example I would say it was current news of the day, the Brexit decision and what it would mean."
Watch: