Fox News senior judicial analyst Judge Andrew Napolitano expressed shock Thursday during an interview on Fox Business Network that a private meeting took place between Attorney General Loretta Lynch and former President Bill Clinton.
Napolitano noted that Lynch is "the chief law enforcement officer of the land" and that the FBI is investigating both Hillary Clinton's use of a private email server while she was secretary of state and possible corruption at the Clinton Foundation.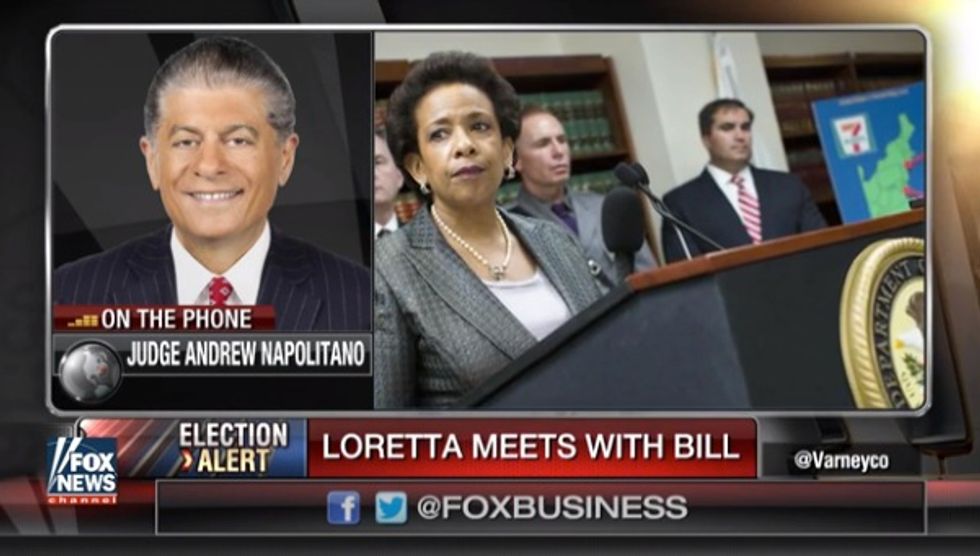 Image source: Fox News
"Her agents and lawyers, more than 100 of them, are engaged in two serious criminal investigations of Bill Clinton's wife, Hillary Rodham Clinton," Napolitano said. "It is inconceivable that she would permit herself to have any kind of contact with the husband of the target of a criminal investigation."
"The appearance of impropriety is so profound, no one could accept that she is now neutral in this case," he said.
Lynch told reporters Tuesday that her meeting with the former president was "primarily social and about our travels" and that "there was no discussion of any matter pending before the department or any matter pending before any other body."
—
Follow the author of this story on Twitter and Facebook: